"BORDERS OF THE HEART"--exceptional romantic suspense by author Chris Fabry--review & interview
"BORDERS OF THE HEART"--by author Chris Fabry--exciting, inspirational romantic suspense from a skilled storyteller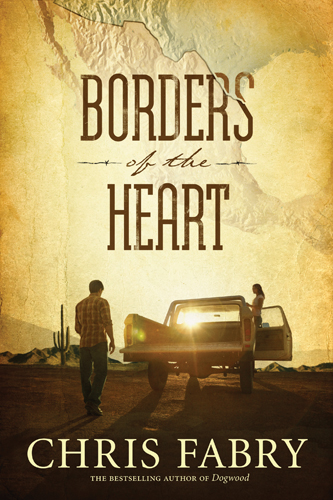 Every life has a turning point, where one choice changes everything. Once that line is crossed, there's no going back.
J.D. Jessup finds his line in the desert near Tucson, as far from his home as the moon. He's traded his guitar and the songs in his head for the daily grind of an organic farm—a mind-numbing existence that dulls the pain of his memories.
His boss has one rule: if J.D. sees an "illegal," call the Border Patrol.
But when an early morning ride along the fence line leads him to Maria, a beautiful young woman near death, J.D.'s heart pushes him toward another choice. Longing to atone for the mistakes that drove him to the desert, J.D. hides her and unleashes a chain of deadly events he could never have imagined. Soon the two are running from a killer and struggling to stay alive. As the secrets that haunt him collide with Maria's past, J.D. realizes that saving her may be the only way to save himself.
Part thrill ride, part love story, Borders of the Heart is a tender yet gripping odyssey of hope.
MY REVIEW: Once you pick up "Borders of the Heart", by author Chris Fabry, you won't be able to put it down. You will also want to read every other book written by Chris Fabry. In this timeless tale of loss, grief, survival, and love, a man tries to escape the reality of his life by losing himself in hard work and the encompassing heat of the desert. What he ultimately discovers is that when you run from the truth, it runs right along beside you. When he can no longer bear the grief of his wife's death from cancer, and he has lost the creative spark behind his songwriting and singing, J.D. Jessup heads to the West and the desert. He finds work on an organic farm in Arizona, and his employer adamantly advises him to report any sighting of illegal immigrants to Border Patrol. One morning on his regular route of checking the fence lines, his contemplation of where he was and how he came to be there is shockingly disturbed by the discovery of the body of a young woman face down in the dry desert dust. Since the body is being drooled over by a coyote and being crawled upon by a rattler ready to strike, J.D. assumes the woman is dead. To his surprise, she is still alive, and he rescues her from the predators, taking her back to the farm in hiding. Following his heart instead of his boss's mandate, J.D. does not call Border Patrol, and his actions set into motion a series of life-changing events. The woman, Maria, is mysterious, compelling, intriguing, and she forces J.D. to come to grips with the fact that while his wife died, he still lives. The danger that left Maria near death in the dust follows them, and soon they are on a desperate flight to save both their lives. If they survive, will J.D. risk his heart to this newly found love, with a future so different than he could ever have imagined? "Borders of the Heart" has a contemporary setting, but the themes of love, loss, and reborn hearts, and the eternal battle of good versus evil are truly well read in any era. Here, in this place of scorching heat, with its constant stream of illegal immigrants, the story line has added depth. How would any of us handle the situation that J.D. found himself in? Superb storytelling from an author skilled in his craft.
Review Copy Gratis Tyndale House Publishers
Chris Fabry
Borders of the Heart
Author Q & A
Q: Your newest novel, Borders of the Heart, addresses heavy topics such as illegal immigration, the U.S./Mexico drug trade and the cost of compassion. Where did you get your inspiration for the book?
A: Our family moved to Arizona in 2008 and since then I've known I wanted to write about this area of the country, a rich, desert existence with problems and possibilities. This book is not as much an "issue" book as it is a book about people who have to deal with lots of those issues as part of their daily lives. I don't have an ax to grind on the topics, but I did want to show how real people are affected by these contemporary topics.
Q: Several of the characters in Borders of the Heart are dealing with things from their past. What lessons do your characters learn along the way?
A: The past is huge for each of us. I'm convinced many are "stuck" by something in the past that holds us back from being all God wants us to be. A reader will walk through that process with the main character, J.D., and I'm hoping they'll see an authentic struggle.
Q: J.D. Jessup is faced with a very difficult moral dilemma when he weighs the decision to follow his boss' very clear direction or his own heart when he discovers Maria near death. What lessons does this story provide for your readers?
A: Every choice we make in life comes with a cost. If we say yes to one thing, we may have to say no to something else. The choice J.D. makes is a good choice, and even good choices can lead to disastrous and deadly results. Can you believe that God is involved in even the difficult circumstances? I think that's a huge reveal in this story for me. Does everything have to work out perfectly in the end in order for God to be glorified?
Q: How does the concept of redemption figure into your story? Was it gratifying to write about redemption? Why or why not?
A: A lot of people don't like the word "saved." It's old fashioned and not in vogue. I think the term is loaded with truth because if you're on the verge of death and someone "saves" you, you know exactly what that means and how grateful you would be. Characters in this story get rescued from certain death and when the stakes are that high, I can't help but get emotionally involved in the story.
Q: How does the concept of grace figure into your story? Was it gratifying to write about grace? Why or why not?
A: Grace is when we're treated better than we deserve. Yes, characters discover that in the book as well. I love the concept of grace in such a gritty, tough story because you're not expecting it. You're expecting A+B=C and when grace invades, it catches you by surprise.
Q: Borders of the Heart clearly demonstrates that sometimes there is a cost to compassion. What made this an important story element for you? Why was it important for you to show that sometimes there is a cost for us when we behave compassionately?
A: You've heard the saying, "Freedom isn't free." The one who acts with compassion usually absorbs the pain of someone else. This is a picture of the cross, of the sacrifice made for us in Christ. This is another thread you'll discover throughout the story.
Q: Have you ever been faced with a real-life hard choice or ethical dilemma like your main character J.D.? If so, what was your dilemma and did you feel like you made the right choice?
A: I've never had to decide whether to leave a person for dead or not, but I think every day we have a chance to sacrifice. Sometimes it's a small thing, like taking time for your children when you have something REALLY important, like writing a few more paragraphs. I haven't always passed those tests. My contention is, the details of everyday life will show what we'll do with the big decisions. If you choose well in the small moments, the moments when no one is looking, you'll choose well when a huge decision comes your way. Conversely, if you don't see the little things as important, you might not make a good decision with the big decision.
Q: What do you hope your readers will take away from reading Borders of the Heart?
A: Borders of the Heart is at its core a love story. You will root for J.D. and Maria to survive and solve the mystery of what's really going on in Tucson. And I hope readers will take away the truth that what looks impossible to people is possible with God's power. Even if something looks hopeless, it's really not when God is involved.
VIEW THE BOOK TRAILER FOR "BORDERS OF THE HEART"
http://www.tyndale.com/Borders-of-the-Heart/9781414348629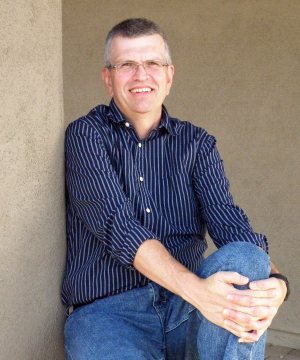 Chris Fabry, an award-winning author and radio talk show host, is a fresh voice in Christian fiction. He hosts the daily program Chris Fabry Live! on the Moody Broadcasting Network and was honored with the 2008 Talk Personality of the Year Award from the National Religious Broadcasters. He can also be heard daily on Love Worth Finding, featuring the teaching of the late Dr. Adrian Rogers, and weekly on Building Relationships with Dr. Gary Chapman, which he co-hosts with his wife, Andrea.
Fabry's adult novels— Dogwood, June Bug, Almost Heaven, and Not in the Heart—have won two Christy Awards and an ECPA Fiction Book of the Year Award, but it's his lyrical prose and tales of redemption that keep readers returning for more. He has also published more than 65 other books, including nonfiction and novels for children and young adults. Learn more about Chris Fabry on his website: www.chrisfabry.com. A 1982 graduate of the W. Page Pitt School of Journalism at Marshall University and a native of West Virginia, Chris and his wife, Andrea, live in Arizona and are the parents of nine children.
Praise for Chris Fabry:
"A story of hope, redemption and sacrifice. . . . It's hard to imagine inspirational fiction done better than this." World Magazine on Not in the Heart
"Christy Award-winning Fabry has written a nail-biter with plenty of twist and turns to keep readers riveted. Fans of Jerry B. Jenkins and Jodi Picoult might want to try this title." Library Journal on Not in the Heart
"[A] mesmerizing tale . . . [Almost Heaven] will surprise readers in the best possible way; plot twists unfold and unexpected character transformations occur throughout this tender story." Publishers Weekly
"An involving novel with enough plot twists and dramatic tension to keep readers turning the pages." Booklist on June Bug
"Few authors can weave such unique stories with such perfect language. . . . Fabry is an artist with words. All I can say is: Read his novels." Examiner.com on June Bug
"[Dogwood] is difficult to put down, what with Fabry's surprising plot resolution and themes of forgiveness, sacrificial love, and suffering." Publishers Weekly
About Virginia
Faith, Family, Friends and Felines are the four corners of my world. Coffee, chocolate, cheese and cookies are my four food groups. I love books, everything related to books, people who also love books, and talking about books and promoting literacy. I am a...
Causes Virginia Campbell Supports
I live in a very small town with few job opportunities. I would love to be employed in a position which allowed me to promote literacy and put books in the...