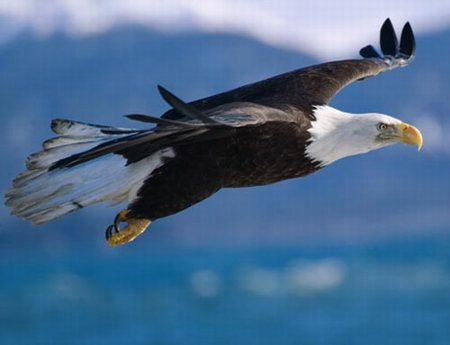 Through green hills and
misty mountain sides,
dreamy dusk breaks in on me.
Shadows of the moon-beam
gather around me for the
journey ahead. There is a
dance of souls and minds.
Tonight, the owl hoots
no more because I have
landed. The eagle is here.
On welcoming mountain tops
of home and beauty, I watch
these majestic name-sakes of
mine soar through blue skies
and caring clouds of heaven.
Breathless, I learn from them.
Enchanted, I watch their visionary
strength. I am calm. I am
overwhelmed. I am humbled.
I am inspired...
Tonight, I must start a journey
to new beginning. I must fly
stormy and peaceful skies through
life. But then, I have learnt from
these name-sakes of mine. Like them,
I must soar tonight under moonlit
skies of home as I make my way
to new dawn on earthly clouds.
I will surely soar tonight.
Tomorrow awaits me with joy
at the landing field of love
and painful joy. These towering
mountains will not conquer me
because
I am Eagle;
and I will
indeed,
soar
tonight,
and
into
heaven's
new
dewy
dawn
and
a
l
w
a
y
s
!
_
Author's Note:
My name Ugonna means Eagle of God or Eagle of the Father. Like my essence-sakes amongst God incredible creations, I am wonderfully made to soar and achieve with keen vision and strength. Indeed, I love my name so much because it creatively inspires my life in a very powerful but humble manner! There is an enriching beauty of the spirit within the depths of my creative soul. Welcome to my world of caring service to humankind, love, empathy, Jesus' peace in trials, tears, pain, inspiration and empowering creativity!
About Ugonna
Ugonna is simply a creative soul of inspirational and empathic dimensions. He started writing in 1983, at the age of twelve - his second year in high school. Ugonna is globally committed to bettering human welfare and nature conservation. His personal and...
Causes Ugonna Wachuku Supports