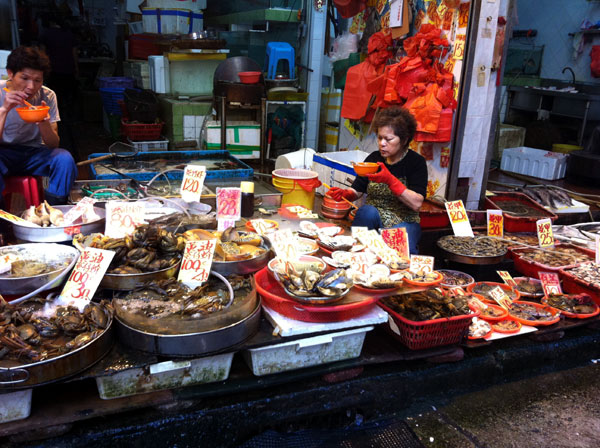 I hate the grocery store.
I like having food, but the process of shopping for it is annoying and don't even get me started on the unpacking and putting away business.
Michael cooks and...he likes to buy the food. Perfect right?
It would be, except lately he invites me to go with him, cruise the isles, check out the fish, grind the peanut butter...Sigh.
When we were in Hong Kong we visited some of their wet markets. They are called "wet" markets because they use a lot of water to keep the fish alive, or the produce fresh, and to clean the floors after meat has been cut.
Shopping in Hong Kong was nothing like home. It was an adventure. We're talking frogs and weird fish...I think they were fish.
The Chinese custom is to pick out a fish live and then it is killed, cleaned and wrapped at the market. My thought was that it must be to ensure the fish is fresh.
Michael's thought...
I mean, if you're going to eat an animal you should take responsibility for taking it's life. That seems balanced. We just show up to the meat counter at home and never have to see how the food gets there. I like their way of taking responsibility for the food they eat. It's real and kind of ugly...I love that.
Oh, and I love you. You see things that I never even think to see and you are crazy curious, exhausting and so much fun to share a life with.
Happy Birthday, Michael.
Gwen's not running from something or even to something, she seems to be trying to use her smarts and ambition to discover her heart. Her reconciliation of leading herself and letting go to become herself makes the character exciting and real. Place this challenge against the backdrop of unexpected love and it made me eager to learn if she would succumb to a traditional role or rewrite how to be in love."
—C. Jones Review of Catalina Kiss
About Tracy
I would love to say that I've always wanted to be a writer, that I have volumes of journals filled with enchanting stories, but that would be a lie. It's sort of important to tell the truth on your own website, so we'll stick with the truth. My name is Tracy...