Video Trailer for THE DARK FAE by Terry Spear
I haven't made a book trailer in quite a while, mainly because they take so long--this one took 7 hours! But they're lots of fun to make and I hope readers enjoy watching them!
I still need to make one for Heart of the Highland Wolf!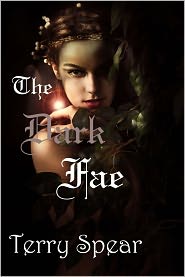 The Dark Fae
Alicia has planned a vacation at South Padre Island with her girlfriend Cassie in forever. But just as they're enjoying a day on the beach, here comes a dark fae to spoil their holiday, except only she can see what he truly is. Alicia has no idea how upside down her world can turn with a chance meeting with one of the dark fae from the royal house of the Denkar.
Alicia's always known she's different--that she can recognize the mischievous fae when they show up to "play" with the humans. Only now she's faced with one highly annoyed dark fae and she's certain he knows the truth about her. She can see him, which means her life is forfeit.
Add to that, his sister arrives, who wants to play, too. And their mother, the queen of the Denkar, will want Alicia's head, once she learns what Alicia can do.
And all because Alicia was attempting to rescue her friend, Cassie, on their beach excursion at South Padre Island, from the wicked fae. Now, Alicia has really gone and done it--and she's thinking she should have let the fae have his fun. Her friend's broken heart would be a lot easier to deal with, than Alicia losing her life.
But it is too late for regrets. As soon as she threw the soda at the dark fae's chest, she had declared war on the fae. And he is happy to take up the challenge.
****
So what do you all think? Was it worth all the time it took to make it, or should I have just spent the time writing???
Also, I've reworked the cover for the upcoming sequel, 3rd in the series, The Winged Fae.
To show off the title better and my name also, I made some changes. The first is the final copy. The 2nd is how I had originally had done it. So what do you think?
Only 3,500 words left to write on The Winged Fae!
ARe Best Seller: This means that the title has either been a Category Best Seller or a Top 10 Best Seller
I just found that some of my titles have been best sellers on ARe!
The Dark Fae
The Deadly Fae
Marriage, Las Vegas Style
Heart of the Highland Wolf
The Shadow Elf!!!
Have a super Monday!
Terry
"Giving new meaning to the term alpha male."
www.terryspear.com
Spear will satisfy longtime fans and newcomers alike with her vivid descriptions and deliciously gnarled plot."
About Terry
USA Today Bestselling Author of A SEAL in Wolf's Clothing. Award-winning author of paranormal romantic suspense, urban fantasy, and medieval romantic susense. PW's BEST BOOKS OF THE YEAR. Retired LTC with the USAR and award-winning teddy bear artist whose...
Terry's Favorite Books
I'm an eclectic reader so love reading true stories, mythology, romance, historical, paranormal, romantic suspense, YA, historical fiction, just a hodge podge...