The World of Enchantment by Terry Spear
Disney World, Land of Enchantment
Reading is enchantment. You are swept into a journey like no other. Hopefully. :)
You spread your wings and fly like an eagle, or vampire. You explore the ocean depths as a scuba diver, or take a pirate's cruise and drink rum punch. If you were on a pirate ship of old, you actually had an "allowance" of so much rum a day, and you skipped the punch.
You end up in jail--not of your own doing--or a--dungeon--and though you might feel some of the discomforts, you are comforted to know you are really not there.
You put up with the heat of the desert--if you live in Texas, you put up with the heat for real. You put up with the blizzards of the cold north. If you live in Texas, you bask in the knowledge, you can shut the book and the blizzard goes away.
You struggle with the characters' conflicted life so you can avoid your own. If theirs gets too harrowing, you can stop to read another day. Unfortunately if you do that and are dealing with your own problems, you're stuck dealing with them again, so sometimes it's better to go back to the book. (This is not my mantra, btw. Procrastination only leads to the problems in real life stacking up. But if the problems can't be dealt with at the moment--by all means delve into the characters' problems in a book. It will keep you from focusing on issues you can't handle at the moment--you know--like the plumbing problem on Christmas Day--frozen pipes, broken pipes, flooding, no water--that no plumber in the US will come out and take care of...that sort of thing.)
It's now raining when it was supposed to be dry and sunny so the plumber could fix my outdoor plumbing problem. Which means I could lose my internet any moment now.
So it's time to delve into a book!
Speaking of which!
Bound by Danger is now out in print!!!
Deidre Roux is an Army officer with a secret. She can't let anyone know she's got second sight. The military would frown on such a thing and that could be the end of her career. But visions of ominous troubles to come plague her and she's fortunate her twin brother taught her lots of martial arts tactics.
When a reporter moves in next door, she's not sure just want to think. Dave Carter owns a gun--it is Texas--and comes to her rescue when her brother suddenly drops into her life again. From there it's the normal stuff that women and men tend to do when they're getting to know each other--boating, swimming, dancing--except for one thing...she's trying to keep her secret under wraps at all costs, which is difficult to do when she's under surveillance by the FBI, and people keep wanting her dead.
Could a reporter, who's not really a reporter, prove he might just have what it takes to keep her safe--for the long run?
Duncan MacNeill of A Howl for a Highlander needs votes for his gorgeous cover!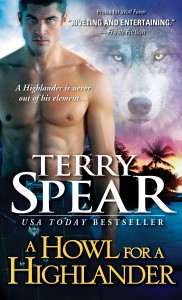 Genre: Paranormal Romance
Series: Werewolf Series, Book 10
Release Date: February 5, 2013
Publisher: Sourcebooks Casablanca
Formats Available: Mass Market Paperback, Kindle, Nook
Purchasing Info:Author's Website, Publisher, Amazon, BAM, IndieBound, Book Depository, Chapters/Indigo, Powell's, Goodreads, Kindle, Barnes & Noble, Nook, iTunes, Kobo, Books On Board, Discover New Love.
And if you haven't signed up and want to: Want to be kept up-to-date on Terry Spear's NEW releases? Just sign up here and you'll receive an update each time a new release comes out!
Subscribe to Terry Spear's New Releases Announcement
Have a terrific Thursday! Mine looks to be soggy, but if I delve into a book, no telling what I might find! :)
Terry
"Giving new meaning to the term alpha male where fantasy IS reality!"
www.terryspear.com
Spear will satisfy longtime fans and newcomers alike with her vivid descriptions and deliciously gnarled plot."
About Terry
USA Today Bestselling Author of A SEAL in Wolf's Clothing. Award-winning author of paranormal romantic suspense, urban fantasy, and medieval romantic susense. PW's BEST BOOKS OF THE YEAR. Retired LTC with the USAR and award-winning teddy bear artist whose...
Terry's Favorite Books
I'm an eclectic reader so love reading true stories, mythology, romance, historical, paranormal, romantic suspense, YA, historical fiction, just a hodge podge...