SEALs don't go it alone, so The SEAL in Wolf's Clothing coming next spring will continue the wolfish SEALs story!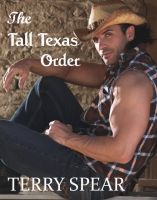 The Tall Texas Order Ebook By Terry Spear
Published: May. 23, 2011
Category: Fiction » Literature » Romance - Short Stories
Category: Fiction » Literature » Romance - Contemporary
Words: 6959
Smashwords
Amazon
Lisa has lived all over the States, but when she starts working in Amarillo, Texas, she's ready to settle down with the man of her dreams--if she can prove to herself she has the mettle to become a Texan.

From camping in the Palo Duro Canyon with rattlesnakes and scorpions and wild mustangs, riding the trail on a cantankerous trail horse,line dancing, and watching a friend devour a 72-oz steak, Lisa's having the fun of her life...mostly.
But can she learn to be a Texan? Inspired by several true incidents, the story revolves around a woman who's never settled down for long and a man who wants her to love his home as much as he does...fearing she's bound to leave him sooner or later as she has never been able to set down roots.
***
The story about the wild mustangs was true, only I'd heard them when I was camping in the canyon with Army ROTC cadets, and I've been to all the places described in the story. The only thing that I still need is that tall hunky Texan!
Wouldn't you like a shot at him too???
:)
Have a terrific Tuesday!!!
Terry
"Giving new meaning to the term alpha male."
www.terryspear.com
Spear will satisfy longtime fans and newcomers alike with her vivid descriptions and deliciously gnarled plot."
About Terry
USA Today Bestselling Author of A SEAL in Wolf's Clothing. Award-winning author of paranormal romantic suspense, urban fantasy, and medieval romantic susense. PW's BEST BOOKS OF THE YEAR. Retired LTC with the USAR and award-winning teddy bear artist whose...
Terry's Favorite Books
I'm an eclectic reader so love reading true stories, mythology, romance, historical, paranormal, romantic suspense, YA, historical fiction, just a hodge podge...