A ghostly time travel romance perfect for Halloween!
Now that my kids don't trick or treat any longer, it's time to put away Halloween frivolities. Or is it?
Nah! When I was a kid, I loved spooky stories, ghostly stories, things that went bump in the night.
From sweaty plastic masks to used ballroom gowns, Halloween was the best. Because after that came Thanksgiving and then Christmas! So it was the start of the fun season that kept on going.
So I wanted to talk about superstitions. Here are some my great grandmother passed on to my grandmother and my mother:
Step on a crack, break your mother's back.
Put your underwear on inside out by mistake, good luck.
Find a string/thread on your clothing, good luck.
Toss a pinch of salt over your left shoulder, to ward off the devil. This one started supposedly because salt was such a precious commodity, often used in place of money to barter with, that if it was spilled, you had to toss a pinch of salt over your left shoulder to keep the devil at bay.
Walking under a ladder, bad luck.
Black cat crossing your path, bad luck.
Breaking a mirror, 7 years bad luck.
If you see a shooting star, it is good luck.


Well, I actually added that in the story THE SIREN'S LURE. Is the vampire's meeting with the siren good luck after they both see a shooting star?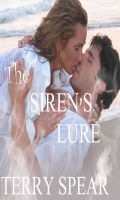 A vampire wishes upon a falling star and ends up with more than he bargained for. When he attempts to rescue a woman in distress, he soon learns she's not quite human and not a huntress--or at least like any he's ever known. That's when the seduction begins--but who is seducing whom?
What superstitions were passed on by your family?
Terry
"Giving new meaning to the term alpha male."
www.terryspear.com
Spear will satisfy longtime fans and newcomers alike with her vivid descriptions and deliciously gnarled plot."
About Terry
USA Today Bestselling Author of A SEAL in Wolf's Clothing. Award-winning author of paranormal romantic suspense, urban fantasy, and medieval romantic susense. PW's BEST BOOKS OF THE YEAR. Retired LTC with the USAR and award-winning teddy bear artist whose...
Terry's Favorite Books
I'm an eclectic reader so love reading true stories, mythology, romance, historical, paranormal, romantic suspense, YA, historical fiction, just a hodge podge...