Self Pubbed Sales Up Nearly 200% at Barnes and Noble!
This Highlander isn't a wolf in the werewolf sense, but...
Self Pubbed sales were 3 times what they were in April! Will the trend continue? It's impossible to say, except that THE DARK FAE sales continue to sell more daily! Unfortunately, the other story I had written in the same world was lost in one of the numerous computer crashes I've had, but with the way sales are going, I'll be writing a sequel to it soon.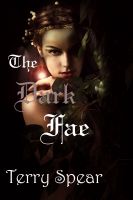 The Dark Fae Ebook By Terry Spear
Published: May. 13, 2011
Category: Fiction » Young adult or teen » Romance
Category: Fiction » Young adult or teen » Fantasy
Words: 41270
Alicia has planned a vacation at South Padre Island with her girlfriend Cassie in forever. But just as they're enjoying a day on the beach, here comes a dark fae to spoil their holiday, except only she can see what he truly is. Alicia has no idea how upside down her world can turn with a chance meeting with one of the dark fae from the royal house of the Denkar.

Alicia's always known she's different--that she can recognize the mischievous fae when they show up to "play" with the humans. Only now she's faced with one highly annoyed dark fae and she's certain he knows the truth about her. She can see him, which means her life is forfeit.
Add to that, his sister arrives, who wants to play, too. And their mother, the queen of the Denkar, will want Alicia's head, once she learns what Alicia can do.
And all because Alicia was attempting to rescue her friend, Cassie, on their beach excursion at South Padre Island, from the wicked fae. Now, Alicia has really gone and done it--and she's thinking she should have let the fae have his fun. Her friend's broken heart would be a lot easier to deal with, than Alicia losing her life.
But it is too late for regrets. As soon as she threw the soda at the dark fae's chest, she had declared war on the fae. And he is happy to take up the challenge.
***
My daughter was reminding me of a YA we both read that we loved the first book, but not the second, so to be sure to keep that in mind while writing the next one.  :) I've read all my daughter's YA books and we used to discuss them before she got so busy with college, but we always loved the same books. So I'm looking forward to writing a sequel and will keep her sage advice in mind!
To continue the blog tour for HEART OF THE HIGHLAND WOLF, I'm here today at Love Romance Passion where I was asked the age-old question about what is worn under a Highlander's kilt...with a twist, because most don't ask about a Highland "wolf"...so drop by and enjoy!!!  I have a lot of disclaimers to answer the question.
What is Worn Under a Highland Wolf's Kilt?
Come and read the blog I had fun writing for Love Romance and Passion and find out, the next blog on a month-long blog tour! :) And did I mention free books?
Terry
"Giving new meaning to the term alpha male."
Spear will satisfy longtime fans and newcomers alike with her vivid descriptions and deliciously gnarled plot."
About Terry
USA Today Bestselling Author of A SEAL in Wolf's Clothing. Award-winning author of paranormal romantic suspense, urban fantasy, and medieval romantic susense. PW's BEST BOOKS OF THE YEAR. Retired LTC with the USAR and award-winning teddy bear artist whose...
Terry's Favorite Books
I'm an eclectic reader so love reading true stories, mythology, romance, historical, paranormal, romantic suspense, YA, historical fiction, just a hodge podge...