What is a woman to do when wolves attract her more than her own kind?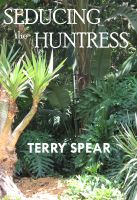 Seducing the Huntress Ebook By Terry Spear
$0.99 Rating: Not yet rated.
Published: Feb. 12, 2011
Category: Fiction » Anthologies » Short stories - single author
Words: 18013 (approximate)
Language: English
Ebook Short Description When the vampire takes on a dare to seduce the huntress, little does he know he's on her terminal list already!Set in an island paradise, neither the huntress nor her prey really knows who the real rogue is and who is being made to take the fall, but will she succumb to the ancient vampire's will before it is too late?
Extended Description
The vampire Sarzoven and his sister are bored with life so a death-defying game of seducing the huntress is an attempt at eliminating boredom. But Miranda isn't about to be seduced by the vampire no matter how sexy he is, not when he's on her terminal list. Sarzoven soon realizes she's a dark huntress, who doesn't eliminate a rogue vampire until she's sure he or she is truly a renegade.
So why is he on her list? Now he must convince her to remove him from her elimination schedule before she decides he really is a rogue. Miranda knows she can't permit the vampire from swaying her from her mission, but soon she finds she's on someone else's list. But who's behind this twisted game that's bound to stir up vampire and hunter hatred alike? And can the huntress and vampire overcome their age old distrust of one another before it's too late?
***
The first 20% of the book is available to read for free.
I love islands and so having been to the US Virgin Islands, I began thinking of them in a paranormal sense. What if vampires lived on the islands? Some are good and some are bad, just like with anyone.
But if you have bad vampires, someone's got to put them in their place. So what if you have hunters?
Right now I'm currently working on Book 10 in the werewolf series, The Highland Wolf in Paradise, which is set on another island I loved--the Grand Cayman Islands. But in the meantime, I've published a short story about vampires in the islands. 
That's what's fun about writing urban fantasy--taking a real world and making it not quite so normal. :)
Terry
"Giving new meaning to the term alpha male."
Spear will satisfy longtime fans and newcomers alike with her vivid descriptions and deliciously gnarled plot."
About Terry
USA Today Bestselling Author of A SEAL in Wolf's Clothing. Award-winning author of paranormal romantic suspense, urban fantasy, and medieval romantic susense. PW's BEST BOOKS OF THE YEAR. Retired LTC with the USAR and award-winning teddy bear artist whose...
Terry's Favorite Books
I'm an eclectic reader so love reading true stories, mythology, romance, historical, paranormal, romantic suspense, YA, historical fiction, just a hodge podge...