Owls Remind Me of Hairy Potter... by Terry Spear
But I think of owls when I think of Merlin and King Arthur, too.
The purple lights and smudged glass windows made some of the shots hard to get, but the top one of a Great Horned Owl was pretty great! Owls are predators, and he's looking at you! His beak is open too, and he's about to catch his prey.
This is a smaller Screech Owl that I almost missed sitting way down below in his glassed-in room.
This owl's feathers looked purple and orange in the purple lights, very pretty owl. This is a Barn Owl--spots on its breast, white face, I had to take a picture of what he was sitting on...an old tea kettle!
These two are Barred Owls/Hoot Owls/Striped/Swamp Owls and were in the same room. Their feathers and walls appear like the bark of trees, more of their natural habitat. The second one almost looks like artwork with the striped bird against the striped wall, only he had to twist his head and wink.
Here's winking at you, kid. :)
I used to collect owls when I was a kid. They made me think of wise old owls. I loved them. But later, it was bears. Sorry owls. :)
I used to have an old hoot owl living in a partially dead tree outside my bedroom window. I loved listening to it hoot at night.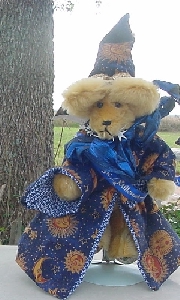 Do you remember a book that I mentioned about an old hoot owl in?
When you think of owls, how do you see them? Clever? Familiars? Harry Potter? Merlin? Something else?
Terry
"Giving new meaning to the term alpha male where fantasy IS reality."
Spear will satisfy longtime fans and newcomers alike with her vivid descriptions and deliciously gnarled plot."
About Terry
USA Today Bestselling Author of A SEAL in Wolf's Clothing. Award-winning author of paranormal romantic suspense, urban fantasy, and medieval romantic susense. PW's BEST BOOKS OF THE YEAR. Retired LTC with the USAR and award-winning teddy bear artist whose...
Terry's Favorite Books
I'm an eclectic reader so love reading true stories, mythology, romance, historical, paranormal, romantic suspense, YA, historical fiction, just a hodge podge...