My dad made the ghost. My mom painted him. :)
So if you're into ghosts...here are a couple of ghost stories.
Highland Rake, Book 3 Coming November 2012 Dougald MacNeill takes Lady Alana Cameron to his laird brother James's Craigly Castle when he finds her roaming the heather on the MacNeill lands. But who has sent her there and why? Her uncle, laird of the Cameron clan, and warring with the MacNeill for years, has made a marriage arrangement with another clan and now that is even at stake. Having witnessed her father's death, and even believing he had returned her home when all along he had been dead, Alana discovers she has the gift, or curse, of seeing the newly departed and sometimes those who should have long ago passed over. Her own deceased brother continues to plague her, the rake, and now another, who is very much of the flesh, Dougald MacNeill, has her thinking marrying a rake might just have its benefits. Dougald's sister, who is one fiesty ghost, has offered to help Alana keep Dougald in line if he thinks of even straying. But who sent Alana on a fool's errand in the first place to remove her from the Cameron's lands and set her squarely in Dougald's care, and who really killed her father and her brother, and what has it all to do with Alana? Will she and Dougald learn the truth before it is too late?

A GHOST OF A CHANCE AT LOVE Time travel western romance. Vinspire Romance

The past clashes with the present, and one woman finds herself fighting for her own identity in the past so that she can have a future with the man she loves--but with her ancestor's hold over her--Lisa Welsh and Jack Stanton only have a ghost of a chance at love.
Lisa Welsh only wishes to leave a messy divorce behind for a couple of days stay in Salado, Texas, but wakes to nightmares and a cowboy in her bed, and she has no earthly idea how he got there. But the situation gets worse when she wakes in the morning and learns she's living in 19th Century Salado. Even more worrisome is the tall dark stranger and everyone else in town believes she's some woman named Josephine Rogers. Only she's supposed to be dead. Jack Stanton can't believe the clerk gave him an occupied room at the Shady Villa Inn, but worse, he was ready to ravage the woman in that bed—until he realized his mistake. Now the woman he thinks is Josephine, claims to be some other woman—and though he could never abide by Josephine's fickle ways, this Lisa Welsh intrigues him like no other. Still, everybody in town believes her to be Josephine, and he steps in to help her find her way back home. Murder, mystery, ties to family roots in the past, embezzlement and murder in the present, and a man she can't get off her mind no matter what century it is, Lisa has no choice. She must solve the mysteries and face the troubles in her world and Jack's or they will never be free to share the love that binds them across the ages. Print and Ebook Amazon B&N ARe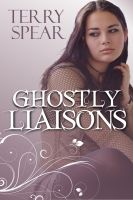 Ghostly Liaisons Ebook By Terry Spear
Category: Fiction » Young adult or teen » Romance » Fantasy
Emily Rundle's curious nature causes her big problems when she moves with her family to Florida. First of all, she's different. Really different. Then the nightmares begin. The kind she can't escape. Somehow she has to unravel the mystery of the ghosts who plague her before it's too late.
Michael Shipley just moved to town, too, and realizes at once Emily is trouble with a big T. If he becomes involved with her, his life will change forever. Premonitions he has that Emily's life will be in danger forces him to make a stand to protect the girl who's gifted with extraordinary abilities like him. They instantly bond as the two weirdest kids in school.
Both Michael and Emily have past histories, painful memories they'd rather forget. Faced with dangerous new challenges, they must overcome their past, threats at school, bullies in the flesh, and ghostly apparitions bent on a deadly game of revenge. What was once a simple matter, discover the secrets of the ghosts and appease them, becomes a race against time as Emily and Michael fight the evil that threatens to conquer them.
Ebook: Amazon
B & N ARe Smashwords
Kobo
I'm here today:
10/23 SOS Aloha
If you'd like something hot like a jaguar or a wolf to keep you satisfied on a desert island--please comment here for a chance at Savage Hunger!
We still have a week of giveaways!
Whoops, thought I'd posted this already. That's the problem with getting up at 4 am! I keep thinking it's so much later in the day. Got to be time for lunch. 8 am? Guess not. LOL
Have a super great Tuesday!
I'm off to work some more on Highland Rake. 87K and counting!
Terry
"Giving new meaning to the term alpha male where fantasy IS reality!"
www.terryspear.com
Spear will satisfy longtime fans and newcomers alike with her vivid descriptions and deliciously gnarled plot."
About Terry
USA Today Bestselling Author of A SEAL in Wolf's Clothing. Award-winning author of paranormal romantic suspense, urban fantasy, and medieval romantic susense. PW's BEST BOOKS OF THE YEAR. Retired LTC with the USAR and award-winning teddy bear artist whose...
Terry's Favorite Books
I'm an eclectic reader so love reading true stories, mythology, romance, historical, paranormal, romantic suspense, YA, historical fiction, just a hodge podge...