Everything Highland Wolves Today!
After Wolf Fever, it's time to check out the hunky Highland wolves, available today!!

Heart of the Highland Wolf
~Terry Spear
Mass Market Paperback: 416 pages
Publisher: Sourcebooks Casablanca
Publish Date: June 1, 211
ISBN-10: 1402245521
ISBN-13: 978-1402245527
ASIN: B004Y5AV1K
Each holds a secret they can't possibly overcome alone...
Julia Wildthorn is sneaking into Argent Castle to steal an ancient relic,but reluctant laird Ian MacNeill may be the key to unlocking the one answer she really wants discovered...
From brilliant storyteller Terry Spear, modern day werewolves meet the rugged Highlands of Scotland, where instinct meets tradition, and clan loyalties give a whole new meaning to danger...
I'm at SOS Aloha where Kim does a lovely job welcoming Veterans!
I'm at Sizzling Hot Books!
I'm at Book Addict today!
I'm at Casablanca today!
Heart of the Highland Wolf
What an adventure, romance intertwined with werewolves, and some mystery in the mix. Refreshing and new, with fun and wit. Lots of sex appeal, with hot and steamy scenes throughout. I really enjoyed this book and am looking forward to more from Terry Spear.--Wanda, Book Loons Reviews
~~~~~~~~~~
In other words I'm everywhere, I'm everywhere! :) So please stop by to comment for a chance at a free book or just to say hi!
Thanks!!!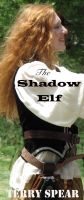 The Shadow Elf Ebook By Terry Spear
Published: Jun. 01, 2011
Category: Fiction » Young adult or teen » Romance
Category: Fiction » Literature » Fantasy (paranormal)
Words: 43138
Persephonice is given the mission of distracting the shadow elves who are bound to learn what is blocking their water source before they discover a space ship is sitting in the middle of their river. That's how all the trouble begins.

Persephonice is an overseer--an observer and recorder of information about inhabitants of civilized worlds. Only she's lost her lifemate and cannot be an overseer without one. She's given a second chance if she can prove she's worthy if she can survive an inhospitable planet inhabited by elves and other mythical creatures she's only read about, very little of which is known of them except that they constantly battle amongst themselves and are not civilized enough to safely observe.
The shadow elf, Dracolin, a warrior given the task of learning what is blocking their water source, doesn't expect to find the most unusual creature he's ever encountered--a red-haired, green-eyed land-bound mermaid. That's only the beginning. She understands and can speak his language, falls off cliffs without injuring herself, and swims like a mermaid--without the fishtail.
Everyone is intrigued with her--except some fear her uniqueness and want to destroy her. That is the problem with observing uncivilized worlds.
Have you ever felt like that? So unique that you're not well received???
I have to mention that I've dedicated The Shadow Elf to my daughter, Jennifer, who inspired me to write the story, all because of her red hair. She is featured on the cover, dressed for the Renaissance Fair, and surrounded by all manner of elves and sprites!
Have a super Thursday!!!
Terry
"Giving new meaning to the term alpha male."
www.terryspear.com
Spear will satisfy longtime fans and newcomers alike with her vivid descriptions and deliciously gnarled plot."
About Terry
USA Today Bestselling Author of A SEAL in Wolf's Clothing. Award-winning author of paranormal romantic suspense, urban fantasy, and medieval romantic susense. PW's BEST BOOKS OF THE YEAR. Retired LTC with the USAR and award-winning teddy bear artist whose...
Terry's Favorite Books
I'm an eclectic reader so love reading true stories, mythology, romance, historical, paranormal, romantic suspense, YA, historical fiction, just a hodge podge...