Ever See a Ladybug with Water Droplets on Her Back? by Terry Spear
Do you see the way the flowers look half eaten? That's probably due to the bug on the leaf. It's a bug eat flower world out there.
Except when it comes to the ladybug below. She's eating the bugs. So in her case, it's a bug eat bug world. :) I had visited the Carleen Bright Arboretum yesterday between thunderstorms and everything had been thoroughly rained on.
Note, even the ladybug has water droplets on her back!
Good bug? Bad bug?
I'm excited to get this review for Winning the Highlander's Heart: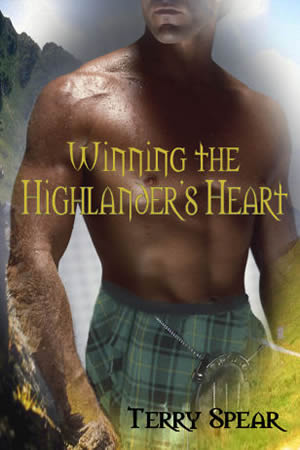 Winning the Highlander's Heart by Terry Spear
Publisher: Vinspire, Inc.
Genre: Historical
Length: Full Length (322 pgs)
Heat Level: Spicy
Rating: 5 stars
Reviewed by Xeranthemum
Winning the Highlander's Heart embraces all the best parts of storytelling that I've come to associate with the talented Ms. Spear. She has created characters that I enjoy getting to know, a story that has merit and grabs the attention, and a happy ever after that satisfies the romantic inside me. When Anice and Malcolm get together it's steamy good and very well written. Overall, this book is very entertaining. What a great way to spend an afternoon – with a good book that delivers what a romance reader wants. I had fun.
I just approved the audio book version of Highland Rake and am listening to auditions for Taming the Wild Highlander. I loved the narrator's voice and I'm still "hearing" the Scottish burr as I work on Jaguar Hunt. LOL
I'm also looking for a narrator for Lady Caroline and the Egotistical Earl.
Today I'm at Manga Cafe for another giveaway!!!
Have a super Thursday! How did it get here so quickly???
I hope you're having a great week. I hear from friends all over that it's heating up everywhere!
Hot in the jungle too...
Terry
"Giving new meaning to the term alpha male where fantasy IS reality."
www.terryspear.com
Spear will satisfy longtime fans and newcomers alike with her vivid descriptions and deliciously gnarled plot."
About Terry
USA Today Bestselling Author of A SEAL in Wolf's Clothing. Award-winning author of paranormal romantic suspense, urban fantasy, and medieval romantic susense. PW's BEST BOOKS OF THE YEAR. Retired LTC with the USAR and award-winning teddy bear artist whose...
Terry's Favorite Books
I'm an eclectic reader so love reading true stories, mythology, romance, historical, paranormal, romantic suspense, YA, historical fiction, just a hodge podge...