A Review, 10 Book Giveaway, and a Highland Movie Book Trailer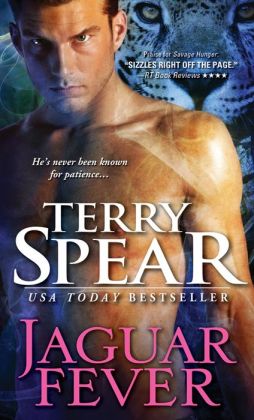 Jaguar Fever by Terry Spear
Publisher: Sourcebooks Casablanca
Genre: Action/Adventure, Contemporary, Paranormal
Length: Full Length (305 pgs)
Heat Level: Spicy
Rating: 4.5 stars
Reviewed by Xeranthemum
Jaguar shifter Maya Anderson learns about a secret jaguar society through undergournd social networking sites. She wanted to discover others like her, but now she's got more trouble than she bargained for—including one hot jaguar shifter who's set his sights on her. Wade Patterson has learned that Maya is a shifter—and available. But how does he get to know her when he left such a bad first impresssion? When he learns Maya has gone to a watering hole for jaguar shifters to meet up, he quickly follows after, hoping she is wily enough to hold her own… Unrequited love is sad but unrequited lust can lend a comedic edge to a tale. An otherwise well-adjusted alpha male who is used to being in control at all times finds himself confused, frustrated and thoroughly out of sorts. He's envious of another man because of what he believes he has. Sad because he wishes he could have just one, just one to call his own. And the sparks fly when Wade, the hero, finds out that nothing is the way he thought. The chase is on.
Maya is the target of Wade's obsession. It started in the first book when I first met her brother, Connor in Savage Hunger. Maya and Wade were secondary characters there but in Jaguar Fever they take center stage. Conner and Kat, his wife, help out in this novel, but the focus is on Wade and Maya. This book has no problems being a standalone story. Any background information a reader needs is provided seamlessly and naturally as part of the plot to get Wade up to speed.
The author introduces a couple more interesting guys for future readers to drool over. There is no way Ms. Spear can leave these two new guys unfettered by love, they have what romance readers like. Throw in Wade's brother, David and I'm hooked for at least three more books. All the guys have that certain something that makes me want more. The author has presented enough hints about their personalities to create an interest without overshadowing or undermining the focus from Wade or Maya. On top of that, there is the clever addition of a character I think comes from her wolf series. I KNOW there are going to be ramifications from what happens in this book. There has to be. But I can't even begin to guess how that is going to manifest in a future book. These are the best kinds of teases.
I liked Wade. He's in the "service" and he's top notch. I liked the ways the author showed just how much Maya distracted him. It alternates between sexy and amusing.
I enjoyed Maya and her propensity to strike out on her own, to be her own person. She does make some right decisions but they come at a cost. She makes some bad decisions and they end up biting back later in the book.
There is quite a bit of action. It's well written and the author chose her words well. The violence is there but it's just enough to get the point across without being gratuitous. The bad guys are quickly dispatched in various manners so readers will see justice meted out. Justice doesn't always end in death however and I was pretty happy about that.
Ms. Spear ramped up the sexy with the shower scene. Wow, that was hot. Wade and Maya had plenty of opportunities to get hooked on each other. The thing that struck me most was the lack of the word 'love'. Neither character was rushing towards that kind of commitment. They were both wary for different reasons. Some romances have either the heroine or the hero realizing what they might be feeling early on and it becomes a part of the plot conflict – that internal struggle of acceptance versus denial. That didn't happen so much in this book. It was more of a growth through shared experiences. They each saw the best of each other and the worst in each crisis they faced. And every significant step brought them closer to the realization that it really wasn't lust after all. There was something more. When the external crisis became critical, all the emotional dominoes fell into place. And yet…one says it and the other merely alludes to it. Do actions speak louder than words? Can "I love you" be translated in other ways other than the verbal three words? In this case, I think so. I would have preferred a mutual open sharing but I guess what the author did was keep the characters true to themselves. Some people are SO stubborn.
Another aspect I liked in the book was the teasing between siblings, the re-verification of the sister-like bond between Maya and Kat and the funny digs Dave gives to his brother, Wade. I loved how Connor gave Wade a hard time in the beginning and how Wade pushed back. I thought the man to man relationship growth was awesome. I could see the beginnings of an extended family built on respect. I enjoyed that community feeling.
Jaguar Fever lures a reader in with humor, snares their attention with drama, captures their imagination with exotic locations and satisfies the romance reader with sexy seduction, culminating in an explosive action packed climax. This book has it all. I enjoyed the cat references because they reinforced the 'otherness' of the hero and heroine and yet, it added a level of cuteness to an otherwise very serious plot. Ms. Spear continues to provide well written tales that reach the heart, stimulate the imagination and satisfy that yearning for a happy ever after proving why she's an auto-buy for me. This author delivers the goods every time. A reader can't go wrong with stories by Terry Spear.
The Giveaway: Enter to win good reads Dark Fae--autographed 10 copies, US Only...
Goodreads Book Giveaway
The Dark Fae by Terry Spear
Giveaway ends in 28 days (July 17, 2013)
10 copies available, 111 people requesting
Enter to win And a Highland Movie Book Trailer as promised...
http://animoto.com/play/YFU8myqeF7nc3Z25Km6G9Q
And that is my Wednesday, middle of the week randomness. :)
Have a super day!!! I have worlds to conquer, books to write, Silence of the Wolf edits coming in today, and a readers' conference coming up. And oh, yeah, got to get the trash out. You know. Those mundane things that make me come back to the real world every once in a while....
Ever feel like that after you've immersed yourself in a good book or three???
Terry
"Giving new meaning to the term alpha male where fantasy IS reality."
www.terryspear.com
Spear will satisfy longtime fans and newcomers alike with her vivid descriptions and deliciously gnarled plot."
About Terry
USA Today Bestselling Author of A SEAL in Wolf's Clothing. Award-winning author of paranormal romantic suspense, urban fantasy, and medieval romantic susense. PW's BEST BOOKS OF THE YEAR. Retired LTC with the USAR and award-winning teddy bear artist whose...
Terry's Favorite Books
I'm an eclectic reader so love reading true stories, mythology, romance, historical, paranormal, romantic suspense, YA, historical fiction, just a hodge podge...