875% Increase in Sales at B & N!
Free giveaway at Urban Fantasy Investigations today!
And that's not for the whole month yet. And that's not for all of my titles that are selling at B&N either. When I realized, through one of my critique partners "heads-up" emails, that I could be making about 20% more on my 99 cent reads through Smashwords for B&N titles, I began switching them out as soon as Smashwords shipped them.
Which means that I'm getting B&N sales that I'm not able to "see" until a couple of weeks after the end of a month, not at real time like I do with the titles I have B&N sell for me.
Last month, I sold 196% over April sales, which absolutely thrilled me!
Mostly, this HUGE jump in sales is due to The Dark Fae, the teen fae story that has really taken off. But it's also pushed sales of many of my other titles.
So why did I publish it on my own? Two agents weren't interested in it. To really sell YA, you need an agent. Sure, I'm certain some have sold without one, but it's really hard to do. I never even tried with publishers. I just didn't figure anyone would be that interested. I guess because of the lack of interest from the two agents.
When that happens, I write another book, and another, and another. I don't wait to see if a book I've written will make it. I just write another. Which is why I have a ton of written books. Send out a few times. No takers. Put it aside and try another idea.
I LOVE to write. LOVE to create new worlds, new plots, new scenarios, new characters. I never give up.
I didn't even self-publish The Dark Fae until well after I self-published several other teen novels. I wasn't sure the fantasy element would sell as well as a more "realistic" YA book. Well, that's because agents had said so to me. I hadn't even considered epubbing it with a more traditional e-publisher, mainly because two of them that I write for aren't even accepting YA any longer.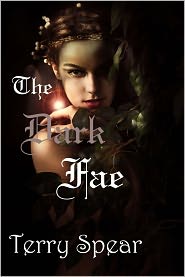 Alicia's always known she's different--that she can recognize the mischievous fae when they show up to "play" with the humans. Only now she's faced with one highly annoyed dark fae and she's certain he knows the truth about her. She can see him, which means her life is forfeit.
Add to that, his sister arrives, who wants to play, too. And their mother, the queen of the Denkar, will want Alicia's head, once she learns what Alicia can do.
And all because Alicia was attempting to rescue her friend, Cassie, on their beach excursion at South Padre Island, from the wicked fae. Now, Alicia has really gone and done it--and she's thinking she should have let the fae have his fun. Her friend's broken heart would be a lot easier to deal with, than Alicia losing her life.
But it is too late for regrets. As soon as she threw the soda at the dark fae's chest, she had declared war on the fae. And he is happy to take up the challenge.
***
What made me self-publish then? Amanda Hocking's success story with her YA. I didn't think I'd garner that kind of success, but several who read her works are reading The Dark Fae. Who would have ever thought!
I haven't read her books, but I just thought how neat it was that she'd never been published and could be a success. I really admire someone that has enough faith in themselves to make it happen. Bravo! She's definitely a heroine in my book!
I've been multi-published, so figured it couldn't hurt. Well, as sales figures stand, definitely it didn't hurt!!!
I also owe a debt of gratitude to an agent who suggested I self-publish my vampire books. They've been highly successful also. I've sold 313 copies just on Amazon, even more on B&N, 100 on Smashwords, and some on ARe--just in 23 days. So yes, it was a great move to do so with them also! 
I was reading about Bob Mayer yesterday and his comment about selling over a thousand copies a day of his self-published works. Yep, I want to be like him when I grow up!
I've heard Rawlings is planning on self-publishing, too. 
But for now, I've got edits to do on The SEAL in Wolf's Clothing, still have to finish Heart of the Jaguar, and need to write some more of The Deadly Fae....
Self-publishing isn't for everyone. And I love my publishers and don't intend to give them up. But self-publishing is going to continue to be part of my annual regimen--also!
Have a super great Thursday!
Terry
"Giving new meaning to the term alpha male."
Spear will satisfy longtime fans and newcomers alike with her vivid descriptions and deliciously gnarled plot."
About Terry
USA Today Bestselling Author of A SEAL in Wolf's Clothing. Award-winning author of paranormal romantic suspense, urban fantasy, and medieval romantic susense. PW's BEST BOOKS OF THE YEAR. Retired LTC with the USAR and award-winning teddy bear artist whose...
Terry's Favorite Books
I'm an eclectic reader so love reading true stories, mythology, romance, historical, paranormal, romantic suspense, YA, historical fiction, just a hodge podge...