5 Blue Ribbons! 5 Stars, Reviewer Top Pick! by Terry Spear
I loved the interaction between Duncan and Shelley and how their feelings for each other nearly leapt off the page. This story has it all; adventure-filled plot, interesting characters, humor, an idyllic setting, edge-of-your-seat suspense, sizzling passion, mystery, werewolves, romance and tender love, making it one that is sure to be a favorite of readers of various genres. Do yourself a favor and check it out! As a fan of Ms. Spear's work, I look forward to her next WEREWOLF story, A HIGHLAND WEREWOLF WEDDING, due to be released in May 2013.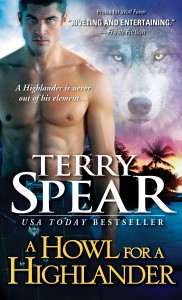 Genre: Paranormal Romance
Series: Werewolf Series, Book 10
Release Date: February 5, 2013
Publisher: Sourcebooks Casablanca
Formats Available: Mass Market Paperback, Kindle, Nook
Purchasing Info:Author's Website, Publisher, Amazon, BAM, IndieBound, Book Depository, Chapters/Indigo, Powell's, Goodreads, Kindle, Barnes & Noble, Nook, iTunes, Kobo, Books On Board, Discover New Love.
*****************************************************************************

5 Stars! Reviewer Top Pick!

"A Highland Werewolf Wedding is every bit as good as I had anticipated, and I enjoyed every minute of it. It was fun to read. There was lots to keep me interested in this story. Who doesn't love an alpha werewolf hero? A wolf in a kilt. Makes it even sexier. But it also had lots of adventure, intrigue, and a mystery to go along with the steamy love story.

This book stands on its own, but I highly recommend the rest of the series as well. After all, who'd want to waste great shifter stories?
I loved this book. A Highland Werewolf Wedding is another shining example of exactly why Terry Spear is the Queen of the shifter romance.
Happy Reading,
DebraTaylor, The Night Owl Reviews Team
Coming May 7, 2013!

It's time to celebrate!
Have a super great middle-of-the-week day!!! :) Are you ready for the weekend???

Terry
"Giving new meaning to the term alpha male where fantasy IS reality!"
www.terryspear.com

Spear will satisfy longtime fans and newcomers alike with her vivid descriptions and deliciously gnarled plot."
About Terry
USA Today Bestselling Author of A SEAL in Wolf's Clothing. Award-winning author of paranormal romantic suspense, urban fantasy, and medieval romantic susense. PW's BEST BOOKS OF THE YEAR. Retired LTC with the USAR and award-winning teddy bear artist whose...
Terry's Favorite Books
I'm an eclectic reader so love reading true stories, mythology, romance, historical, paranormal, romantic suspense, YA, historical fiction, just a hodge podge...