The great jazz pianist Thelonious Monk wasn't generally know as an arts scholar and adviser on the nature of creativity.
Nonetheless, as the following notebook entries show (notes sent to me by the wonderful jazz singer Kitty Margolis), Monk was such a person. The notes were written down by the soprano saxophonist Steve Lacy (no slouch himself), who was a big fan of Monk and played with him many times. Much of what Monk said to Lacy relates to the writing experience too, and is good counsel for the new year.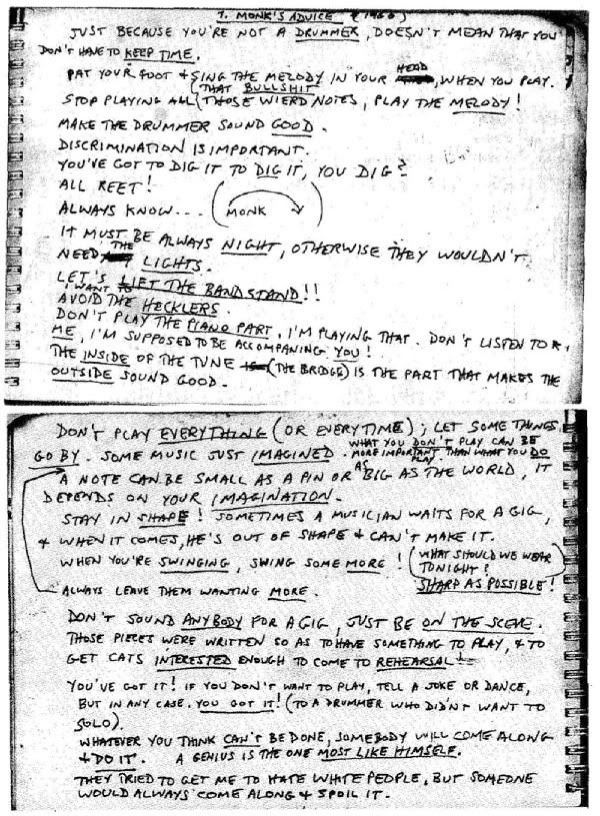 I read every word of these stories (Little Bridget And The Flames Of Hell), not through professional obligation but through genuine enjoyment, engagement, admiration of Terence Clarke's mastery of the craft...I was literally moved to tears by some of these stories, transported by all of them into a world of Irish nuns, immigrants, mad poets, white-collar workers, errant priests, lawyers with, of all things, a heart... When I first got into publishing thirty-five years ago, it was with the hope of publishing literature of this integrity, rendered with such skill and bigness of heart. "
—Malcolm Margolin, Heyday Books
About Terence
Mercury House and Ballantine Books published three of my novels, all to high critical praise. My latest novel A Kiss For Señor Guevara was published in July, 2010. A collection of stories titled Little Bridget and The Flames of Hell was published this...
Causes Terence Clarke Supports
Terence's Favorite Books
Pride and Prejudice, Heart of Darkness, Great Expectations, Memory of Fire trilogy, Love In The Time Of Cholera, The Collected Stories of Gabriel García...