The Great Cafes: Cafe Sabarsky, The Neue Gallerie, New York City
I'm not sure that fine art actually needs coffee. But fine coffee — accompanied by conversation, of course, with someone you care for — benefits mightily from the prospect of viewing art later in the day.
Yet you seldom have the opportunity to see one of the very great paintings of the last 150 years - a world-famous work that richly deserves its reputation and recently sold at well over $100 million dollars - for only slightly more than the price of that fine cup of coffee. Or maybe, if you're feeling particularly profligate, the coffee and a slice of Viennese chocolate torte, rich with sweet schlag (whipped cream).
It goes without saying that any café where this takes place would be well in the running to be called a great one. At the Café Sabarsky, located in the Neue Galerie at 86th Street and 5th Avenue in New York City, you can have just such an experience.
The Neue Galerie is housed in a striking Beaux-Arts mansion that was built in 1914 for a prominent New York industrialist, William Starr Miller, and occupied later by Cornelius Vanderbilt III and his wife Grace Vanderbilt. More spiffy than the Vanderbilts you cannot get. A reporter for The Dramatic Mirror, the leading American theatrical trade journal of the time, sniffed that "the Vanderbilts and people of that ilk perfumed the air with the odor of crisp greenbacks."
It had been so for quite a while. In 1883, Alva Smith Vanderbilt, the wife of William Kissam Vanderbilt (Cornelius III's uncle), was putting the finishing touches on a mansion the couple had built at the corner of 5th Avenue and 52nd Street. This was not a fixer-upper. Its design, by the renowned architect Richard Morris Hunt, was based on that of the Chateau de Blois in France. It was simply the grandest of the new grand edifices being built on Fifth Avenue at the time. Alva wanted to have a commemorative ball for her friends, most of whom were in the upper echelon of New York City society. She intended the event to cast a dark shadow over the Patriarch's Ball, a yearly celebration held for only the right sort of people by Ward McCallister and Mrs. Caroline Astor. McCallister and Mrs. Astor had been for years the doyens of upper-crust New York.
Mrs Astor, however, had not acknowledged the Vanderbilts' ascension to this level of society. She considered them nouveau riche and therefore, one would assume, horrid. She had never invited a Vanderbilt to any affair at her mansion on 34th Street.
So Mrs. Astor waited in vain for an invitation for her and her daughter Carrie to Mrs. Vanderbilt's ball at the new mansion, an invitation that, given the imperious grandeur of the building and Mrs. Vanderbilt's own reputation as a spectacular party-giver, everyone wanted to receive. Mrs. Astor waited and waited. Finally she learned through scuttlebutt that Mrs. Vanderbilt had no intention of inviting her or her daughter, unless by some chance Mrs. Astor were to extend an invitation to Mrs. Vanderbilt to come for a visit to her mansion. A card asking Mrs. Vanderbilt to tea arrived at her new home forthwith, the imprimatur that she had demanded. The Astor footman returned to Mrs. Astor with an invitation to the Vanderbilt party, the very last of the 1200 that were sent out.
The party, held on March 26, 1883, remains one of the most memorable social events in a city that has seen countless.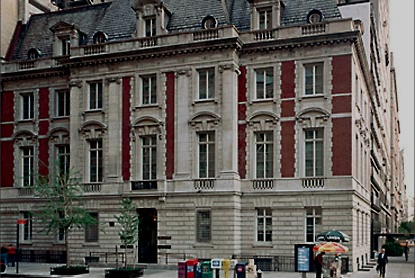 The building at 5th and 86th (in which the subsequent Vanderbilts had lived) was purchased in 1994 by Ronald Lauder, son of Estée Lauder and an heir to the Lauder fortune. The same architects who designed the New York Public Library were responsible for this building, and, like the library, it has been designated a landmark by the New York City Landmarks Preservation Commission.
At that time Chairman of the Museum of Modern Art in New York, Mr. Lauder had for many years been acquainted with a dealer of German and Austrian art, Serge Sabarsky. Together they amassed a collection of such work, which soon became one of the most important in the world. Wishing to house it in a most favorable setting, they decided on the mansion at 5th and 86th. The building was renovated by architect Annabelle Selldorf with a close eye to elegant presentation, and the Neue Galerie was founded.
The great Café Sabarsky is one of its jewels.
The cup of coffee I spoke of is itself rather special here. This place specializes in Viennese cooking, especially pastries and the glories of coffee served with chocolate and cream in the manner of the fine old cafés of 19th and early 20th century Vienna. There is sacher torte, apfelstrudel, topfontorte (which is a cheesecake made with pear that, resting on the fork and awaiting its end, hurries the blood) and klimttorte (named after the artist Gustav Klimt), which features a hazelnut ganache and lurid, compelling chocolate butter cream.
You needn't just have pastries and coffee, though. Chef Kurt Gutenbrunner, formerly of Greenwich Village's Wallse, prepares a Hungarian beef goulash that appears so rich in its white bowl that one is thoroughly prepared for how rich it really is . . . and that is "rich" in the best sense of the term: filled with flavor, sensitively spiced, a wonderment particularly if you're visiting the café in need of a meal on a cold winter's day.
A fine artistic sensibility permeates the design of the café as well, with its reproductions of Josef Hoffmann sconces, Adolf Loos-designed bentwood chairs and — if you please — doorknobs!, along with Otto Wagner fabrics (the same Otto Wagner so well known for his design of railroad stations in Vienna).
But what about this famous painting?
After you've finished your coffee and torte, you walk up a grand staircase to the Neue Galerie itself. The art here buoys the soul. The second floor galleries feature 19th and early 20th century Viennese art, including that of the so-called "Vienna Secession" group whose members included Otto Wagner, Gustav Klimt, Joseph Maria Olbrich, Josef Hoffmann and Koloman Moser. During a recent visit to the Neue, I walked through a simply amazing exhibit of four rooms in which nearly everything in every room was designed by Josef Hoffman himself. It was a stellar example of what a truly multi-talented designer can do in every aspect of interior design from the grandest tapestry to the simplest spoon.
The third floor shows early 20th century German art, including work by George Grosz, Ludwig Mies van der Rohe, and the Swiss-German Paul Klee, as well as the Russian painter Wassily Kandinsky (who lived most of his life after 1896 in Germany and taught at Bauhaus) and many, many others. Taken altogether, the Neue collection gives a very extensive view of the quality and variety of Austrian and German art for the hundred years or so of tremendous fruition that ended — more or less abruptly and completely — in 1933 with the arrival of Hitler.
You should save the very best in this museum for last. In one of the second floor rooms, Gustav Klimt's first portrait of Adele Bloch-Bauer glows from the wall, giving the entire room a warmth like that of soft, nurturing sunlight. But it is very excited sunlight as well. She was the wife of a Viennese industrialist, Ferdinand Bloch-Bauer, who had made his fortune in sugar. She looks like anything but a wealthy socialite. Rather there is a calm yet erotic intensity to the look that this exotic gives us . . . directly, as though, amused by us, she yet wishes us well in our effort to understand how she thinks and, more appropriately, feels. Her dress is a swirl of gold that almost overwhelms her, urged on, it seems, by the equally extreme gold of the intricate tapestry behind her. She is taken over by nothing less than a luxurious whirlwind, yet her own sensuality and reserve rescue her from the possible disintegration that could come from this.
Renée Price, director of The Neue Galerie, writes of this painting: "In 1903, Klimt visited the Byzantine mosaics at Ravenna, Italy, and was impressed by these exquisite works, in which the figure of the Empress Theodora is rendered in a bejeweled setting inlaid with gold. Upon his return to Vienna, he began to work in what became known as his 'Golden Style,' incorporating gold elements into both his allegorical and portrait paintings. In Adele Bloch-Bauer I, one of Klimt's greatest achievements, gold is used in a variety of contexts, from the lustrous background to the shining fabric of Adele's gown. The subject seems to become one with her glowing surroundings, yet a distinctive and tenderly drawn figure emerges from the profusion of decorative motifs. Adele appears as a modern, complex woman, her intelligence as evident as her sensuality. Her hands are folded in such a way as to conceal her deformed finger, yet the gesture only adds to her mysterious grace."
I read every word of these stories (Little Bridget And The Flames Of Hell), not through professional obligation but through genuine enjoyment, engagement, admiration of Terence Clarke's mastery of the craft...I was literally moved to tears by some of these stories, transported by all of them into a world of Irish nuns, immigrants, mad poets, white-collar workers, errant priests, lawyers with, of all things, a heart... When I first got into publishing thirty-five years ago, it was with the hope of publishing literature of this integrity, rendered with such skill and bigness of heart. "
—Malcolm Margolin, Heyday Books
About Terence
Mercury House and Ballantine Books published three of my novels, all to high critical praise. My latest novel A Kiss For Señor Guevara was published in July, 2010. A collection of stories titled Little Bridget and The Flames of Hell was published this...
Causes Terence Clarke Supports
Terence's Favorite Books
Pride and Prejudice, Heart of Darkness, Great Expectations, Memory of Fire trilogy, Love In The Time Of Cholera, The Collected Stories of Gabriel García...