Remembering Carlos Gavito: "Pinta", you say? You got that and more from this man.
1.
Nora sensed that I was weakened, doubtful, unhappy.
"Poeta," she said. "There is a moment when a man has to study with a man. I can teach you much more about the tango, take you much farther down the path. . ."
She fingered the glass of wine before her. The beef steak on her plate put up only slightly more steam than the chicken oreganato on my plate. Her nails were approximately the same color as the cabernet.
"But there is something a man can give you that I cannot."
One of her index fingers made a semi-circle about the base of the glass, a small twirl reminiscent of the molinete, perhaps my favorite step in the tango.
"La pinta, for one."
The arrogance. . . the arrogant elegance of tango. The encompassing style of it.
"You're a man. You need that from a man."
"So, who should I see?"
Her fingers slipped up the stem of the glass. The very ends of them caressed it, barely touching it.
"Gavito," she said.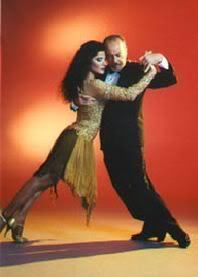 2.
Carlos Gavito was at the time sixty years old. From Buenos Aires originally, he had long occupied that position in show business that allowed him to use just one of his names: Gavito. He was one of the great dancers of the Argentine tango anywhere in the world. Nora had known him for more than twenty-five years and told me that when she first met him at the studio she ran in Buenos Aires with her husband, "Ya era Gavito". . . He was already Gavito. It was easy to see why. Although he was not an imposing looking man and was, indeed, rather kindly, with a graying beard, sad eyes of the sort that Buster Keaton had, a bit of a paunch, a strong reputation as a womanizer and a celebratory manner in his personality that made conversations with him very amusing, he transformed himself when he danced. He became Gavito. I had seen women in tears watching him. I'd heard them breathing in unusual ways. Men -- even, on occasion, other celebrated tangueros -- had to deal somehow with the phenomenon that Gavito represented. Sometimes with men there was jealousy, sometimes a loss of the sense of personal worth in the face of what this man did. But always there was respect.
Gavito danced with barely restrained fury. This was serious business, and the tango he danced was simply the passion he felt. He fixed his gaze on some place in the distance, his eyes widened, his jaw seemed to clench, and he danced as though this were his last opportunity for life itself.
He was not dancing alone. The partner I had asked to join me, Susana, had told me how imperiled she felt when she had first danced with him that day, when he was putting her through feelings and movements that she feared she was not at all prepared to face.
"But he held me. I knew he'd always protect me."
"You just follow," Gavito said. "Do not resist me." He then led her into complexities of the tango that were so sinuously beautiful, exciting, and even, it seemed, dangerous, that I could barely imagine leading such things myself.
3.
Taking instruction from him was like taking a piano lesson from Artur Rubinstein.
I had tried to do the figure. Again and again. A backward step, in which Susana would lean into my chest, a radical figure in which her body would be hung out like a loose line between her toes and her chest, with my chest as the sole support. All the while the two of us entwined in an embrace.
Like lovers. . . although for the moment exposed to public view.
"No!" Gavito said.
He stood up from his chair and came toward us across the dance floor. The recorded tango continued in the background on a tinny boombox . . . Juan de Dios Filoberto's El Pañuelito (The Little Handkerchief), in the celebrated version of Osvaldo Pugliese.
We were dancing, just the three of us, during the afternoon in a practice studio that Gavito was using then, on West 19th Street in New York City. Gavito took Susana in his arms and began the figure we had just been attempting, when suddenly he stopped. Leaving her standing there, he looked at me and said, "Terry, you are a man, yes?"
"Yes," I muttered.
He was intently serious, yet there was a whisper of irony in his voice, as though the master were, as well, a prankster.
"So you must like wine, no?"
"Sure."
"Like me! Fine Spanish wines!"
Gavito formed a circle with his hands, as though they were holding a basketball. The circle roughly fit his own stomach, which came out from above his belt like a round cushion.
"When you do this step, use this," he said, glancing at his stomach. "You enjoyed the wine once. So now, enjoy it again. Use this."
He held his own belly close with his hands.
"Watch!"
While I had done the figure and, at least, not lost my balance, thus keeping Susana and me from disaster, Gavito made it look -- for the few seconds it took -- like he was taking her onto his body in a slow fall, into some cloud-strewn be-flowered hammock for an afternoon of lovemaking.
Then he brought her back to her own equilibrium. She appeared for the moment. . . uh, flushed.
"You can do this step, Terry," Gavito said. "But you need attitude. And this is something you must learn. Of course, you know as well as I do that tango is from Argentina, yes?"
"Yes."
"Good. Well, in Argentina attitude is very important. . ."
He stared intently at the floor.
"But in tango, che, attitude is everything!"
Many people think that tango is the essence of machismo. Women, they say, do whatever the man says. They follow his lead and look pretty, adornments to the man's brusque virility.
Gavito took serious issue with that.
"And you, preciosa," he said to Susana. "For you, the attitude is just as important. You must not shrink like a flower. You dance with the man as though to say, 'Show me what you can do.'"
He took her right hand into his left, holding her at a distance.
"Now follow my lead," he said. . .
I'd frequently marveled at how accomplished a tango dancer Susana was. I'd always thought that, more than almost any of the non-professional dancers I'd worked with, she knew what she was doing.
But now, when Gavito began walking toward Susana -- gracefully, dangerously -- he backed her away. Her shoulders sloped downward. She looked askance, to the side, anywhere else but at him.
"No! Look at me. Tell me who you are. Make me work for your attention."
There was a sudden, immediate change. She continued walking backward, but her eyes were now intent upon Gavito's. This was no retreat. Now she was a woman insistent on her point of view. She would show him what she could do.
"Yes. Now. . . now, dance!"
Susana was being led at arm's length by Gavito, their only touch being a few intertwined fingers. But he led her through turns, stops, sweeps, and reversals of every sort, simply with the movement of his chest, the subtlety of his fingers and the intensity of his body's demands.
Susana, showing him what she could do, did everything.
4.
We attempted a series of molinetes. We twirled about time and again, this time dancing to El Pañuelito ourselves. Our legs airily intertwined while just as airily avoiding one another. There was also a sacada in the middle of this figure, in which the back of my right leg made very direct contact with her left, resulting in a dramatic reversal of direction for both of us.
"No!"
Gavito stood up once more. His eyes had widened, and we could tell he had found some new misdirection, some new error, in our legwork, in our balance.
"Do you know where the tango is?" he asked, giving the question an air of oracular mystery.
"In the mind," I ventured. "The soul, maestro."
"No!"
I glanced at Susana. I had the feeling that we must look like two children chastised by a priest.
He took my left hand and held it up in the air, then placed her right hand in it. We adjusted the hands, placing them within each other's the way we always do when we dance.
"The tango is right here," Gavito said. He lay an index finger on the inside of Susana's wrist, caressing it. "Here is where you learn to do this dance."
I felt a sigh coming from Susana, slowly, as though it wished to remain a sensuous secret.
"But what about the step we just did?" I asked. Wasn't that why he had stopped us?
"The step? The step was fine. No problem!"
"But you said it was wrong."
"No! It was not the step. In tango, you don't dance a step. Che, you dance an emotion. It was the pulse of the blood."
Susana swallowed, wetting her lips.
"Here is where you feel the beat of your heart," Gavito said, twisting our hands in such a way that our two wrists touched each other, inside to inside. "When you put your hands this way, it will take you. The tango will take you."
As we assumed the position, we struggled with our hands,which felt ungainly, unpracticed in this exotic new position.
"Terry," Gavito said, almost groaning. He fixed me with his eyes, the same mad look he takes on when he dances. "Don't you see? You say you want to be a maestro. But you don't realize that, to become that, you must dance with this woman and possess her!"
He placed a finger on his lips, suddenly regretful of the moment.
"Uh. . . sorry, mi amor," he mumbled to Susana. Although she seemed not to resent the remark, really.
He took her into his arms.
"Now. . . watch!"
Pugliese's orchestra murmured in the background. The boombox was suddenly a candlelit evening. Susana's considerable eyes fluttered like black butterflies, and I watched. . . as they danced.
(Note: To see Gavito in action, go to http://www.youtube.com/watch?v=v246c8wP6_0&feature=related)
I read every word of these stories (Little Bridget And The Flames Of Hell), not through professional obligation but through genuine enjoyment, engagement, admiration of Terence Clarke's mastery of the craft...I was literally moved to tears by some of these stories, transported by all of them into a world of Irish nuns, immigrants, mad poets, white-collar workers, errant priests, lawyers with, of all things, a heart... When I first got into publishing thirty-five years ago, it was with the hope of publishing literature of this integrity, rendered with such skill and bigness of heart. "
—Malcolm Margolin, Heyday Books
About Terence
Mercury House and Ballantine Books published three of my novels, all to high critical praise. My latest novel A Kiss For Señor Guevara was published in July, 2010. A collection of stories titled Little Bridget and The Flames of Hell was published this...
Causes Terence Clarke Supports
Terence's Favorite Books
Pride and Prejudice, Heart of Darkness, Great Expectations, Memory of Fire trilogy, Love In The Time Of Cholera, The Collected Stories of Gabriel García...