Maestro Soriano, Alfa, Beto and Gabo
Two donkeys make all the difference when it comes to good reading.
In the October 20 issue of the New York Times, Simon Romero writes a story about a Columbian primary school teacher named Luis Soriano. With the aid of two donkeys, Maestro Soriano delivers books to the small villages in the area around La Gloria, the town in which he lives. The burros are called Alfa and Beto, and his traveling-library service is called Biblioburro.
Maestro Soriano lives in the right place, La Gloria being just south of Aracataca, the town near the Caribbean coast of Columbia where Gabriel García Márquez was born. Luis travels on weekends. . . one would imagine rather slowly. He has a collection of 4,800 books in his home, and his mission is to bring the light of books to those people far away in the country who have no other access to them than that now provided by the two burros.
Times correspondent Romero writes that "the idea came to [Soriano]. . . after he witnessed as a young teacher the transformative power of reading among his pupils, who were born into conflict even more intense than when he was a child." The conflicts are those between various bandit gangs, leftist guerillas and right-wing paramilitary groups that have been arguing over the fate of Columbia for many, many years. Romero describes the form this conflict has taken for Soriano himself. "Two years ago. . . bandits surprised him at a river crossing, found that he carried almost no money, and tied him to a tree. They stole one item from his book pouch: Brida, the story of an Irish girl and her search for knowledge, by the Brazilian novelist Paulo Coelho."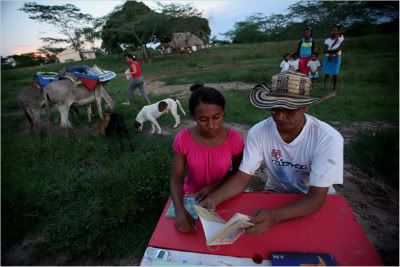 Photo: Scott Dalton for The New York Times
Maestro Soriano will arrive in a small village, read to the kids, lend books to them and their families, and return some weeks later to exchange them for different books. His journey is quixotic, to say the least, notable for its slow progress step-by-step through the rough hills, scrub farmland, beastly hot weather and rapid-fire Spanish of northern Columbia. He has been making the journey each week for many years, and he almost always is told that the villagers cannot wait for him to return.
It is so admirable a journey that he was featured some years ago on a radio show hosted by the Columbian writer Juan Gossaín. Sr. Gossain had read portions of his own novel The Ballad of María Abdalá on his show, and Soriano wrote to him asking for a copy of the book, so that he could circulate it through Biblioburro. Gossain described Soriano's efforts to his audience, and suddenly books began to come to the teacher by the hundreds.
Now Soriano is a cultural hero in Columbia. He is also very like a character as described by Gabriel García Márquez himself.
Like almost anyone who cares about a good novel, I've read a lot of García Márquez, most recently Love in the Time of Cholera, which I finished this morning, October 22. With the exception of The General in His Labyrinth, which I found tedious, repetitive and long-winded, I've loved every one of his books that I've read. One Hundred Years of Solitude, which also is repetitive and long-winded, is anything but tedious. It's one of the books that caused my now flourishing interest in South America, and I read as much of it as I can whenever I can. I would recommend to anyone at least a dozen of García Márquez's short stories. The short novel Chronicle of a Death Foretold is a marvel, especially in what it has to teach any fiction writer about the uses of faulty memory for the telling of a very precise story, and Living To Tell the Tale, the first volume of García Márquez's autobiography, is itself wonderful because of the close resemblance it bears to his fanciful fiction. Can we really believe that the narrator of this book, Gabo, is actually one of the novelist Gabo's most humorous creations, or did the narrator Gabo simply spring from his mother's womb ready-made as one of those creations?
That Love In the Time of Cholera may be García Marquez's best novel would come as a surprise to many people, especially those who cherish good dialogue. There is almost none in this book. Paragraphs are long, and gather in large clumps through very long chapters. Reading . . . and reading. . . I was often reminded of acquaintances of mine who complain about nineteenth century Russian novels, that the particular author can't get to the point. "We have to read all that boring description all the time," they say. In this novel, García Márquez does get to the point, but not in the snows of Moscow or the Gulag or any such, and not until page fifty-one (the very last page of the first chapter) in which he writes of Fermina Daza -- who has just lost her husband of more than fifty years -- that she has been approached by another man, one Florentino Ariza, who has told her, "I have waited for this opportunity for more than half a century, to repeat to you once again my vow of eternal fidelity and everlasting love." Fermina Daza dismisses Florentino Ariza angrily, yet when she awakes the next morning, García Márquez tells us that "only then did she realize that she had slept a long time without dying, sobbing in her sleep, and that while she slept, sobbing, she had thought more about Florentino Ariza than about her dead husband."
Thereafter come two hundred ninety-eight more pages explaining why this is so.
We learn about the development of river travel in Columbia in the early twentieth century. We discover the allure that Europe held for those South Americans who had the funds and the education to appreciate that continent in fact. We are allured equally by small painted benches in a small Columbian river town, in a tree-lined, sweltering park where the young lover awaits his paramour only to be disappointed in the end by her indifference. We read long letters that remain otherwise unread over decades. We look at the same photograph many times over a half-century, and watch as it turns yellow and brown, slowly riding up at the edges. We read lists of Fermina Daza's purchases in Europe. We suffer from Florentino Ariza's habit of applying too much cologne. We are amused by his debauching himself with every sort of willing female – for fifty years – including America Vicuña who, when Florentino Ariza is seventy-six, is sixty years his junior. He does all this while remaining convinced that he's preserving his chastity in Fermina Daza's name. We read about the important place of the letter-writing scribe in small-town Columbian culture, in the help he gives to unlettered farmers and business people, to chastened lovers, to overheated lovers and abandoned lovers. We get quick looks, now and then, into the passing revolutions that take place so frequently during the period the novel covers. Liberal politics. Conservative politics. Presidents. Generals. Bishops. Black people. White people. Whores, virgins, grand lovers, destroyed lovers, successful lovers. Rain. Heat. Poetry contests. Song contests. Upriver. Downriver. Aging. Children. Old bones aching.
All of it – and more -- told in a tone of voice that is entirely deadpan and hilarious, and all of it told while Florentino Ariza is waiting for Fermina Daza's husband to die.
This novel is no quick lark, perfect for your week on the beach in Puerto Vallarta. One might die on that beach waiting for the end of this book. But at least he would pass away while reading one of the greatest send-ups of romantic love ever written, even though it isn't as much a send-up of love as it is a celebration of it. You care so much for poor Florentino Ariza that you wish you could be with him for those fifty years, to help him through them as he waits. You wish you could whisper into Fermina Daza's ear that she should love this man, that in the few years left to her after she finally accepts him, she'll find the truest love possible, and it will last, as Florento Ariza says, "Forever".
I hope that Luis Soriano, Alfa and Beto have a copy of Love in the Time of Cholera in their saddlebags. If I were living in one of the villages they frequent, and some mad, traveling reader had mumbled to me the words of that book's title and a few sentences about its contents, I'd wait for them to come back too.
I read every word of these stories (Little Bridget And The Flames Of Hell), not through professional obligation but through genuine enjoyment, engagement, admiration of Terence Clarke's mastery of the craft...I was literally moved to tears by some of these stories, transported by all of them into a world of Irish nuns, immigrants, mad poets, white-collar workers, errant priests, lawyers with, of all things, a heart... When I first got into publishing thirty-five years ago, it was with the hope of publishing literature of this integrity, rendered with such skill and bigness of heart. "
—Malcolm Margolin, Heyday Books
About Terence
Mercury House and Ballantine Books published three of my novels, all to high critical praise. My latest novel A Kiss For Señor Guevara was published in July, 2010. A collection of stories titled Little Bridget and The Flames of Hell was published this...
Causes Terence Clarke Supports
Terence's Favorite Books
Pride and Prejudice, Heart of Darkness, Great Expectations, Memory of Fire trilogy, Love In The Time Of Cholera, The Collected Stories of Gabriel García...