Horacio Ferrer: The Essence of Tango (Part 2)
Horacio Ferrer and Astor Piazzolla were close friends and had a remarkable creative collaboration for many years.
Horacio: Okay. Shall we talk about Astor Piazzolla?
Terry: Yes. When he was a young man, he was in the United States, in New York.
Horacio: Yes, he was there a long, long time. We went to New York.
Terry: Do you know that in English he had a Lower East Side accent? I heard him speaking on the radio, and his accent is quite strange, especially when you consider that he's Argentine. Can you give us some comments about the elements of North American music, especially jazz, in Piazzolla's music?
Horacio: I think that really there are not too many jazz elements in Piazzolla's music. They're there, but they're not central. I think that Piazzolla's idea — well, maybe he attained something different from what he proposed — I think he was very essentially a tanguista, playing the bandoneón. That instrument is very specific to the tango.
Other things can be played on the bandoneón, like Bach's music, but the bandoneón is the very face of the tango, and he played the bandoneón. Besides he came from a race of tanguistas, because he played in Anibal Troilo's orchestra, who was a great innovator, and he was an admirer of Osvaldo Pugliese and De Caro, who had been the greatest of previous innovators. So that he was very involved, and all the elements of Piazzolla's music are of the tango.
What happens is that, in the harmonic and contrapuntal parts of his music, he finds things from other musical springs, like jazz, also from European classical music, with which he garnishes the dish. But the beef, the churrasco, is from Buenos Aires. The accompaniment, the decoration is from others, because, besides, he liked differentiating himself from the tangueros because he was different.
I believe he changed the very scale of the tango. And by changing the scale I mean that, before, in the western tradition, there was the 78-rpm record that could hold six or seven phrases of sixteen measures each. He extended that. And he is always passionate in whatever he does, in the beginning, the middle and the end, and so, that way, there are works that last six or eight minutes or longer.
So he changed the scale of the tango, and always with the same depth of feeling. Because there are musicians that have a kind of elastic that is red in color, but when they stretch it, it gets pink. Not him. He's always red, what he does is always intense, it's always very human and very profound in its poetic musical discourse.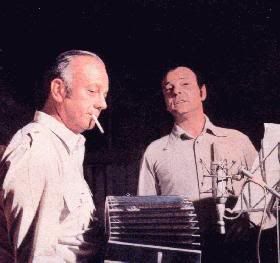 Astor Piazzolla and Horacio Ferrer, 1969
Terry: You come from Montevideo, don't you?
Horacio: I was born in Montevideo. I could have been born in Montevideo or Buenos Aires, which in reality are the same city.
Terry: But are there different musical elements in the tango montevideano?
Horacio: No, no. The school is porteño (i.e. from Buenos Aires). The school of the tango is porteño. What we do have in Montevideo is more black people. They've disappeared from Buenos Aires - in total, in all of Argentina now there remain only about three thousand black families.
So in Montevideo, there's a lot of candombe and a lot of milonga (i.e. other dances, usually faster than tango, that yet retain harmonic and rhythmic relationships with tango). Because the milonga is Black. The tango has nothing of the Blacks in it; the milonga is totally Black. It contains the essence of the Blacks. And so Montevideo is more milonguera and more candombera than it is tanguera. But one doesn't know, in the end, which city is more or less tanguera, because the fact is it's the same cultural region, the same substance of customs and habits, with small differences.
Terry: I want to ask about "Chiquilín de Bachín" ("The Kid from the Bachín").
Horacio: Yes, yes. Why not?
Terry: It's one of my favorite tangos, especially in terms of the poetry of the lyrics. For me, the vision of this kid looking through the window of the boliche (cafe/bar)...he's probably thirsty, well, hungry. He's very poor, obviously.
Horacio: Yes, yes, he's very poor.
Terry: And the idea of his poverty, and the riches of the people on the other side of the windowpane, that's like a transparent barrier, and the difference between them...
Horacio: Right, right, the street simply continues being cruel, while through the windowpane inside everything is much more hospitable and affectionate, and there's a lot more food.
Terry: It's a poem in its own right, isn't it?
Horacio: No. It was written to the music, eh? I wrote it to Piazzolla's music. When he passed it by me, la-la-la la-la-la (Horacio sings a few notes of the melody), I said to him...he says, "Do you like it?" And I said, "It's lovely!" And I said to him, "But what does it mean to suggest? Because I'll write something from the inside of your feelings, from inside what you're thinking." He said to me, "It sounds to me like a children's round."
From that, the idea occurred to me of this little kid selling flowers (whom I still know now. He's so much older now. He's forty. He was eight then.) And that's why I wrote those lyrics, no? Because of Piazzolla's idea that this was a children's round, and because of what happened in that Bachín cantina to which Piazzolla and I used to go to eat, into which all those characters of the night would come, no?
(Continued in Part 3)
I read every word of these stories (Little Bridget And The Flames Of Hell), not through professional obligation but through genuine enjoyment, engagement, admiration of Terence Clarke's mastery of the craft...I was literally moved to tears by some of these stories, transported by all of them into a world of Irish nuns, immigrants, mad poets, white-collar workers, errant priests, lawyers with, of all things, a heart... When I first got into publishing thirty-five years ago, it was with the hope of publishing literature of this integrity, rendered with such skill and bigness of heart. "
—Malcolm Margolin, Heyday Books
About Terence
Mercury House and Ballantine Books published three of my novels, all to high critical praise. My latest novel A Kiss For Señor Guevara was published in July, 2010. A collection of stories titled Little Bridget and The Flames of Hell was published this...
Causes Terence Clarke Supports
Terence's Favorite Books
Pride and Prejudice, Heart of Darkness, Great Expectations, Memory of Fire trilogy, Love In The Time Of Cholera, The Collected Stories of Gabriel García...