Fashion, Fine Shoulders and Poiret. . . from The Metropolitan Museum of Art
A beautiful dress can flow down a woman's body like delicately fashioned color and fine, scented oil. It can flourish upon her, literally, so that she looks like a flower, or many flowers gathered together with lush taste. It can arrest the heart of the person looking at her. The dress can swirl about her, caressing her. It can lead you to the conviction that someone truly cherishes the woman who is wearing it.
So I was not surprised, looking at the book entitled Poiret, published by the Metropolitan Museum of Art in New York City, by how important a woman's shoulders are. I've always had a keen appreciation of shoulders, especially those that support weight. The weight of a summer dress, for example. Or perhaps that of a light bag designed for an evening by Vera Wang or Elliott Lucca or some such.
Those kinds of shoulders.
But now that I've seen this beautifully produced book (which was the catalog for an exhibition of Paul Poiret's work, which I also saw in New York), my education has been made much more complete. Because at least now I've seen the clothing that Poiret designed for his wife Denise. Judging from the way these dresses look in photographs of her by Man Ray and others, Denise had lovely shoulders indeed. And, I imagine, so did the hundreds of other women who also dressed themselves in his work.
This may sound a little insouciant. But according to Harold Koda and Andrew Bolton, who wrote the preface to the catalog, "[Poiret] dethroned the primacy and destabilized the paradigm of Western fashion."
When you look at the couturier that preceded Poiret's, with its corsets, bustles, gewgaws, high-necked severity and overall complicated and conservative design (the kinds of things that Edith Wharton's and Henry James's heroines wore), and compare it to a dress like his 1922 "Irudrée" evening gown you see the radical nature of the change.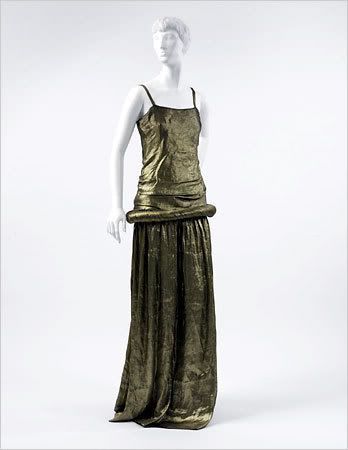 "Irudrée" evening gown, 1922
This entire book supports the argument that Paul Poiret was indeed a revolutionary. But one seldom encounters revolutionaries that have the taste, eye and helpmates that this man had. Throughout most of his career, for example, Poiret designed clothing for one woman, Denise.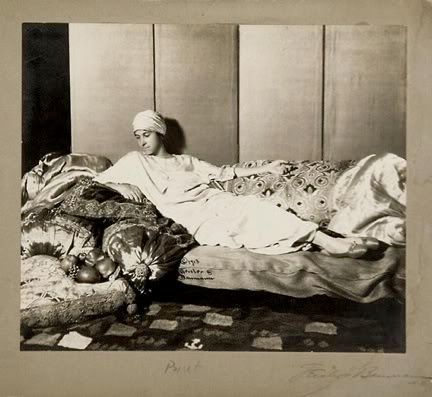 Denise Poiret at The Plaza Hotel, New York, 1913
They had known each other since childhood, and he once said of her "My wife is the inspiration for all my creations, she is the expression of all my ideals." When you see the photographs of her wearing his designs, you understand how this could be so. She is attractive in a very informal way, and is a natural in front of the camera. She accents his radical and gorgeous designs with such lively humor that her wearing of them to parties, receptions, the theater and so on must have caused a sensation every time.

"Pré Catelan" evening coat, for Denise Poiret, 1918
Poiret began his career showing drawings of his designs to various couturiers in Paris in the last decade of the nineteenth century. His break came when he designed a red cloak for the French actress Réjane's appearance in a play entitled Zaza in 1898. The cloak caused a sensation, about which Poiret himself wrote in his autobiography, "All the sadness of a romantic dénoument, all the bitterness of a fourth act, were in this so-expressive cloak . . . Thenceforth I was established."
Poiret founded his own atelier in Paris in 1903, the same year that he began designs that effectively did away with petticoats. In 1906, he got rid of the corset as well, a fashion accoutrement that had changed very little since the Renaissance.
In 1911, he founded a perfume and cosmetics company that he named Rosine, after one of his daughters, and a decorative arts company that he called Martine, after another. With this stroke, he ushered in a kind of lifestyle business empire in which every aspect of a smart woman's surroundings could be affected. One French journalist wrote, after a visit to Martine, that "certainly couturiers have never before insisted that chairs, curtains, rugs and wall coverings should be considered in the choosing of a dress, or rather that the style of a dress should influence the interior decorations of a home."
Poiret did so insist, and he designed all such things.
He is often noted as much for his prescient business activities as he is for his designs. Koda and Bolton write that his work as an artist has "served to detract from Poiret's more enduring innovations, namely his technical and marketing achievements. [He] effectively established the canon of modern dress and developed the blueprint of the modern fashion industry." This from a man who said of himself "I am not commercial. Ladies come to me for a gown as they go to a distinguished painter to get their portrait put on canvas. I am an artist, not a dressmaker."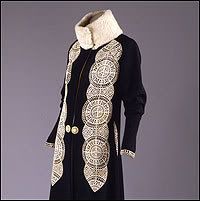 Coat, 1919
He was also an accomplished self-promoter. On June 24, 1911, he and Denise threw a party in Paris for three hundred guests. The year before, he had seen the Diaghilev/Ballets Russes production of Schéhérazade, with music by Rimsky-Korsakov and choreography by Michel Fokine. The costumes had been designed by the Russian artist Léon Bakst, and Poiret loved their Orientalist fervor. Pantaloons. Vests. Head-wraps. All in strong, many-spiced colors. He determined to design things that had similar exotic vision. The guests at the party (which was named, with a nod to Schéhérazade herself, "The Thousand and Second Night") were required to wear Orientalist fashion, and they arrived as though they had just stepped off a Byzantine bark anchored grandly in the Straits of Bosporus. Poiret's own designs for harem pants, lampshade tunics and all manner of other things were much in evidence among the women guests.

Dress for "The Thousand and Second Night" soirée, 1911
The soirée was the smash of the 1911 Paris season, and caused many of these designs to become the fashion items for smartly dressed women for a number of years afterward
Poiret also well understood the use he could make of the fashion and entertainment press for his own purposes. He grasped the concepts of "marketing" and "public relations" before they even had names. The irony of this was that, because of the fame of his designs, they lent themselves to knock-offs that could be made for a much wider and less well-heeled clientele. The far-flung appeal of his designs — and their seeming simplicity — could be satisfied by new technologies of assembly-line production, and the knock-offs did make him more famous. But they did not fill his pockets in the way that they might have, had he himself more fully understood the manufacturing ideas that went on to completely take over the twentieth century.
History intervened as well. Poiret knew that the United States was an untapped well of business for his designs. He opened an office in New York City. But World War I took precedence, and Poiret closed the short-lived office after April 1, 1917, the day the United States entered the war.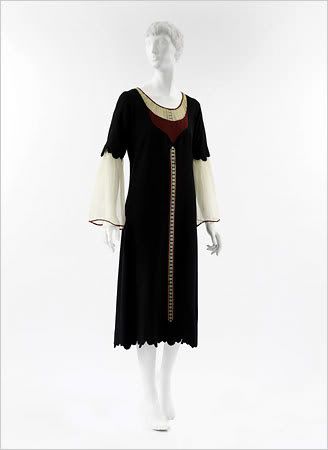 "Bouclier" day dress, 1925
Clothing hangs upon a woman, and the designer who can make it hang in a totally arresting manner makes her look like the vision she would like to be. When you see these clothes of Poiret, you can only imagine the number of such visions — blood running through their veins, self-confidence brimming from their eyes and lips - that he dressed. For example, among the clients who had seen such designs, either on Denise in person or in the media, and wanted dresses for themselves were Peggy Guggenheim, Sarah Bernhardt, Lillie Langtry, Isadora Duncan, Josephine Baker, Mistinguett, Nancy Cunard, Helena Rubinstein, Colette and Elsa Schiaparelli.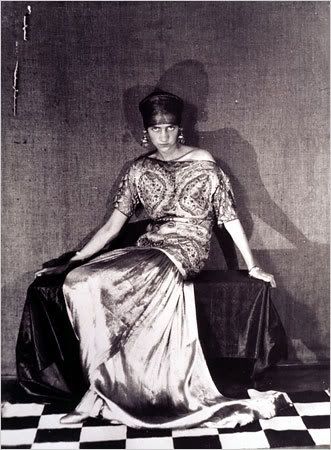 Peggy Guggenheim in Poiret
In time, though, as with all fashion, the popularity of Poiret's designs waned. World War I reduced his extraordinary empire. The 1920's came, and fashion ideas changed, helped along by the arrival of Coco Chanel. They met once when Chanel was very young and Paul Poiret's fame was in decline. Noting the simplicity of the simple black dress she was wearing, one of her latest designs, he asked her for whom she was in mourning.
"For you, Monsieur Poiret," she replied.
I read every word of these stories (Little Bridget And The Flames Of Hell), not through professional obligation but through genuine enjoyment, engagement, admiration of Terence Clarke's mastery of the craft...I was literally moved to tears by some of these stories, transported by all of them into a world of Irish nuns, immigrants, mad poets, white-collar workers, errant priests, lawyers with, of all things, a heart... When I first got into publishing thirty-five years ago, it was with the hope of publishing literature of this integrity, rendered with such skill and bigness of heart. "
—Malcolm Margolin, Heyday Books
About Terence
Mercury House and Ballantine Books published three of my novels, all to high critical praise. My latest novel A Kiss For Señor Guevara was published in July, 2010. A collection of stories titled Little Bridget and The Flames of Hell was published this...
Causes Terence Clarke Supports
Terence's Favorite Books
Pride and Prejudice, Heart of Darkness, Great Expectations, Memory of Fire trilogy, Love In The Time Of Cholera, The Collected Stories of Gabriel García...