In My World: Santa Claus Was Black.
I like to write things when the furor of stupid has generally subsided.
I think Megyn Kelly's stupid on FOX News has died down just enough to warrant writing about it.
In a supposedly hilarious tongue in cheek little piece on FOX News for the kids responding to a tongue in cheek penguin piece from an African American Woman, about Santa Claus being a white man with a follow-up skeed about how people are race baiting. From of course...her hilarious FOX News standup race baiting that Santa Claus is White.
(It's hilarious! It's for the kids! holy crap! She's a comic genius! Someone put her on the waiting list at Mouthypants! These are hardcore comedy nuggets. And by Hardcore Nuggets I mean Pieces of Shit)
Why does she feel this when she had to explain her amusing joke (immediately not making it funny as once you have to explain your joke...) is that The Commercial World of Christmas...Santa Claus has always been white.
Hi Ms. Kelly. May I call you Megyn? No? Alrighty then. Hi, Megyn:
In my Commercial World of Christmas on the South Side of Chicago? Santa Claus (along with Mrs. Claus, Elves, Angels, Happy Families in a Winter Wonderland and someone holding a spiral ham in an Edith Head drawn dress in front of some mistletoe)...was black.
Why? Well. I'm black. I'm a black woman who grew up on The South Side of Chicago in the seventies and eighties. Here is something else: As a kid who was an actor? Sure. Me and my other black kid actor friends vied for these commercials at auditions.
Also....we did not get the Hallmark Cards that you saw at our local Supermarkets. Those trucks back in the day never went past Hyde Park.
Like most African Americans my age we came up with the simple solution to our Holiday dilemma of not only not seeing images of ourselves represented in Commercial Christmas but not even getting the products of those white images in our neighborhoods. Those cards and images were generally not on the Southside of Chicago...but on State Street at Marshall Fields.
Our Solution: We just created it ourselves.
This is a collage of Christmas Cards that was from my childhood, Megyn. Sure, it was hilarious when Keenan Thompson dressed as black Santa Claus on Saturday Night Live this year in a tongue in cheek idea that he could never humanly be Santa Claus from your hilarious on air observation?
But for us of African American Persuasion of a certain age, the funniest part of Keenan's Weekend Update appearance is the fact that he looked like the Christmas Card my grandmother used to send out to people. He looked like all the Santa Claus' dressed up like Bell Ringers in my Neighborhood.
He certainly looked like The Santa Claus that I always wanted to take a picture with at Evergreen Plaza. The one where I never did because my mom didn't want us waiting in line forever only for her to yank us out when she was done Christmas Shopping.
"Write a letter. All the kids not waiting in line do and they get great gifts". My mom used to say. That solved that problem and a lesson still learned every time I just wait for the new Apple products to come out. Except "Write a Letter" has morphed to "Get Online"
In mine (and a lot of people's) world who might or might not be of perfect porcelain like skin, blonde hair and an admittedly gorgeous figure, Megyn: Our Santa Claus is not white even in commercial world.
Before the interwebs, my family and many others bought these cards to pass out. For us who were still Christian and not digging on the Kwanzaa thing in the late 60's/early 70's as our own holiday, we commercially made Christmas into something that could be given to our children as a recognition that we are also part of the celebration with images of Black Santa along with the gifts of Black Barbie's, Black Ken's and even dolls made like Flip Wilson & Julia.
This is the Flip Wilson Doll I received Christmas of 1970. I was five years old. It was the "Red Ryder BB Gun of my Christmas World" on the south side of Chicago. I wore this doll's string out to the point where Flip saying "What You See is What you get darlin'...WOOO" sounded like failing ice cream truck music and the WOOO started to sound more like "RAAARRRRRR"
Flip Wilson was coming to get ya! RAAAARRRRR! It made this doll all the more special to me. I wish I still had this doll, Megyn. It's nice to know I can find it easily online as a collectors piece.
...Because very few people remember who Flip Wilson is anymore. Along with seeing a Black Santa Claus Commercially ask what you wanted for Christmas surrounded by black elves.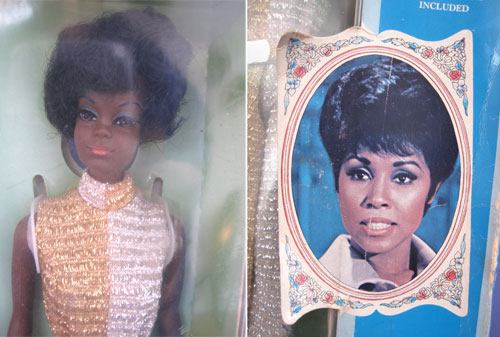 I still own this doll. If you get online to a web series I did I use this doll in wrapping her up as a gift "In my image" I actually made the director of this webseries personally deliver this doll back to me after it was used in another episode. It was more than just a prop. This doll is a cherished childhood Christmas memory. There were dolls that looked a little like me. With pretty wig attachments.
One day I can only hope some African American Girl will be just ecstatic to unwrap a Kerry Washington Doll.
So hey Megyn, Thanks for upping that Jesus might actually not be a white guy...what with that whole geographical location of where Jesus was born. But Santa Claus commercially for my world was not a white guy. He was a black dude.
To be more succinct once I realized Santa Claus was just a wonderful myth: Santa Claus looked surprisingly like this:
In my world when I got to that age where reality beats out myth: Santa Claus was an African American Woman with a big Afro running to the only open store on the South Side of Chicago on Christmas Day to get more batteries and dinner rolls.
She was the one who opened that Santa Claus Letter and read what I wrote so she didn't have to figure out what to get me for Christmas.
I'm 100% sure your Real Santa Claus is white Megyn, who is probably super proud of you that you have a gig on FOX News. And that is wonderful. It honestly is. That is the joy of Christmas at the heart of the myth. The love of the people around you.
Oh and the celebration of Jesus Christ's birth. Who is not white...probably was born in April and all depending on who you talk to...might be a myth too.
Stop saying everyone's Santa is white...and go home for Christmas and hug your two Santa Claus': Your mom and your dad.
In the Commercial World of Christmas, Santa Claus is the figurehead who sold those gifts to the Real Santa Claus'.
...and in my world? That Santa was black too.
He's a jolly old brotha.
About Shaun
Shaun is Co-Founder and Artistic Director of the critically acclaimed, and original African American Touring Sketch Comedy and Improvisational Theatre Company Oui Be Negroes. She is also the founder of Landry & Summers Productions and producer emeritus of...
Causes Shaun Landry Supports
The Alzheimer's Foundation, NAACP, Breast Cancer Foundation, Gilda's Club.