Week Two- Restoring Hope: A Wolf Rescue Story
Ishta (below) has done remarkably well. She comes to greet us in the mornings, tail up and wagging.
We're moving on to leash acceptance. As soon as she saw the collar and leash she bolted. I imagine the last time she saw one, she was being dragged away and stuffed into an animal control crate.
We dropped the equipment and settled for getting her used to us "manhandling" her. So far we've used gentle touch, keeping rub downs to a minimum. Now we have to prepare her for the sensation of us moving her body and head around. She tolerated it well, and eventually allowed a collar try once another dog christened it;) Video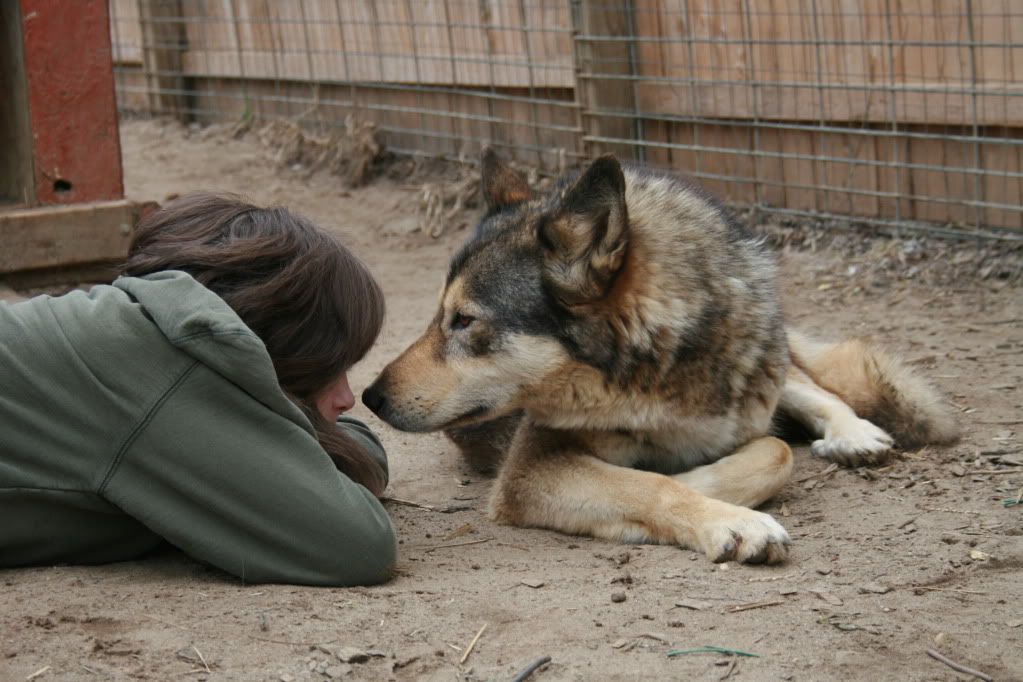 In the next video, Ishta loves the Mitchum deodorant we wear and to keep the scent with her, she rubs it on her, while rubbing on us.
However, this causes friction between the neighboring pack because wolves love to claim things and the Alpha female didn't care for Ishta's behavior, so they got into a fence display which ended with the Alpha female starting a pack rally cry with yips and howls.
If you're interested in wolf howls, compare the rally cry to the lazy afternoon siesta howl in the final video.
Someday, I'll get around to writing the book about how healing abused wolfers helped heal my daughter's post tramatic stress syndrome.
And to think it all started with Timberly (top of page) an equally shy stray wolf mix who is also up for adoption. She was Sara's first sucess story.  Timber now walks on leash, and does sit/stay.
About Sangay
Sangay's experiences at Howling Woods Farm inspired her to create the anthology, "In the Company of Wolves: Lessons of Healing and the Art of Happiness from Nature's Most Resilient Creatures", and share the heartwarming story of her daughter's wolfer–assisted...
Causes Sangay Glass Supports
Sangay's Favorite Books
2001: A Space Odyssey, by Arthur C. Clarke The Inner Reaches of Outer Space, by Joseph Campbell The Unfinished Revolution, Michael Dertouzos Looking for Mr....