Restoring Hope: A Wolfer Rescue Story
Ishta is a wolf-hybred who came to a breed specific rescue facility where my daughters and I volunteer. Sadly, after witnessing the shooting death of her littermate, and experiencing the same threat to her own life, Ishta was highly fearful of humans.
Since wolves and northern breeds feel more comfortable around women and my daughters and I have the time, we started socializing the timid and shy arrivals. Ishta was so far our biggest challenge.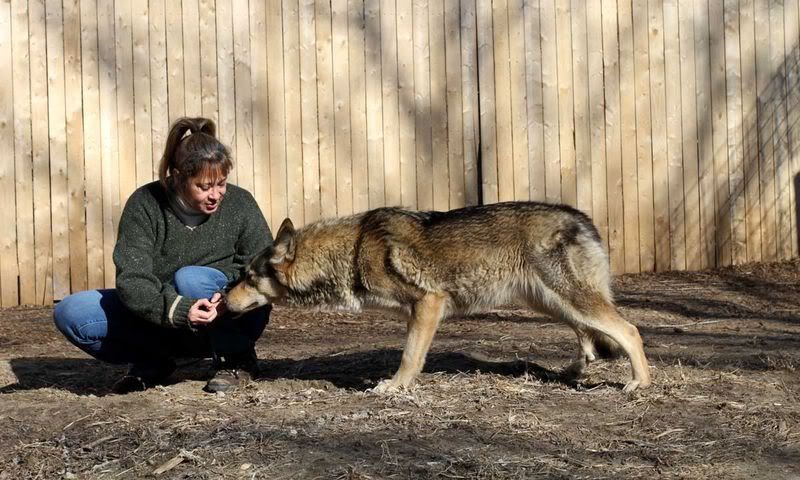 In socializing and rehabilitating animals, there's a lot of hanging around, offering treats, and waiting for the magic moment. Well, Ishta's magic moment finally came after three weeks, and it was beautiful, an Earth Day week miracle.
Following is a video of those first moments and days. It's clear Ishta longed to be touched lovingly by a human hand again. The next day, she allowed her belly to be rubbed, then allowed the rest of us to give her some TLC. Her forgiveness and the recovery of all of Howling Woods animals has been an inspiration, especially to my daughter who was traumatized by years of bullying.
We can all learn something from Ishta. Click here or Photo
But please note, I do not advocate the breeding and owning of wolves and hybrids. They make awful pets, yes, they are loyal but they are also disobedient, are highly destructive and do not make good watchdogs (they are fearful of new people).
About Sangay
Sangay's experiences at Howling Woods Farm inspired her to create the anthology, "In the Company of Wolves: Lessons of Healing and the Art of Happiness from Nature's Most Resilient Creatures", and share the heartwarming story of her daughter's wolfer–assisted...
Causes Sangay Glass Supports
Sangay's Favorite Books
2001: A Space Odyssey, by Arthur C. Clarke The Inner Reaches of Outer Space, by Joseph Campbell The Unfinished Revolution, Michael Dertouzos Looking for Mr....