Webcomic Wisdom for Writers
For a guy who apparently draws stick figures for a living, the chap that creates the web comic xkcd (pronounced by saying the letters) has an amazing ability to make things simple: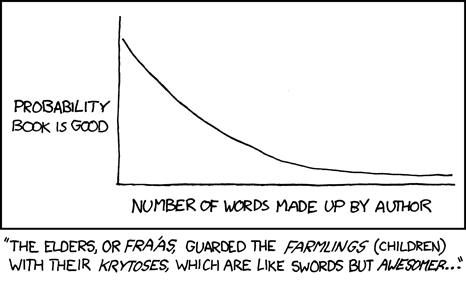 In gearing up for NaNoWriMo, I know my notes were starting to create their own vernacular. This comic made me reassess the accessability of what I was going to be creating if I used the notes as they sat. After a good pruning of my techno-babble (a good practice for any aspiring sci-fi writer, I imagine), my notes seem more coherent and interesting. I can't imagine how much editing it would have taken to make the same improvement after I had written the first draft.
As to the statement that xkcd can make things simple, let me qualify: there's also a site out there that attempts to translate xkcd's comics into "English." This is due to the the relatively high amount of technical, scientific, and mathematics references in many of his strips. Even so, I highly recommend spending a coffee break hitting the 'random' button. You might learn something, you might laugh, you might save yourself a load of editing in December.
About Roy
I've been a fan of science fiction since I was a child, watching original series Star Trek re-runs and reading Jules Verne.
Causes Roy Steves Supports
Roy's Favorite Books
Snowcrash, To Reign in Hell, The Selfish Gene