My article about my Polish Book tour to promote "The Warsaw Anagrams" has just been published at Talking Writing, a very fine American webiste about writers and writing. I would be grateful if you would share the link with friends interested in the Holocaust, Polish-Jewish history, contemporary Poland and other related topics. Thanks.
Here is an excerpt. For the full article, please go to the link.
A TALE OF TWO POLANDS
A Grandson of Polish Jews Returns to the Old Country
My mother's father, Itzhak Gutkind, grew up in a three-story townhouse in Brzeziny, a small but bustling city at the center of Poland's textile-producing heartland. Back then, at the end of the nineteenth century, Brzeziny's colorfully painted row houses were home to a mishmash of 7,500 Jews, 5,000 ethnic Poles, 1,200 Germans, and several hundred Russians. Three thousand of the residents stitched garments in small factories, and a majority of the Jewish boys—including Izhak—trained as tailors.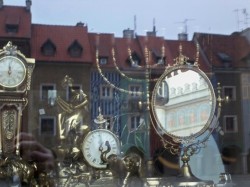 "Menorah in antique shop window in Poznan"
© Richard Zimler
Happily, Itzhak and his Brzeziny-born wife Genendel Kalish—my grandparents—emigrated to America long before the Nazi occupation of Poland. Eight of their brothers and sisters remained behind, however, and none of them would survive the Holocaust. Even today, 67 years since the end of the Second World War, one could say that Brzeziny represents an ongoing victory for the Nazis; like thousands of towns and cities across Poland, it remains Judenfrei—free of Jews.
It's understandable, then, that when my Polish publisher proposed a book tour for their edition of my latest novel, The Warsaw Anagrams—set in the Warsaw ghetto in 1940 and 1941—my heart did a small dive toward panic. My mother had died several years before, but I could clearly see her throwing up her hands and exclaiming, "Don't you dare go!" Like most Jews with roots in Poland, she and my grandparents always raged more bitterly against the Poles than the Nazis themselves, and they regarded all Poles as anti-Semitic to the core.
Despite Mom's warning, I decided to go; I realized that a grandson of Polish Jews coming to Poland to promote a novel set in the Warsaw ghetto might prompt some discussion in the media of the country's 3.3 million Jewish citizens who died in the Shoah. And so it was that on November 20, 2011, I became the first person in my family to walk Brzeziny's slanting, potholed streets in nearly seventy years. And just before noon, I saw what I never thought I'd see: my grandfather's house.
Standing in front of that grim, unpainted house—watching my vapor-puffs of breath form in the frigid air and thinking of how worried but astonished my mother would be—I felt as though I'd accomplished the impossible simply by being there. And I realized I was tingling with a heightened sense of self because it had been Hitler's goal that no Jew should ever set foot in this town again. And, yet, here I was!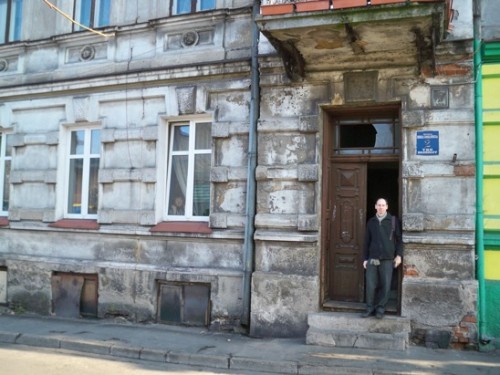 "At grandfather's house in Brzeziny" © Richard Zimler
It was the local museum director, Paweł Zybała, who had discovered the address of my grandfather's house and led me there. In posing together for a photograph, I put my hand over his shoulder, and he placed his arm around my back. A Jew and a Pole embracing in Brzeziny seemed a wonderful testament to how far Poland has come over the last decades. Yet, as I got in our car for the ride to Łódź, 20 kilometers away, Adam Drzewucki, the young, long-haired publicist assigned to chaperone me, told me, "One of the museum people just confided in me that the residents of Brzeziny are still very anti-Semitic."
That revelation shocked me. Realizing how easily I could be fooled by my own enthusiasm, I decided to talk to all the journalists, bookshop employees, and readers I would meet on my tour about the current state of anti-Semitism. And yet I received so many contradictory answers over the next few days that it took me nearly to the end of my visit to make sense of what I'd heard.
Katarzyna Markusz, a 29-year-old freelance photographer who spent the last several years researching the blood-soaked history of the Jews of her hometown of Sokolow Podlaski, added an important nuance to my conclusions at our interview in Warsaw. Over tea at the MDM Hotel in busy Constitution Square, she told me, "We Poles say that the country is divided into two regions, A and B. A is everywhere to the west of the Vistula River [which passes through Warsaw and Krakow]. It is open-minded and relatively wealthy, and the people there look toward Western Europe. Poland B is backward, isolated, and more traditional, and its people look toward the East. In Poland B, anti-Semitism remains strong, while in Poland A, it is slowly disappearing."
Unfortunately for Katarzyna, Sokolow is very definitely located on the B side of this psychological fault line. "Most people there have never met a Jew and still hate them!" she told me. She herself has paid a high price for uncovering the story of the town's vanished Jewish community of 5,500, having frequently quarreled with both local authorities and family members. No one in Sokolow will hire her as a photographer.
*****
For my Facebook posts, go to: http://www.facebook.com/pages/Richard-Zimler/179279892106230?fref=ts
About Richard
Richard Zimler was born in Roslyn Heights, a suburb of New York, in 1956. After earning a bachelor's degree in comparative religion from Duke University (1977) and a master's degree in journalism from Stanford University (1982), he worked for eight years as a...
Causes Richard Zimler Supports
Save the Children, Fairness and Accuracy in Reporting, Revolutionary Association of the Women of Afghanistan (RAWA)