Nike Won't Just Do It - Nike and the Joe Poterno Child Development Center
Your a parent - you have a choice - send your child to the Nike Child Development Center or the Joe Paterno Child Development Center.
No brainer, right?
Not for Nike.
In the wake of news that legendary coach, Joe Paterno, did not go to the police after learning his defensive coordinator, Jerry Sandusky, had just been caught raping an eleven-year-old boy in the Penn State shower room, Nike says it will not rename the Joe Paterno Child Development Center.
WTF?!
And this is an organization that tries to pass itself off as the progenitor of all things cool, hip, with it, and healthy? "Just do it" with a swoosh. Bullshit.
The only people who seem to think Nike is doing the right thing by keeping their child-care center named Joe Paterno is Forbes Magazine, which says in a news release that it is a good business strategy to stick with embattled sports heroes - such as Tiger Woods.
Really Forbes - a good business strategy? And what do we tell our children?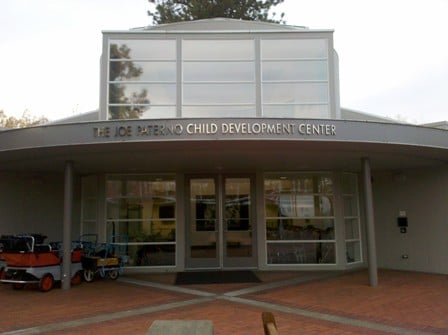 "Mommy, Daddy, who was Joe Paterno, and why did they name my school after him?"
"Oh, Bobby, he was an icon. A giant of a football coach at a very big and important school, and his school had a very big and important contract with Nike. He was a legend. And, well, yes, he was fired for helping cover-up of the rape of several young boys. But, let's not dwell on that. It's not a good business strategy."
I know one thing. Those Nike glasses I was thinking of buying? Not doing that. No more Nike shoes for me, either. Or shirts, pants, socks, bras, balls, backpacks, hats or hoodies. No more nothing.
I am the mother of an eleven year old boy, and I say the hell with you Joe Paterno and Nike and Mike McQueary (the assistant coach who witnessed the rape and then, instead of stopping the crime, called his daddy,) and Forbes magazine and everyone else that has traded their honor for a seat in the old-boys-scratch-my-back-and-I'll-scratch-yours-if-it's-good-for-business (or the catholic church)-it's-good-for-us-club.
Let me say it again, because it is just too wrong to be true.
Joe Paterno was told his assistant, Jerry Sandusky, was just seen with his prick inside an eleven year old boy's rear end, and he did not go to the police. "Dis-honored," he has been fired from Penn State. Nike, who has had a long-standing endorsement relationship with Paterno and the University, will not re-name their Joe Paterno Child-Development Center into something less dis-honorable—or scary.
Just screw it, Nike. You've just lost a customer.
About Naseem
Naseem Rakha is an award winning author and journalist whose stories have been heard on National Public Radio. Her international best selling debut novel, The Crying Tree, has received the 2010 PNBA Award. She lives in Silverton, Oregon with her husband, son...
Naseem's Favorite Books
A Place on Earth By Wendell Berry, Eventide By Kent Haruf, Sometimes a Great Notion by Ken Kesey, To Kill a Mockingbird By Harper Lee, Snow Falling an Cedars...