Horror Hound Weekend (March, 2008)
"Why do you write horror?"
This is a question I get all the time.  People ask it cautiously; certain I will regale them with some terrible tale of early childhood trauma, but the answer is quite simple really.   I write horror because I am first and foremost…a horror fan.  As I sit here in my office, I am immersed in the genre.  Monsters stare down at me from the top of my desk, from my shelves and wall…the demon from Pumpkinhead, the Predator, every stage of the creature from ALIEN—from egg to adult, and in the corner, a life-sized (I assume) standee of Stephen King smiles its approval as I type away at my keyboard. 
Yes, I have always had a love of the dark, and from time to time, when I need my creative batteries recharged, it is good to gather with those who share my passions.  Nothing sparks the muse to life faster than chatting it up with other writers who have been there and done that, and nothing re-fuels my love of the genre more than meeting the actors, artists, and creators who have given me so much joy over the years.  So each year, as spring rains wash away the winter snow, it is not uncommon to find me spending my weekends at various conventions.   
First up in 2008, Horror Hound Weekend in my hometown of Indianapolis.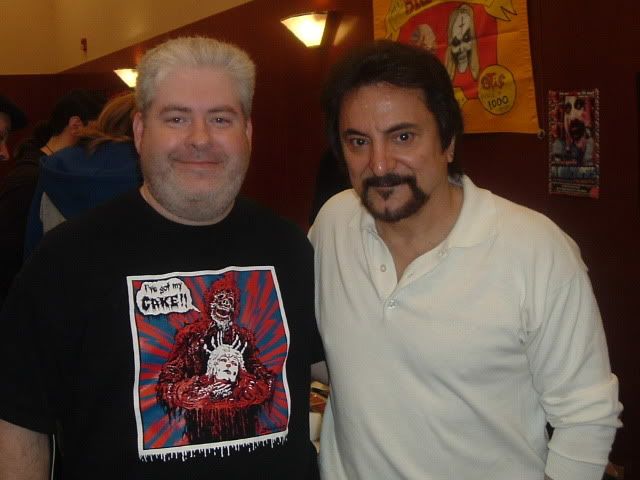 The first person I see as I walk in the door is Special Make-up Effects artist, actor, director, and stuntman Tom Savini (Friday the 13th, Dawn of the Dead, Creepshow).   I've met Tom at many of these cons, and it is always a pleasure. 
"You're becoming a perennial fixture at Horror Hound," I tell him.
He laughs.  "I hope so."
This year, I had my two sons with me for the first time, and my 9-year-old was most interested in Fluffy, the creature from the crate in Creepshow.  Tom took the time to explain to him how the effect was created, then signed a photo of himself with the creature.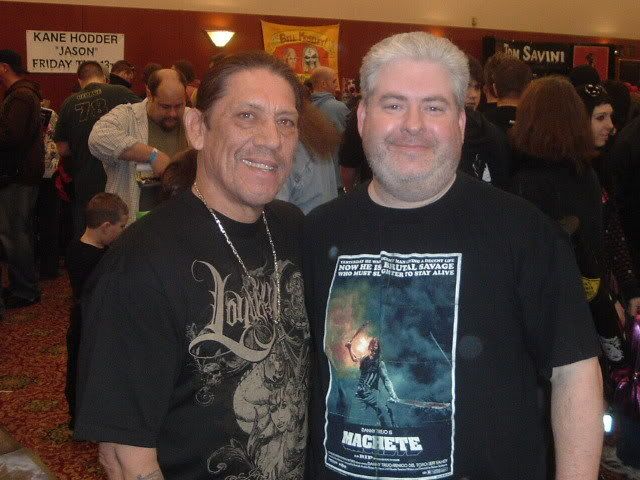 Across the large convention hall is Tom's From Dusk 'Til Dawn and Grindhouse co-star Danny Trejo.  I walk up to him and he points to my shirt.  It's a Machete T-shirt, showing Trejo in a mock movie poster for the film that never was.  "Where did you get that?!"
"Hot Topic," I inform him.
"I'm getting' one of those."
I laugh.  "You mean they didn't send you one?"
"No!  But I've got to go get one."
The next person I meet is Doug Bradley (Pinhead from the Hellraiser films).  Doug is a true gentleman, just a sweet, sweet man.  We talk about the state of horror today, with the frenzy for remakes of true classics.
"For me," I say, "the only reason to do a remake is to take a lesser film and make something good out of it.  Take Cronenberg's The Fly, for example."
"Well…we could debate that one," he says, then comes back with, "I love Carpenter's The Thing."
I nod and smile, as John Carpenter's The Thing is one of my favorite films of all time.
Doug went on to say, "What really angers me, as a horror fan, is the talk I hear of a Nightmare on Elm Street  remake without Robert Englund as Freddy Krueger.  Robert is Freddy."
I couldn't agree more.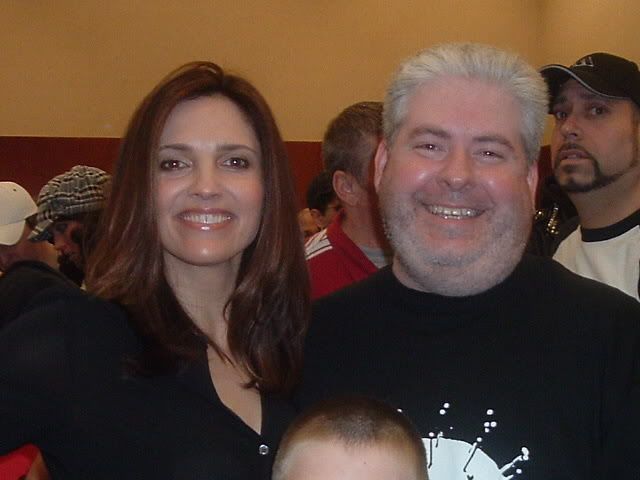 Next to Doug is his Hellraiser co-star Ashley Laurence.  When I was a teenager, seeing the film for the first time, I thought she was a beautiful girl, but now, some twenty years later, she is truly gorgeous. 
Ashley and my 9-year-old hit it off immediately.  She answers his many, many questions (if you know my son, you know he has no shortage of them), never talking down to him, and the rest of the day, whenever we walk by her table, she always asks how he is doing and who he is off to see next.
We pose for a picture*, and when my son holds out both his arms, she laughs and says, "Let's all do that."
*Author's note:  Pictures featuring my children have been cropped when possible.  When not possible, I have chosen not to post them.  I hope you understand.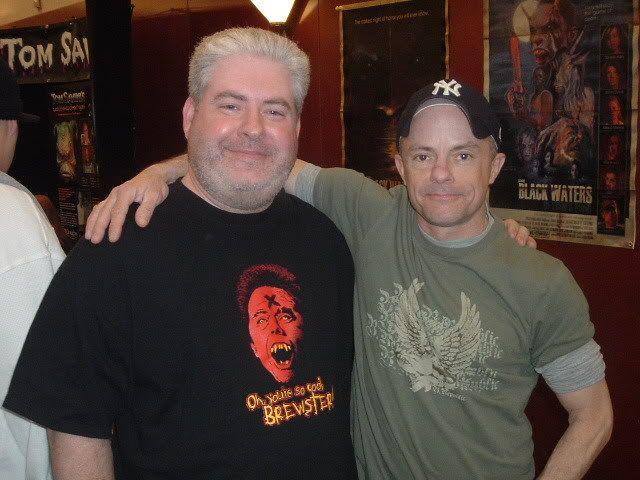 We then paid a visit to the vampires of Fright Night: Chris Sarandon (not pictured) and Stephen Geoffreys (Above). 
Now, in addition to being creature of the night Jerry Dandridge, Chris Sarandon provided the speaking voice for Jack Skellington.  Those of you who know me are well aware of my fondness (What is this "obsession" you speak of?) for Tim Burton's A Nightmare Before Christmas, so I was very pleased and excited to meet the Bone Daddy in the flesh.  He was most gracious with his time, signing a large framed piece of Jack artwork and posing for a family portrait with my two children and me.  
And Stephen was very nice as well, discussing the pain of contact lenses and vampire dentures, and the joy of working with Roddy McDowell.  He signed a photo of the scene where a cross is burned into his forehead, changing his famous line of "you're so cool, Brewster" to "you're so cool, Mike."  Needless to say, I was thrilled.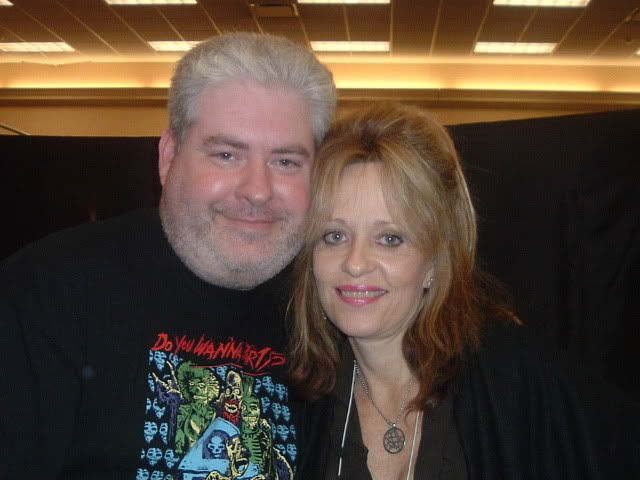 We then met the lovely ladies of Return of the Living Dead, Scream Queen Linnea Quigley and Jewel Shepard.
I think I have seen every film Linnea has ever done (RotLD, Silent Night, Deadly Night, Night of the Demons), even taking joy in bit parts and cameos she's done in Nightmare on Elm Street 4 and Innocent Blood.  She was so pleasant, and we talked for quite some time, more about life matters than film, and once again, my 9-year-old was a charmer.  He'd been waiting all day to speak to Linnea, and she was absolutely wonderful with him.  Even now, several days after the fact, he can't stop talking about it.  In fact, we talked for so long that a line formed behind us and we finally had to say our thank yous and goodbyes.
The beautiful Jewel Shepard was one of the highlights of the weekend.  She had such a good sense of humor, and a very smart, very realistic view of life in the limelight.  She's had to miss conventions in the past due to weather-grounded planes and other catastrophes, but I was so happy she was able to attend Horror Hound. 
We took a picture together (Above), and then she asked if I wanted to take one more. 
Who am I to refuse?
"This is for your MySpace page," she told me, and then she placed my hands on her chest.  It was…very nice.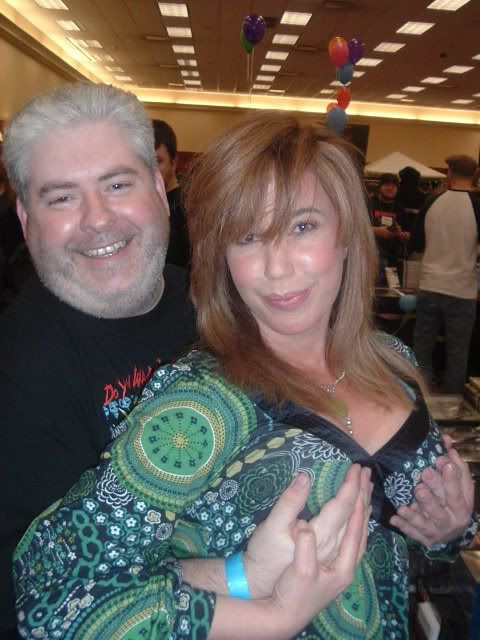 Another hightlight of the weekend was meeting the Cenobites from Hellraiser and Hellbound: Hellraiser II.
Barbie Wilde (Female II) has written a novel herself, and it was great to talk shop with someone who had such enthusiasm. 
Simon Bamford (Butterball) was quite a lot of fun.   He is a very thin, very energetic guy.  Nothing at all like his pudgy, demonic alter ego.
"I don't know what I expected you to look like…" I began.
"But not this?" he finished with a laugh.
Doug Bradley and Barbie had each written a line of their dialogue on the photo I had them sign, and this prompted Simon to tell me that he originally had dialogue in the film as well.  Unfortunately, fake teeth made his speech unintelligible, so they split his lines between Doug and Barbie.
"Why don't you just write down one of the lines you would have said," I told him.
He smiled. "I've never done that before.  This will make it quite rare." 
Nicholas Vince (Chatterer) was the last to arrive (prompting me to joke that he was using Jewel Shepard's travel agent), but despite being stuck in planes and various airports for two days, he was full of good spirits.  Instead of a line of dialogue, he drew a sketch of the Chatterer below his name.   
As we were waiting for Nick, Ashley Laurence and Doug Bradley decided to pick a fight with Kane Hodder (Jason from Friday the 13th Parts VII-X, see picture below).  They would launch rubber bands at him from across the aisle, and he would turn around and launch them back. 
"What's Jason gonna do?" Doug taunted, then he mimed Jason walking up to someone and stabbing them.  "Can he make hooks and chains appear out of thin air with a wave of his hand?  No.  Who can do that, huh?"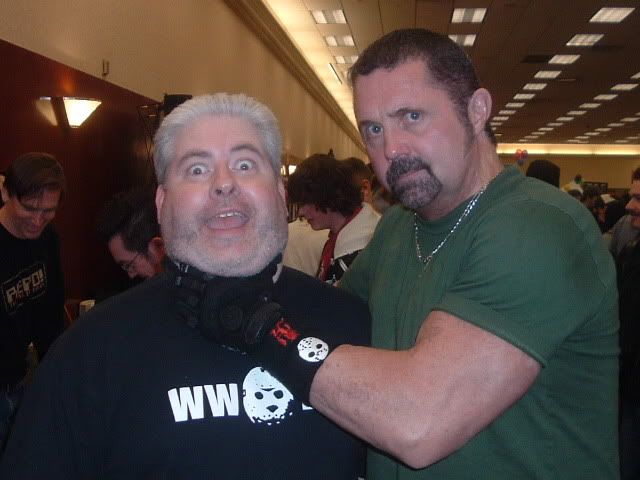 I've been to a lot of conventions over the years, for both professionals and fans, and I have to say that this Horror Hound was the one of the best that I have ever attended.  It was well organized, the guests really seemed to enjoy being there, and I know that I enjoyed being there with them.
Horror Hound will pay Indy another visit in August.
I will be first in line.  
About Michael
Michael West is the author of various short stories, nonfiction articles, and reviews. His work has appeared in magazines such as City Slab, APEX: Science Fiction and Horror Digest, and Doorways.   His most recent tale, "Trolling," appears in the...
Causes Michael West Supports
American Red Cross
Make-A-Wish Foundation of America
...
Michael's Favorite Books
'Salem's Lot and The Stand by Stephen King, The Books of Blood by Clive Barker, Berserk by Tim Lebbon, Jurassic Park by Michael Crichton