Scottish Poet John Barbour died - 1395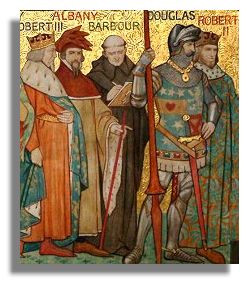 Scottish poet John Barbour died on March 13, 1395 in Aberdeen, Scotland. Barbour was Archdeacon of the Kirk of St. Machar in Aberdeen. Although he was a man of the church, his surviving writing is strongly secular in both tone and themes. His principal patron was Robert II and evidence of his promotion and movements before Robert Stewart came to power as king tend to suggest that Barbour acted politically on the future king's behalf. His principal surviving work is the historical verse romance The Brus which gives a historic account of the actions of Robert the Bruce and the Black Douglas in the Scottish Wars of Independence during a period from the circumstances leading up the English invasion of 1296 through to Scotland's restored position in the years between the Truce of 1328 and the death of Thomas Randolph, Earl of Moray in 1332. The poem's center-piece (literally) is an extensive account of the Battle of Bannockburn of 1314. Barbour's poetic account of these events is a keystone in Scotland's national story.
Michael Thomas Barry is the author of Great Britain's Literary Legends. The book can be purchased from Amazon through the following links:
Amazon - http://www.amazon.com/Great-Britains-Literary-Legends-Writers/dp/0764344382/ref=sr_1_3?ie=UTF8&qid=1363191039&sr=8-3&keywords=michael+thomas+barry
Amazon UK - http://www.amazon.co.uk/Great-Britains-Literary-Legends-Writers/dp/0764344382/ref=sr_1_1?ie=UTF8&qid=1363191079&sr=8-1
The writer must write what he has to say, not speak it. Ernest Hemingway"
About Michael
Award winning author and columnist Michael Thomas Barry is a native of Wheeling, Illinois and is a graduate of the California State University, Fullerton with degrees in History and Criminal Justice. He is a columnist for CrimeMagazine.com, where he pens the...