Poet John Keats was born - 1795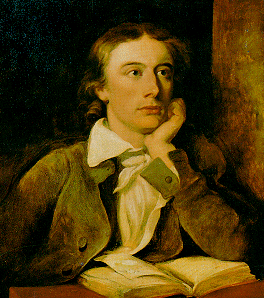 Today marks the 218th anniversary of the birth of poet John Keats. He was born on October 31, 1795 in London, England and was was one of the main figures of the second generation of Romantic poets. Although his poems were not generally well received by critics during his life, his reputation grew after his death, so that by the end of the 19th century he had become one of the most beloved of all English poets. He was the first child of Thomas and Frances Keats. They were affectionate and loving toward their children. John especially shared a close relationship with his mother. His father died in an accident in 1804. His mother, after a second marriage and divorce, died from a lung disease in 1810. In 1811 Keats became an apprentice to a druggist in Edmonton, England. There Keats first tried his hand at writing and produced four short poems entitled "Imitation of Spenser." On October 2, 1815, Keats started medical studies at Guy's Hospital, but poetry gained an increasing hold on his imagination. His first volume of poems was published in March 1817. His next work, Endymion: A Poetic Romance, was published in May 1818. In September 1820, although his health had been declining for some time, Keats traveled to Italy on an invitation from his friend and fellow poet Percy Bysshe Shelley. He died in Rome on February 23, 1821, from tuberculosis at the age of twenty-five and was buried at the Protestant Cemetery in Rome. When Keats died he had been writing poetry seriously for only about six years, and publishing for only four. In his lifetime, sales of Keats's three volumes of poetry probably amounted to only 200 copies.
Michael Thomas Barry is the author of Literary Legends of the British Isles. The book can be purchased from Amazon through the following links:
Amazon - http://www.amazon.com/Literary-Legends-British-Isles-Writers/dp/0764344382/ref=la_B0035CPN70_1_5?s=books&ie=UTF8&qid=1383244315&sr=1-5
Amazon UK - http://www.amazon.co.uk/Great-Britains-Literary-Legends-Writers/dp/0764344382/ref=la_B0035CPN70_1_5?s=books&ie=UTF8&qid=1383244555&sr=1-5
The writer must write what he has to say, not speak it. Ernest Hemingway"
About Michael
Award winning author and columnist Michael Thomas Barry is a native of Wheeling, Illinois and is a graduate of the California State University, Fullerton with degrees in History and Criminal Justice. He is a columnist for CrimeMagazine.com, where he pens the...