After Sandy Hook Elementary School, the Denver Post published an editorial.
"Adam Lankford, a criminal justice professor at the University of Alabama,wrotelast summer in The Huffington Post that four of the 10 deadliest mass shootings in U.S. history had occurred in the past six years. He mentioned Aurora, "Nidal Hasan's attack at the Fort Hood Army base in 2009, Jiverly Wong's attack at a Binghamton immigration center in 2009, and Seung-Hui Cho's attack on the Virginia Tech campus in 2007."
Now the tally must be adjusted:Fiveof the worst shootings have occurred in just six years."
Read more:Connecticut shooting: Horrifying has become normal - The Denver Posthttp://www.denverpost.com/opinion/ci_22194371/connecticut-shooting-horrifying-has-become-normal?source=rss#ixzz2FEeLNMrw
Read The Denver Post's Terms of Use of its content: http://www.denverpost.com/termsofuse
From my past in marketing and my current life as an hardware analysis, I know a changing trend when I see one, and I would recommend taking action to curb this trend.
In late October, Hurricane Sandy devastated large swaths of the mid-Atlantic states. Areas like Sandy Beach were wiped out. The discussion about climate change and the rising sea levels arose again. Out in the movie theaters is a movie called "Chasing Ice". Produced by National Geographic, the movie uses time lapse photograph to chronicle melting glaciers.
Back in September, the US National Climatic Data Center reported that the first eight months of 2012 were the hottest on record. The records began in 1895. Austin, Texas, experienced the first time no rain fell in November in over a hundred and twenty years as Texas continues to endure a massive drought.
The US Drought Monitor site, http://droughtmonitor.unl.edu/, operated by University of Nebraska-Lincoln, the United States Department of Agriculture, and the National Oceanic and Atmospheric Administration, shows huge sections of the American plain states in severe drought.
The drought has affected the Mississippi and Missouri Rivers, two of America's primary transportation arteries.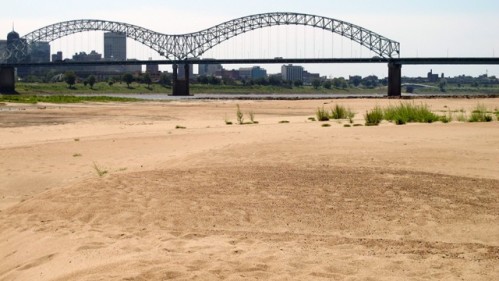 The shrinking Mississippi River by Memphis, Tennessee.
This climate change looks like a trend. If I were an analyst, I'd recommend taking action to adjust and cope.
"The Atlantic" Magazine published an article depicting the change in wealth distribution and the ever increasing income inequality gap. (See my post, "Required Reading", for more.) As the housing bubble burst in America and the Financial crises hit around the world, many governments reacted by trying to pursue auterity programs. Here in America, the Grand Old Republican Party, founded by Abraham Lincoln, has dug in, insisting that the solution to America's deficit problem it to tax the wealthy less.
Because, you know, that's been working so well.
Sorry, but as an analyst, I must disagree with you. I'd recommend changes in our long term planning to cope with it. As taxes on the wealthy are now the lowest in decades in the US, lowering their taxes more will not change what's been happening. The facts are there.
You can see it in the trends.
Early results of austerity efforts in Europe have come in. Guess what? The situation worsened.
One place showed an improving economy: Iceland.
From Spiegel's interview with Iceland's Economic Minister:
"In late 2008 and early 2009, all three of Iceland's major banks collapsed amid the financial crisis. Now, the country is experiencing economic growth once again and unemployment is falling. Economy Minister Steingrimur Sigfusson explains to SPIEGEL how it was done."
"Sigfusson: We haven't reached our destination yet, but we are on the right track. We have growth again: 2.7 percent this year and up to 3 percent next year. The unemployment rate is decreasing and above all the budget deficit has sunk from an unfathomable 14 percent in 2008 to about 1.5 percent in this year. In the upcoming budget we expect only 0.3 percent and in the year after a small surplus.
SPIEGEL: What can European crisis managers learn from the experience of your small country?
Sigfusson: We are not going to preach to Europe that we have found the cure all. But it was important that we didn't wait, but that instead we reacted immediately to symptoms of the crisis. In order to remedy the deficit, an increase in taxes to raise revenue was unavoidable, but savings measures were also necessary. We needed a mix of both and the strong conviction in preserving our welfare system."
h/t to Spiegel Online International and Manfred Ertel, who conducted the Interview
But trends don't bother Republican politicians. Voters are giving Congress lower and lower approval ratings with each poll sample. Who is approved of the least?
Congressional Republicans.
I see a trend. Look at the issues. Gun control is fought by US Republicans because they're supported by the NRA. US Republicans fight climate change legislation because Lincoln's party of the people has become America's party of business, and businesses don't want to deal with climate change because it might affect their profits. The Fiscal Cliff is primarily a Republican invention as they seek leverage to keep up with their efforts to enforce austerity programs and keep taxes on the wealthy low. In fact, part of that problem with our Republican legislators is they took a pledge with Grover Norquist to never raise taxes.
That pledge seems to mean more to them than anything statistics, information, polling numbers, starvation, growing numbers of poor people, Occupy protestors or collapsing infrastructures reveal to them.
Were I an analyst looking at the situation, I'd recommend a change.
Writing is exploring myself and discovering the stories and characters that managed to burrow into me. It's a trek, a space shot, an endurance race, a transcendental existence and a dark, worrying tunnel."
About Michael
1956 - I was born in Fort Belvoir, Virginia. Some other things happened that year, too. Moved around the country as a military brat before finding anchor in Pittsburgh, PA. Lived there 8 years, moved to southern West Virigina, graduated high school and...
Causes Michael Seidel Supports
Kiva, Women's International League for Peace and Freedom, Propublica.org, Doctors Without Borders, GreaterGood.com
Michael's Favorite Books
Catch 22, Catcher In The Rye, Ender's Game, Mysteries of Pittsburgh, Lonesome Dove, Children of Men, The Handmaid's Tale, The Left of Darkness, The Cancer Ward...