A paper plate full of despair.
Last night I cooked a squash in the oven. This morning, I discovered this lighter than air blob of stuff in a pan  on one of the lower racks; a porous charcoal cloud that I bet doesn't weigh a whole ounce. It looks like what you feel like you  shed once your depression has lifted. Or the thing you got rid of when you finally stopped worrying. Or maybe its that thing that  dissolved when you woke up from a nightmare. I guess I ought to throw it away. So I took this picture.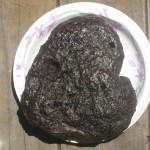 About Merrill
Merrill Markoe was born in New York City but by the time high school reared its ugly head, the Markoe family had moved five times. They eventually landed on the San Francisco peninsula where, during her sophomore year, Merrill began a decade long tradition of...
Causes Merrill Markoe Supports
1. The Jane Goodall Institute 2. Tailsofjoy.com 3. Best Friends Animal Rescue 4. The Humane Society 5. PETA
6. The Sam Simon Foundation