I've never had a proper writing room, but for a blissful but busy three months in the winter of 2007; a Christmas present from my wife. She did up the room, bought a desk and chair, and put a few of my sister's photos of Cape Cod up on the wall. There was a window looking out onto the back garden, and it was dark, cave-like, even. It was a beautiful room. Most importantly, it had a door. At the moment, it looks as if a baby bomb has hit it in an explosion of baby monitor(s), crib, diaper boxes stacked waist high, bags and bags of wipes piled on all sides of the bureau, baby clothes mostly confined to the closets and drawers, but for those claustrophobic ones which find themselves on the bureau top, shelves, and floor.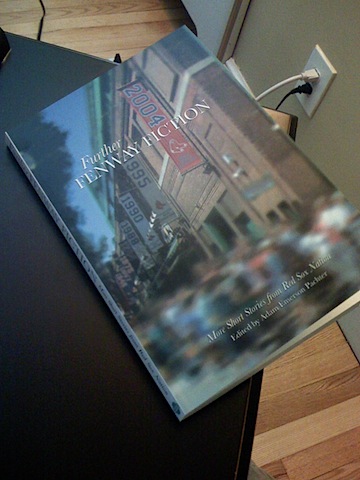 So you can see how I identify with Alain de Botton (someone to whom I once jokingly referred as my nemesis, when he came out with On Love: A Novel in 1993 at the age of 25 or so, jealous that this beat my nascent God Coffee, I Miss You to the publisher's desk (still yet to have arrived, in fact)), when he writes:
The fine oak desk has been converted into a landing strip for nappies and baby wipes.
[From Writers' rooms: Alain de Botton | Special Reports | guardian.co.uk Books]
The Guardian has been running a series for some time now about writer's rooms. It's interesting to peek into the workspaces of people like A.S. Byatt, Edna O'Brien, Ian Rankin, Colm Toíbín, Seamus Heaney, and now Virginia Woolf and George Bernard Shaw.
I wrote Time: a novel, still as yet unpublished, in a flat I shared with three other people on Atlantic Avenue in Brooklyn, on a desk I bought for $10 off a man who lived in the basement of a building stacked with furniture for sale who claimed to be a Black Panther and good friend of Miles Davis who insisted we should become a standup comedy team in Park Slope. I wrote it on a some old Powerbook (a 1400 or so, though I couldn't tell you exactly, it's sitting in someone's parent's house in Coventry now). And one evening a New York City narcotics unit burst through the window next to that desk, coming in off the fire escape, through my room, out our front door, down the four flights of stairs, and next door to sort out whatever needed sorting out over there.
Nowadays I do my writing in a corner of our bedroom, sequestered from my former writing room due to the arrival of our second child, who staked a claim to that perfect writing room. I have a lovely view of the backyards of our neighbors, there's a comfy chair behind me in another window for reading, a couple pictures of my wife and kids behind me, and that's it. As we live in a Cape-style home, in the summers it's the perfect sauna substitute, because, in the 1930s-50s, when they were building these homes, it was a common practice to forgo installing a kitchen, and just resort to cooking everything from chickens to beef to vegetables and potatoes by leaving it on the second floor for a few hours during the middle of the day. This is probably not entirely true.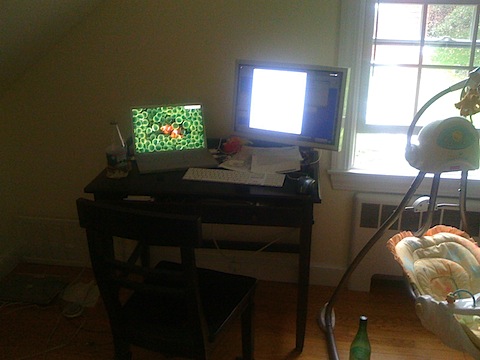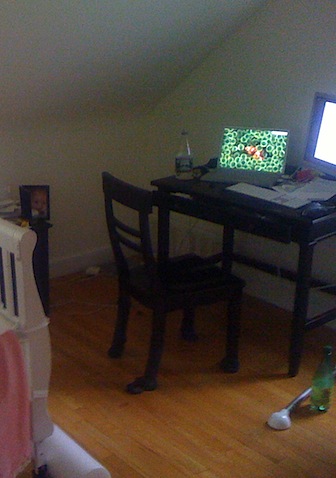 What's your writer's room look like?
"A nice minimalist piece of surrealism""
—Michael Joyce, hyperfiction pioneer
About Matthew
Matthew Michael Hanlon has perfected the art of sitting in various chairs. He lives in San Jose, California with his Muse, Lorraine and their little tykes, Dylan and Áine. He has a lot less time for sitting these days than he thought he would. Most sitting...
Causes Matthew Hanlon Supports
The Jimmy Fund, The Neely House, UNICEF
Matthew's Favorite Books
At Swim-Two-Birds, by Flann O'Brien The Life and Opinions of Tristram Shandy, by Laurence Sterne Only Forward, Michael Marshall Smith The Hitchhiker's Guide to...