Storytelling Tips from a Pixar Story Artist
This list of 22 tips recently made the rounds, thanks to Aerogramme Writers' Studio, and was originally compiled by former Pixar story artist Emma Coats.It's one of those lists you could keep pinned up to the cork board in your office that you look up to for reminders of where you're going, where you've been every once in a while.
I'll generally have one of those on a digital cork board nearby, at least. When you're slogging through the doldrums on "that novel you've been working on" it's easy to lose heart and sight of why you sat down to write the story in the first place. At the moment, mine's been an excerpt from Henry David Thoreau's "Cape Cod". A good portion of the book takes place there (the Cape, not Thoreau's book), and I just like this particular scene and characterization of the driver as Thoreau and his traveling companions await their ride in the coach down the Cape:
This coach was an exceedingly narrow one, but as there was a slight spherical excess over two on a seat, the driver waited till nine passengers had got in, without taking the measure of any of them, and then shut the door after two or three ineffectual slams, as if the fault were all in the hinges or the latch, — while we timed our inspirations and expirations so as to assist him.
Emily's items are a little more prescriptive than simply inspirational, which I also like, to change things up, to think directly about the work at hand. My favorite rule of hers is #16:• What are the stakes? Give us reason to root for the character. What happens if they don't succeed? Stack the odds against.
Lorraine and I got to visit Pixar back in November for a charity thing. I came back from the event so jazzed about the creative process. They talked a lot about their way of making stories and then re-making them and all the input that goes into them before they become a final product. It was some pretty fascinating stuff, especially to someone who largely works alone. Every single person who got up and talked about their role at Pixar and how they worked -- it was a great drug, listening to all these bright people, obviously very happy with the company they keep and work they were doing. One particular highlight was a walk-through of the new animated short "Partysaurus Rex" by the director, Mark Walsh. At the end of the evening, we found ourselves walking away with a sketch of a scene that didn't make the short by Valerie LaPointe (don't worry, it was acquired legitimately). I don't think you need to have walked through some of their halls (again, legitimately) to know that Pixar has this special touch, the great storytelling DNA that's made it so successful. But you could do a lot worse than following their advice, when telling your own stories.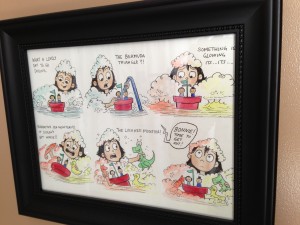 by Valerie LaPointe
Originally posted on my own site.
"A nice minimalist piece of surrealism""
—Michael Joyce, hyperfiction pioneer
About Matthew
Matthew Michael Hanlon has perfected the art of sitting in various chairs. He lives in San Jose, California with his Muse, Lorraine and their little tykes, Dylan and Áine. He has a lot less time for sitting these days than he thought he would. Most sitting...
Causes Matthew Hanlon Supports
The Jimmy Fund, The Neely House, UNICEF
Matthew's Favorite Books
At Swim-Two-Birds, by Flann O'Brien The Life and Opinions of Tristram Shandy, by Laurence Sterne Only Forward, Michael Marshall Smith The Hitchhiker's Guide to...