A Small Review of Colin Bateman's "Dublin Express", Method and Content
This edition of Dublin Express was a special Kickstarter limited edition Colin Bateman produced himself. [http://www.kickstarter.com/projects/856843652/get-on-board-the-dublin-express]
It's interesting to see a pretty well-established writer with a well-established stream of publications coming out striking out on his own to get a selection of his alternative (non-novel) writing published and into the public's grubby little hands.
My favorites of the bunch were the title story, "Dublin Express," "The Case of Mrs. Geary's Leather Trousers," which was the start of Colin Bateman's novel Mystery Man, and the screenplay, "National Anthem." They're very typical Bateman humor, very dark, and filled with entertaining characters. Not characters you'd necessarily want to give a hug, but ones you wouldn't mind sharing a beer with, though possibly from across the room.
The play, particularly, contains the sort of spectacularly hapless characters who attempt to wrestle some control and decorum into their lives, but, due to circumstances and conspiracies beyond their ken, they fail in an entertaining fashion. They're the sort of characters Colin Bateman excels at writing and make for a great read.
If you have a chance to see it or get ahold of the script it's well worth picking up.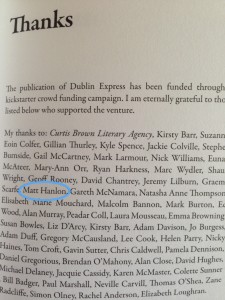 You're Welcome
Sort of originally posted at http://wombatsdigit.com/w/2013/09/a-small-review-of-colin-batemans-dublin-express/
"A nice minimalist piece of surrealism""
—Michael Joyce, hyperfiction pioneer
About Matthew
Matthew Michael Hanlon has perfected the art of sitting in various chairs. He lives in San Jose, California with his Muse, Lorraine and their little tykes, Dylan and Áine. He has a lot less time for sitting these days than he thought he would. Most sitting...
Causes Matthew Hanlon Supports
The Jimmy Fund, The Neely House, UNICEF
Matthew's Favorite Books
At Swim-Two-Birds, by Flann O'Brien The Life and Opinions of Tristram Shandy, by Laurence Sterne Only Forward, Michael Marshall Smith The Hitchhiker's Guide to...