Heroin, TV, and too many Cosmos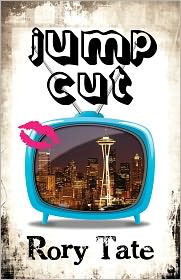 A new book -- for a writer that is a special day. So, pinch me! I want to share with you my excitement for JUMP CUT, my debut thriller writing as Rory Tate. Why a new name? This novel is a little different, an international thriller set in Seattle and the tiny republic of Moldova in Eastern Europe. It features television news reporter Mimi Raynard, called "an engaging heroine every woman can identify with: smart, harried, all too aware she's growing older." Not only that but she has to work with her ex, the news director. Things get dicey when she blows a live report on some heroin overdoses. She has to get a new job... Meanwhile the narcotics detective on the case has his own career crisis when he's framed for stealing drugs from evidence. It's an edgy, modern thriller with humor, romantic tension, and enough thrills to keep the most impatient reader turning the pages.
A reviewer said: "The twists and turns keep you going in this story that seems to have several separate stories, but somehow intertwine. Well written, well defined characters that are very likable. And best of all, it takes place in Seattle mostly. I live across the Sound from there. Great book, hopefully the beginning of a new series, characters are worth visiting again and again. Highly recommended."
An impulsive buyer? Bless you. Go here: Amazon Or order from your local independent bookstore: ISBN 978-1466292093 Thank you!!!
Lise McClendon's stories are unique and inventive … no traditional formulas for her, thank you very much. Her dialogue is witty, her characters multi-dimensional, and her locales so well defined that the visuals replay in your head long after you lay the book down. "
About Lise
After more than twenty years of writing fiction the practice has become as natural and essential as breathing to me. I have published nine novels, under my own name and my thriller persona, Rory Tate. With a group of talented women I adapted a short story...