Public Humiliation Has Never Been So Fun
Blog Post by Lisa Yee - Jul.16.2009 - 10:01 am
I've blogged about this before, but it was a loooong time ago. There's this incredible live show called MORTIFIED
. I first heard about it
 on NPR and was smitten.
Anyway, here's what happens. Seemingly sane adults get up on stage and READ from their actual tween/teen DIARIES. I know! Either these people are really brave, or they are missing the get-embarrassed gene. 
So Wednesday night, I made my second journey to Hollywood to see the show again . . .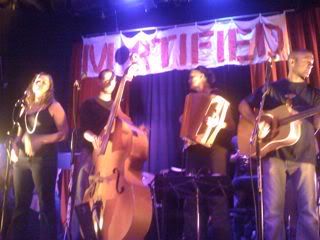 (Above: The Mortified band sets the mood for the show.)
Here are some former youth offering up their personal humiliation for the greater good and guffaws . . .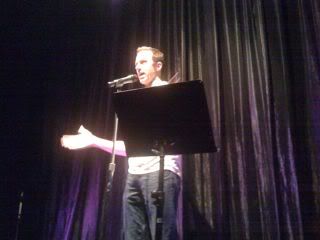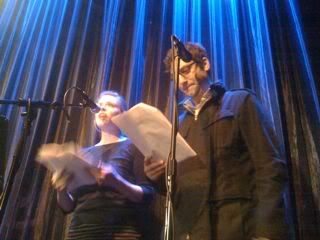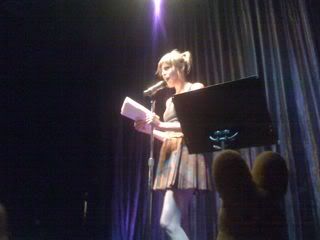 While there, Peepy was thrilled to see Eddie Gamarra
, literary manager/producer from the Gotham Group
. He works with the creators of Mortified, so Peeps cornered him . . .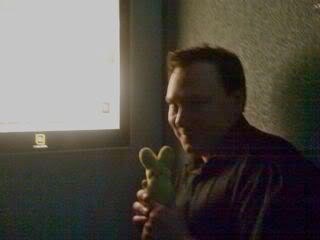 She's angling for her own show. Eddie had her audition and said he'd consider it . . . 

Speaking of mortification and trauma, here are my high school diaries . . .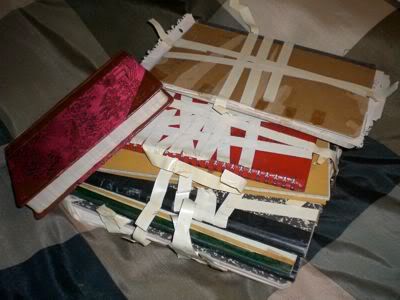 I had taped them together because whatever I had written was apparently soooooo deep, secretive and explosive. When I did read them recently, I promptly wanted to tape them up again. The angst. The drama. The self-pity. It was just like a laundry detergent commercial, only without the happy ending.
If you can't make it to see MORTIFIED in person, there's also a book. I have my own copy. Reading about other people's torments always makes me feel better about myself . . .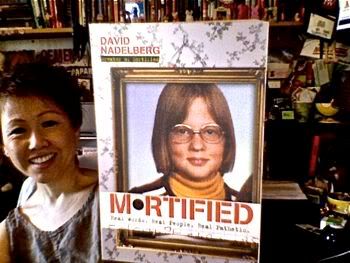 Lemme see . . . what else is up? Well on Friday, July 17th, I'll be teaching Plot, along with Amy Goldman Koss
, at the South Pasadena Public Library
. 
On July 29th, I'll be part of "Young Adult Authors Anthologized: Cecil Castellucci, Aimee Bender, Melissa De La Cruz & Lisa Yee" at Skylight Bookstore. CLICK HERE
 for more information. I'll be reading from a short story I have in the new anthology, GEEKTASTIC: STORIES FROM THE NERD HERD.
Here's me in high school. I was a debate geek . . .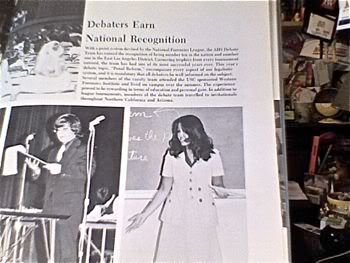 BOBBY VS. GIRLS (ACCIDENTALLY)
 illustrator/pal Dan Santat
 and I are the celebrity judges
 for editor Cheryl Klein's
"Worst Possible Opening Sentence for an Imaginary Children's or YA Novel" Contest. CLICK HERE
 to enter or read the entries. The contest closes on Friday night. Here's Cheryl and Moi in her office earlier this year discussing astrophysics . . .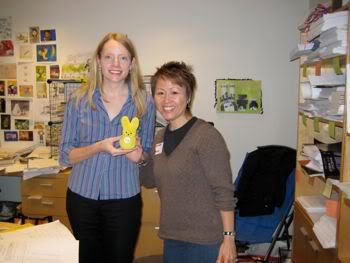 Hmmm . . . it's been a while since I've had a contest. Maybe I should start thinking of one. Here's one I ran a while back that made people spit out their coffee . . . but in a good way. CLICK HERE for a barrel or more of laughs.
And finally, a couple of people have alerted me TO THIS
. Yes! A Peeps store--at long last.
Subscribe to Lisa Yee's Blog and get her fresh baked blogs e-mailed to you!
Email: 
Or you can click this for a RSS feed...