Pre-NCTE and Book Deal (or not)
Blog Post by Lisa Yee - Nov.22.2009 - 7:21 am
I love teachers. My parents were teachers. And I especially love English teachers. They were the ones who nurtured and encouraged my writing.
So, it was my honor to attend the NCTE Conference in Philadelphia. Imagine, thousands of English teachers together in one (humongous) building. Yes, some students' nightmare was my dream come true.

I arrived on Friday night, just in time for the Scholastic Family Dinner. This was an excuse for Scholastic authors and staff to hang out, eat too much, and have fun.
Of course, for Peepy, it was a chance for her to pitch her epic memoir/fashion tips narrative un-fiction novelette. Here, she's telling Caldecott winner Brian Selznick (left) and amazing author Jordan Sonneblick about her book . . .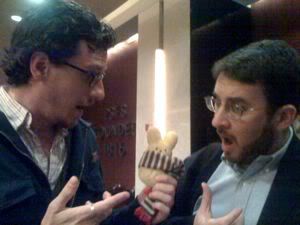 Brian immediately told author/editor David Levithan about Peepy's idea(s) . . .

Emboldened, Peeps then asked authors Francisco Stork, Jane Yolan and Patrick Carman for book blurbs . . .

However, when she approached Gordon Korman they got in an argument--although they later made up. (Gordon told Peeps that before she gets blurbs, she needs to write to book) . . .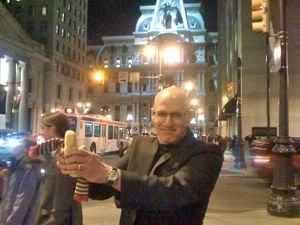 Soon it was time for dinner at the fancy schmanzy Capital Grille . . .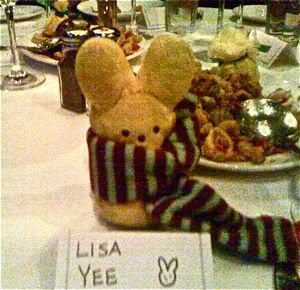 After too many desserts, Peeps marched up to Dick Robinson, CEO, Chairman and President of Scholastic and insisted he publish her book. He too encouraged her to write it first . . .

Saddened that she still does not have a contract, Peepy was consoled by the beautiful view from our room . . .

Next Blog: Our first day at the convention.
Subscribe to Lisa Yee's Blog and get her fresh baked blogs e-mailed to you!
Email: 
Or you can click this for a RSS feed...