Blog Post by Lisa Yee - Mar.25.2013 - 8:48 am
Even though I am here . . .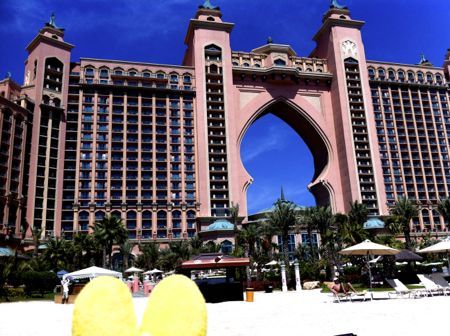 . . . my blog is here . . .
That's right. I am in Dubai!!!!
However, last week I was at Northern Illinois University for the Children's Literature Conference on Humor. And that's what we'll be blogging today. Ten years ago this October, my debut novel came out. When MILLICENT MIN, GIRL GENIUS won the Sid Fleischman Humor Award . . .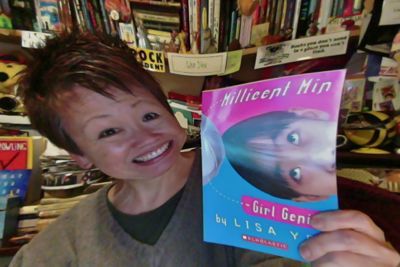 . . . boom! I was considered someone who writes funny stuff. (Although many people tell me that my books make them cry, too. I hope it's because there are poignant moments, and not that the books are stinky.)
Oops. Let's come back from our digression. Back to DeKalb, IL and to the Humor Conference! The night before was a cozy dinner with fellow speakers and the masterminds behind the literature conference . . .
As always, David Lubar misbehaved. Peepy has yet to forgive him for using her as a coaster . . .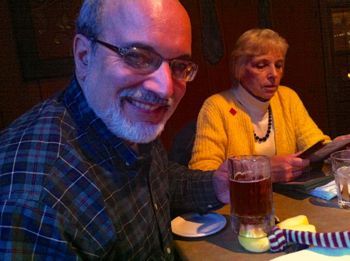 Fellow speaker Tom Angleberger's flight was delayed. So I brought him some bread from the restaurant. He gave it some thought, then opted to eat the butter instead . . .
We were up early for the conference the next morning . . .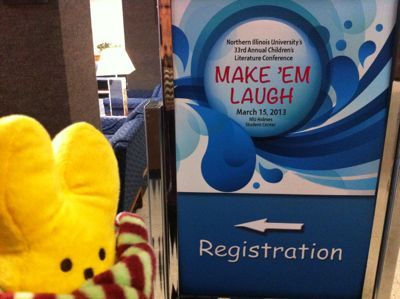 These were the keynote speakers. Well, not really. These are books. But they were written by the speakers . . .
Peepy was excited about breakfast. It's her favorite meal of the day, in addition to lunch and dinner . . .
While Peepy ate, and David Lubar looked over his speech, I took a picture of Carolyn Crimi for my website page featuring famous authors . . .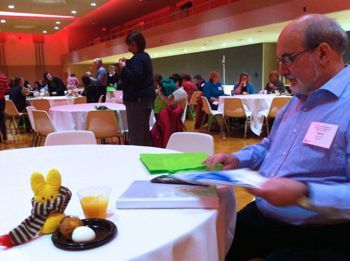 (To see Carolyn and 300 other fabulous authors/illustrators with their favorite Peep, CLICK HERE.)
Carolyn and David were terrific and we laughed so hard that we worked up an appetite for lunch. Look who we got to sit with! Yes, a table full of Lisa Yees!!!!
Soon it was Origami Yoda's Tom Angleberger's time on stage. The last time we saw Tom, he and his pal were playing with scissors . . .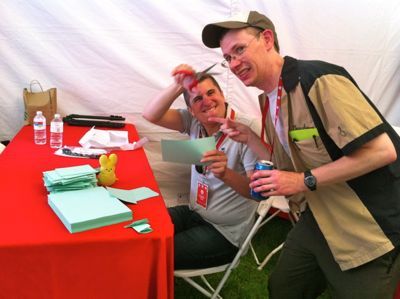 It was at the Los Angeles Times Festival of Books. Look who else was there last year - John Green! (John appears to be everywhere these days, so I thought I'd include him here, again.)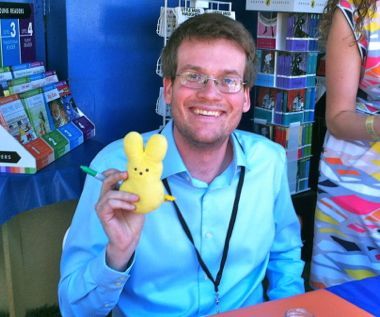 (Peepy and I will be at the festival again this year.)
Oops. STOP digressing. Okay, back to the literature conference. Tom spoke without scissors . . .
He even taught origami to the entire audience, plus this unassuming volunteer . . .
Before long, it was my turn to close the conference . . .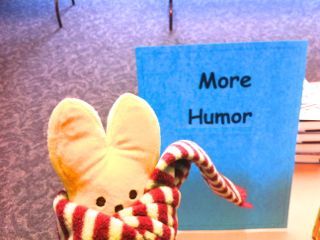 We waited backstage . . .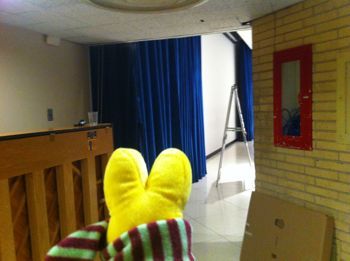 And then we went on. As you can see from this speaker's POV, everyone insisted on not sitting in a large clump . . .
I think the speech went well. I know I had a blast!
What's that? It's a short story I wrote for SCOPE magazine!!!
The killer first line was written by a student named Keya Roy. Hers was one of the thousands of entries and though there were lots of really great opening lines, something about hers called out to me. To read the story based on Keya's line, CLICK HERE.
NEXT BLOG:
===========================
Love books? Love kids books? Know a kid who loves books? It's time for the Children's Choice Book Awards!!! To vote, CLICK HERE!!!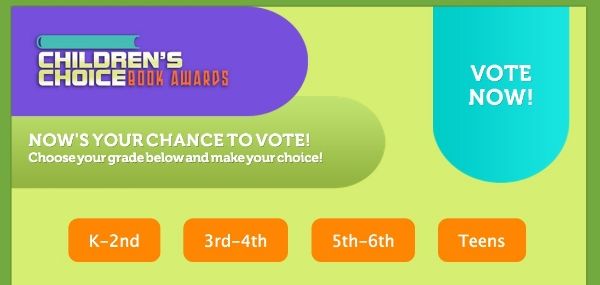 Pssst, to see the host(ess) of the this year's Gala, and the all-star presenters, or to purchase tickets, CLICK HERE!
Disclaimer: No proofreaders were harmed (or even used) in the creation of this blog.
Want to check out Lisa's NEW AND IMPROVED website? Simply CLICK HERE.
Interested in having Lisa speak at your school, library or conference? CLICK HEREfor more information.
Subscribe to Lisa Yee's Blog and get her fresh baked blogs e-mailed to you!
Email:
Or you can click this for a RSS feed...