LA TIMES Fest o' Books & Authors & Illustrators & Cool Stuff
Blog Post by Lisa Yee - Apr.29.2013 - 4:20 am
The LA TIMES Festival of Books started on a great note. Why? Because of this . . .
That's right. We had reserved parking!
Like last year, and the year before, the festival was held at my alma mater, USC. From the parking structure, we could see the dorm where I was a resident advisor . . .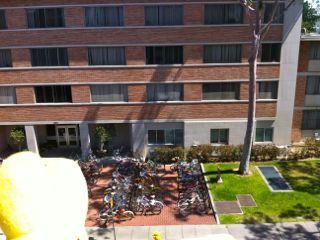 Plus we saw this . . .
We had to get a closer look at the blue truck, and whoa, wow! GEEK OUT! It was a Library Store on wheels!!!
We wandered around a bit, and said hi to Tommy Trojan, and tried to ignore an improperly dressed big guy . . .
We also said "hi" to Stuck's Oliver Jeffers. . .
The we said "hi" to This Is Not My Hat's Jon Klassen. . .
Then we said "hi" to Oliver Jeffers and Jon Klassen . . .
Soon it was time for our reading and book signing at the USC Civic Engagement Booth . . .
I read from BOBBY THE BRAVE (SOMETIMES). . .
Reading is Fundamental (RIF) was there and so were other reading fans!
Some of our fav indie bookstore and booksellers were at the fest, too! Like Kris from Once Upon a Time. Maureen was busy when I snuck up behind her and asked, "Er, do you know if there are any books here?" Hahahaha, snort!!! Teehee, sometimes I crack myself up. Um. You had to be there.
Dan Krall was signing at Once Upon a Time . . .
Rachel Howard from Scholastic Publicity got to see her favorite Peep. The last time we saw Rachel, it was at another book festival, here. . .
Over at Mrs. Nelson's Toy and Book Shop, we ran into Scott Speer and Sherri Smith. . .
Peepy was quite taken with the t-shirts after Amanda showed them to her . . .
Of course it made sense that SCIBA's Andrea Vuleta was hanging around the indie bookstores!
Shhh . . . here's where the secret bathrooms are. Only us alumni know about them . . .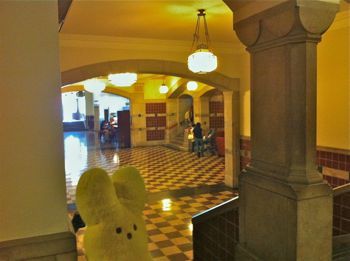 Who's that? Why it's Loren Long and Otis, and Peepy, of course . . .
Did someone say "snack"? It was off the Green Room where all the authors were hanging out . . .
Fellow snackers included Suzanne Selfors and Tom Angleberger, who/whom we just saw in Chicago!
Wait! It's Dan Santat! What do these four have in common?

(Yes, the all love Peepy. And they are all wearing . . . socks! And hats.)
After we were snacked up, we went to listen to the Dan Santat Suzanne Selfors Annie Barrows Tom Angleberger panel . . .
Yay! We got to meet Ivy and Bean's Annie Barrows. . .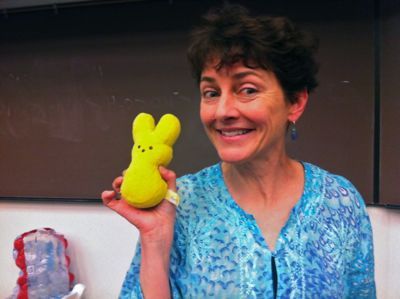 Later it was back to the Green Room where we ran into Ransom Riggs and Tahereh Mafi. Guess what we have in common? That's right, we are all represented by Writers House agent Jodi Reamer!
How does one end a great day at a great book festival? How about with a great meal at Versailles???

Oops. Not that one. This one.

Here we are with Dan Yaccarino, Tom and The Other Dan . . .
NEXT BLOG: More LA TIMES Festival of Books and an explanation of why Lemony Snicket is flailing . . .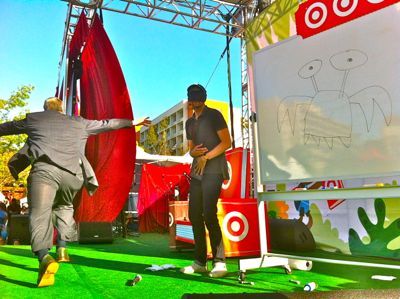 THIS JUST IN . . .WARP SPEED has been nominated for the Sunshine State (that would be Florida, where I lived for 17 years) Young Readers Award!!!! And speaking of WARP SPEED, this week, Beth Gaudette from the Thomaston Public Library in Connecticut told me that their Mother Daughter Book Club read the book. In it, there's a scene where kids make clothes out of garbage bags, and that's what these talented girls did!!!
===========================
Disclaimer: No proofreaders were harmed (or even used) in the creation of this blog.
Want to check out Lisa's NEW AND IMPROVED website? Simply CLICK HERE.
Interested in having Lisa speak at your school, library or conference? CLICK HERE for more information.
Subscribe to Lisa Yee's Blog and get her fresh baked blogs e-mailed to you!
Email:
Or you can click this for a RSS feed...