Hicklebee's Bookstore -- Amazing!!!!!
Blog Post by Lisa Yee - Jul.21.2010 - 11:22 am
Oh man. When I was in San Jose recently, I went to the most marvelous magnificent indie bookstore . . .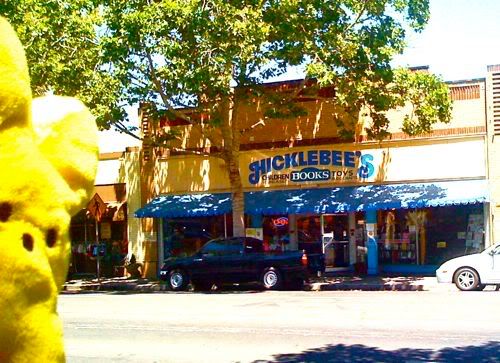 Hicklebee's has been a local destination for over 30 years. And is it any wonder why? Just look . . .
Here's one of the owners, Valerie Lewis. She's showing Peepy the "museum" within the store, and an original and early Clifford drawing. (Of course, Peepy now wants a large portion of the store devoted to her.)
YES! In addition to books, Hicklebee's houses one-of-a-kind mementos donated by authors and illustrators, like "Traveling Pants," signed by Ann Brashares, and original Rosemary Wells illustrations, and Gordan Korman's first book acceptance letter that he got when he was a teenager! (Even though Gordon beat me we are still friends.) 
Here's more orignal wonderful bookish stuff . . .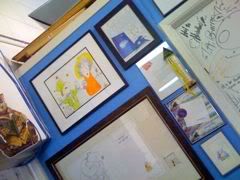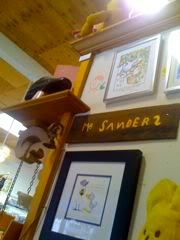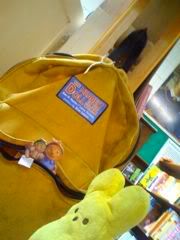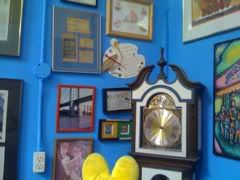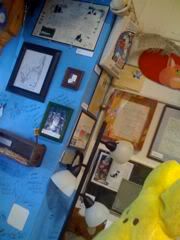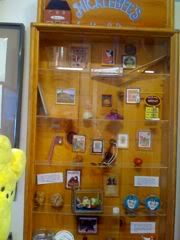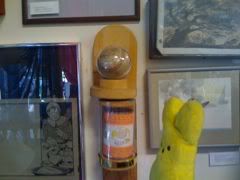 But what I LOVED most were the autographs. Every door and most of the walls, including those in the bathrooms, were covered with autographs. It's like a who's who of children's literature!!!!
And GUESS WHAT??? I was invited to sign at Hicklebee's. I won't say who I signed next to, but here's a subtle hint . . . HARRY POTTER!!!!!!!!!!!!!!!!
I'll show you close ups of the gazillion author and illustrator autographs in my next blog, but in the meantime, via the magic of my super awesome time machine, I'm going to ease into Hicklebee's bathtub and enjoy a good book . . .
Oh wait. One more thing. Since so many of you appreciated the video(s) on my last blog, here's one more from our literary friend, the Old Spice Guy . . . 
Disclaimer: No proofreaders were harmed (or even used) in the creation of this blog.
Subscribe to Lisa Yee's Blog and get her fresh baked blogs e-mailed to you!
Email: 
Or you can click this for a RSS feed...