Hanging with the Homegirls
Blog Post by Lisa Yee - Dec.15.2010 - 11:24 am
Sometimes my Peep and I go on adventures far from home and visit fabu-awesome places like this and like this.
Sometimes, we go on grand adventures nearby, like last Friday.
Recently, we hopped on the Gold Line in South Pasadena and headed east . . .
We got off at the Chinatown stop . . .
But Chinatown wasn't our destination. This was . . .
Homeboy Industries is the brainchild of Father Gregory Boyle, a man who has dedicated his life to helping former gang members ease into the mainstream. His goes into LA's roughest neighborhoods and offers job training and work to gang members -- in exchange for them giving up the gang life.
His motto is, "Nothing stops a bullet like a job."
Father Boyle even wrote a bestselling book about this.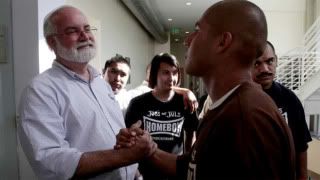 (Photo from the Los Angeles Times Blog) 
Housed within Homeboy Industries headquarters is Homegirl Cafe. That's where I was going to meet a fellow author for lunch.
However, he was late. So I settled into the booth and admired the original art on the walls and studied the menu . . .
I also read the newspaper . . .
Finally, Michael Reisman showed up, claiming LA traffic was his nemesis . . .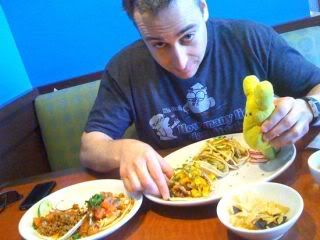 We had a wonderful meal. (I had the chorizo soft tacos and salmon tacos, a keylime tart, and COFFEE!) Later, we chatted Alex Malaspinas about Homegirl Cafe. She even brought Peepy a plate of scrumptious cookies . . .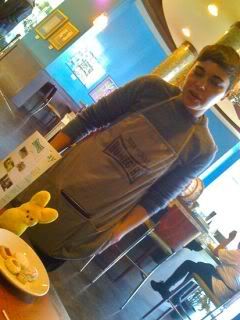 What a wonderful afternoon we had. And look what else! There's even a gift shop and bakery at Homegirl Cafe . . .
Luckily for me, I can also get fresh baked Homeboy Bakery breads at my local Farmers Market!
However, if you don't live close, you can order holiday (or anytime) gifts online . . .
To listen to Terry Gross interview Father Boyle on NPR, CLICK HERE.
Oh, and one more thing before we go -- look! It's Irondale Public Library's Staff Favorites of 2010. Recognize the book on the top left?
Disclaimer: No proofreaders were harmed (or even used) in the creation of this blog.
Want some fun? CLICK HERE to visit the Lisa Yee and Son YouTube Channel.
Subscribe to Lisa Yee's Blog and get her fresh baked blogs e-mailed to you!
Email: 
Or you can click this for a RSS feed...