Famous KidLit Authors Take Over ALA . . .
Blog Post by Lisa Yee - Jun.25.2012 - 11:01 am
Jun. 25th, 2012 at 12:12 AM
It's that time of year again. Yes, the American Library Association Conference, hence to be known here as"ALA."
The last time we were at ALAthis happenedandthat, too. . .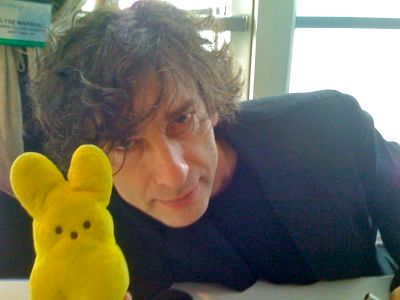 This year it was in Anaheim. We know, because we braved the LA traffic to get there . .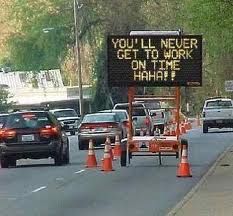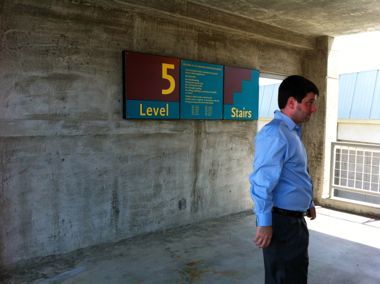 (Disclaimer: I don't know the man in the photo. I took the picture to remind myself where I parked.)
As soon as we arrived, we ran into our friend, illustratorKen Min. Luckily, he wasn't hurt. Then we went to registration, where we had already been stered in advance . . .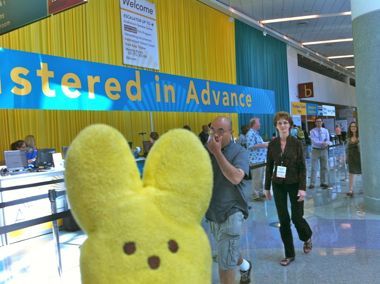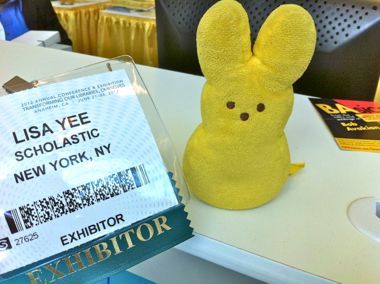 (The badge lists where the company is from, not where you or I are from.)
We met Rob Bittner,our Guardian Angel, for lunch. Because he's from Canada and I'm from the USA, we ate lunch at the International House of Pancakes . . .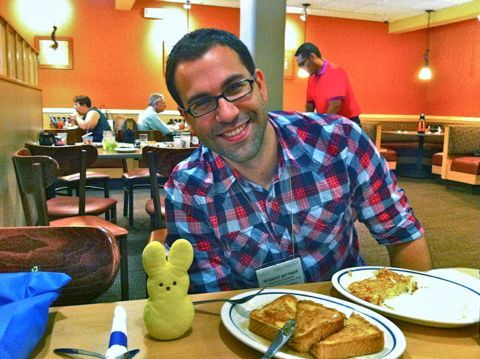 After breakfast, which we ate for lunch, it was time to explore! The convention floor was crowded with people and books and librarians and books . . .
Look! It's librarians!!! Here's the bloggefulBetsy Bird, and there's note-yTravis Jonker. . .
Authors were everywhere, too. Hello, bestselling authorsMarie LuandMelissa de la Cruz!
Peepywas relieved that six-time Emmy winner turned author/illustratorMo Willemswasn't (too) mad at her. Especially because she'shis replacement. . .
At Scholastic we saw our editor (andmy dear friend JK Rowling'seditor)Arthur Levine, conferring with his debut authorMike Jung. . .
We turned around and look who we saw! Yes,Weston Wood'sownPaul Gange, who introduced Peepy to lots of important stuff; and Scholastic'sLibrary and Educational MarketingDude, John Mason . . .
There was quite a commotion as Caldecott Medalist winnersAllen SayandBrian Selznick, with NY TIMES bestselling authorMaggie Stiefvater, all signed books at once -- and they all had to share a pen!!! (Part of that last sentence isn't true.)
Here's Allen and Brian and Maggie . . .
We went in search of Sasquatch orDan Santat, whichever we could find first. Sadly, we didn't see either, although we saw clues as to where one or both of them were . . .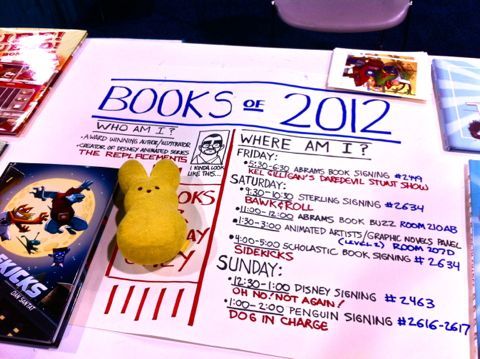 But we did seeNancy Holderand NY TIMES bestsellerAlly Condie. . .

(Ally and I have 50 - 75% of these things in common: 1) we have the same agent, 2) we are both red belts in karate, 3) we were both at ALA, 4) we both took the Evelyn Wood speed reading course.)
I was thrilled to finally meet Prinz Award Winner and National Book Award finalistGene Luen Yang, and former National Ambassador of Young People's Literature,Jon Scieszka, was thrilled (slightly) to see Peepy again . . .
Next Blog: More ALA awesomeness!!!!!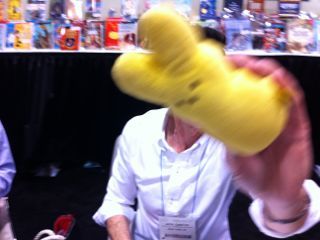 (Find out who the famous author is behind the Peep.)
UPCOMING JULY STUFF . . .
July 15 -COMIC-CONPanel - HEROES FOR THE MIDDLE-GRADE READER (AND YOU, TOO!): Middle Grade Books That Will Rock Your Socks Off, Sunday, 2:45p.m. - 3:45p.m., Room: 5AB
July 27 - South Pasadena Library Writing Workshop for Kids
July 30 -Once Upon a Time Bookstore- Get Your Pens Out Writing Club
===========================
Disclaimer: No proofreaders were harmed (or even used) in the creation of this blog.
Want to check out Lisa's NEW AND IMPROVED website? SimplyCLICK HERE.
Interested in having Lisa speak at your school, library or conference?CLICK HEREfor more information.
Subscribe to Lisa Yee's Blog and get her fresh baked blogs e-mailed to you!
Email:
Or you can click this for a RSS feed...