Conference Confidential, Part Uno
Blog Post by Lisa Yee - Aug.13.2009 - 12:26 am
Wow. The SCBWI (Society of Children's Book Writers and Illustrators
) Conference ended on Monday and I am still exhausted. It was a who's who of children/young adult literature and there were over 1,000 attendees including authors, illustrators, Colin Firth as Mr. Darcy, editors, stuntmen, and agents. (Two of those list may or may not have really been there.)
For Peepy and Moi, the event began the evening before the conference when we attended the faculty dinner. There, we got to meet new friends and old ones, like Sherman Alexie
 . . .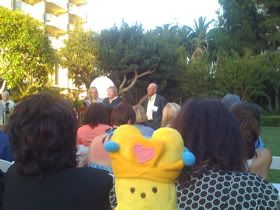 (CLICK HERE
 for a full list of faculty members.)
The next morning, the faculty lined up to introduce ourselves to the SCBWI members. We were asked to each come up with an inspiring word. My word was erjajbfejbajrjajh. (Not really. My editor Arthur Levine
, illustrator of BOBBY VS. GIRLS (ACCIDENTALLY)
, Dan Santat
and I said . . . "Joint. Collaborative. Process.)
Here's the faculty lining up, and then the audience from our POV . . .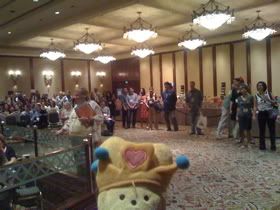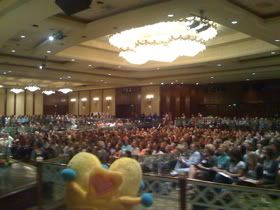 After our inspiring individual words, Sherman used a whole lot of them to give a killer opening keynote that had everyone laughing and crying and thinking, "Okay, so he won a National Book Award and he's an amazing speaker and he's tall, but can he knit?"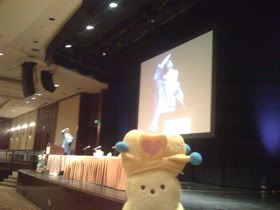 Some of the workshops Peeps and I attended over the four-day conference included VP/Publisher of Egmont Books
, USA Elizabeth Law, Jon P. Fine, Director of Author and Publisher Relations at Amazon.com . . .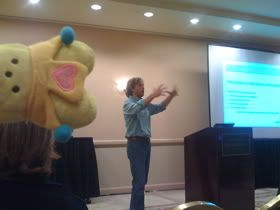 Plus, Alice Pope
, Editor of Children's Writer's and Illustrator's Market, and Ed Masessa, Senior Manager of Product Development, Scholastic Book Fairs
 . . .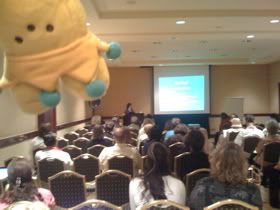 Peeps had a particularly delightful time meeting her fans. Many brought her gifts, like the taco costume Julie Winkler made for her. (In my novel, ABSOLUTELY MAYBE
, the main character, named Maybe, works in a taco truck.)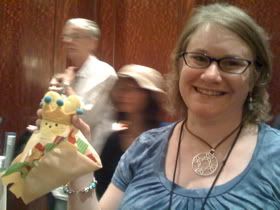 And get this, in the book Maybe visits Lucky Strike Lanes
 in Hollywood . . . and Jillian Foster, who owns Lucky Strike read the book and presented Peeps with a chic hat . . .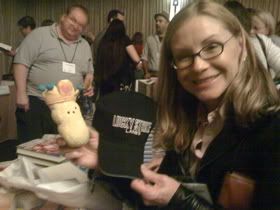 Speaking of chic hats, here we are with Tammi Sauer, author of CHICKEN DANCE . . .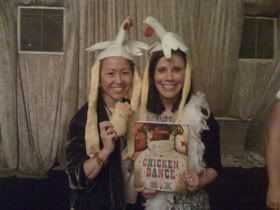 As some of you know, Peepy has exhibited bad behavior around literary agents at SCBWI conferences. Like when she attacked Mark McVeigh
 . . .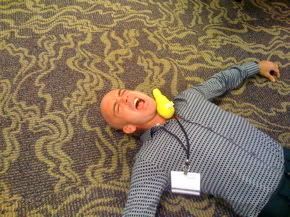 . . . or when she followed Ginger Knowlton
 of Curtis Brown into the bathroom and slipped her a manuscript . . .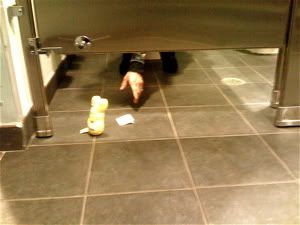 Well, this year, she as on her best behavior. (She's still angling for a book deal.) Here's Peep with Steve Malk of Writers House
 and with producer and literary manger Eddie Gamarra
.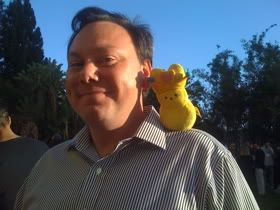 And Daniel Lazar from Writers House and Brenda Bowen of Stanford J. Greenburger
 . . .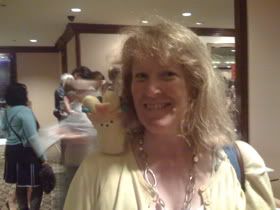 We also attended a super chic party thrown by Steve Malk and Writers House (I'm represented by Jodi Reamer, who also representsStephenie Meyer. BTW, Stephenie and I are EXACTLY the same, except she sells more books than me, writes about vampires, and lives in Utah).
The party took place at CAA
, the talent agency that reps Brad Pitt, George Clooney, and Oprah Winfrey, so no cameras were allowed. But, that's okay. Peepy ran into Paris Hilton in the lobby. Or not . . .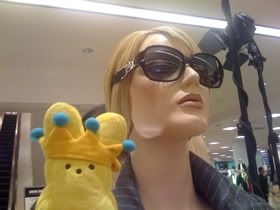 Next blog: Famous illustrators and editors and Austin Powers
Subscribe to Lisa Yee's Blog and get her fresh baked blogs e-mailed to you!
Email: 
Or you can click this for a RSS feed...