Catching Fire -- Hunger Games Sequel -- I've Got a Copy!!!
Blog Post by Lisa Yee - Jun.10.2009 - 5:54 pm
Okay, not to make anyone jealous or anything, but I got a top secret package in the mail the other day . . .

Yes! Yes! It was an ARC (Advanced Reader's Copy) of the sequel to the most marvelous HUNGER GAMES
 . . .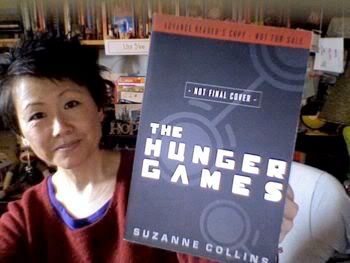 Here's what the highly anticipated CATCHING FIRE
 by Suzanne Collins
 looks like . . .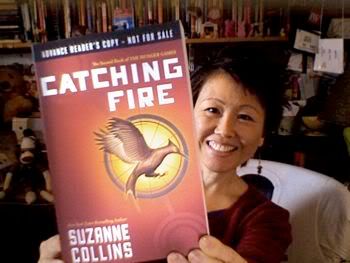 Also in the package was a letter that began, "Dear Very Deserving, Very Lucky Reader . . ."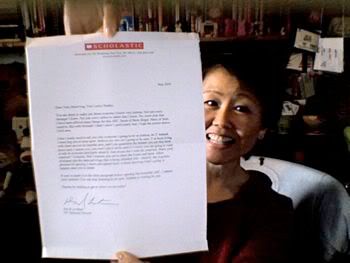 Why? Because the book isn't in stores until September 1st!!! 
Uh oh. Wait. That's the release date of my book BOBBY VS. GIRLS (ACCIDENTALLY)
. Guess, you'll just have to run out and get both books! Here's my friend and illustrator Dan Santat
 taunting me because he got his ARCs first . . .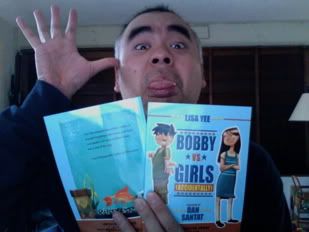 Anyway, back to CATCHING FIRE. I got other goodies too, like a CD and pins . . .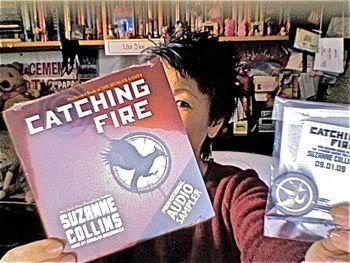 I had to read the book fast, before any family member got a hold of it . . .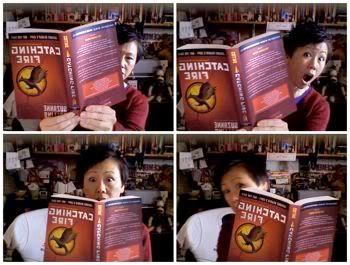 (Um, I also read it backwards so no one would suspect I had the book.)
Now, I was asked not to reveal any of the plot, so here's my review:
CATCHING FIRE was amazing. Not only was it full of great words, but a lot of stuff happened that I can't talk about. And then there was this one part when I screamed. Plus, when that thing occurred, I thought, "Oh man, that's it." You MUST read CATCHING FIRE when it comes out. I promise, you won't be disappointed!
Here I am with Suzanne Collins on the day that I gave her the idea for her bestselling series . . .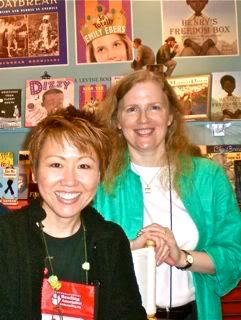 (Or maybe it wasn't my idea. I'm sort of fuzzy on that.)