Bugs, Bullies and Ramona Convent
Blog Post by Lisa Yee - Nov.26.2012 - 11:48 am
I love Ramona.
I even wrote about Ramona and Beverly Cleary for the Huffington Post.
(You can read the rest of it HERE. Or watch me read it HERE.)
But on a recent sunny Southern California day, I had another Ramona on my mind . . .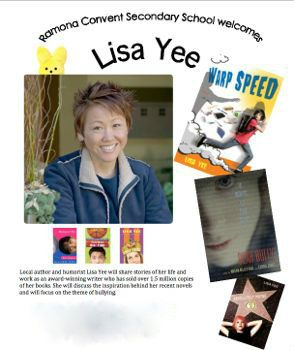 Yes! I was invited to speak about bullies at Ramona Conventin Alhambra, CA. (In WARP SPEED, the main character is bullied every day.)
Peepy and I received a wonderful, warm welcome from the students and their mascot . . .
Nearby Brightwood Elementary and Marguerita Elementary Schools were invited.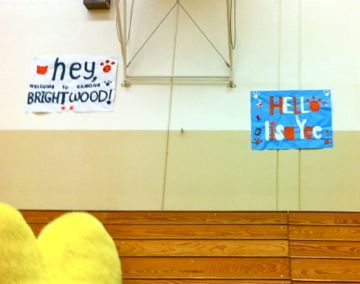 I was a student at Brightwood from first to eighth grade. That's were Mr. Glick, the "teacher torturer" in Stanford Wong Flunks Big-Time taught.

(Above: A not-so-scary Mr. Glick.)
Here are all the students . . .
And look! It's the Ramona Convent Book Club and their MARVELOUS librarian, Aniko Tegtmeier. Thank you for your gracious hospitality!
In other news, I had dinner with my black-belt-lawyer-agent Jodi Reamer recently. We made sure our clothes matched our background . . .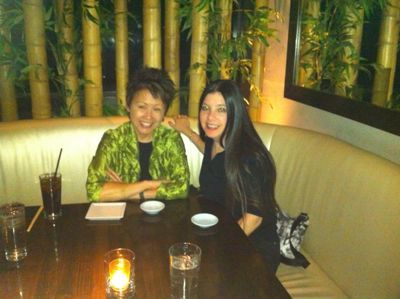 (Jodi was much better behaved than the last time we had dinner together.)
Speaking of dinner, I hope everyone had a lovely Thanksgiving!
Mine was a billion times better than sniffing a stink bug! I know. I caught and smelled one. If you don't believe me, look here. . .
(Over on Facebook, I had post a photo of a bug that was plaguing me. Lots of people weighed in. You can read the stink bug discussion HERE.)
Oh! Oh! Last thing, for now, I promise. I got a space shuttle sign from HERE. Can you spot the shuttle sign?
As you might suspect, I am OBSESSED with the Endeavour Space Shuttle. And witnessed HERE and HERE.
===========================
Oh, look! These books make lovely holiday gifts. . .

Disclaimer: No proofreaders were harmed (or even used) in the creation of this blog.
Want to check out Lisa's NEW AND IMPROVED website? Simply CLICK HERE.
Interested in having Lisa speak at your school, library or conference? CLICK HERE for more information.
Subscribe to Lisa Yee's Blog and get her fresh baked blogs e-mailed to you!
Email:
Or you can click this for a RSS feed...