Behind the Scenes (and on the Stage) at the Children's Choice Book Awards Gala
Blog Post by Lisa Yee - May.20.2013 - 8:49 am
Did you have a wonderful Children's Book Week? I sure did!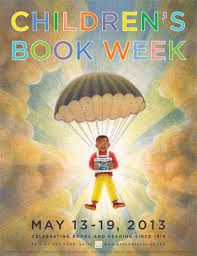 Last week, Peepy and I flew to NYC to host the Children's Choice Book Awards-- 1,138,675 children and teens voted for their favorite books!
We consulted our fashion stylist(s) and both decided to wear gowns. My daughter created Peepy's gown out of an old skirt and gum wrappers . . .
Mine was vintage thrift store ($15!!!) . . .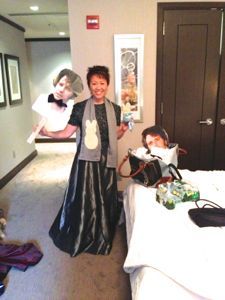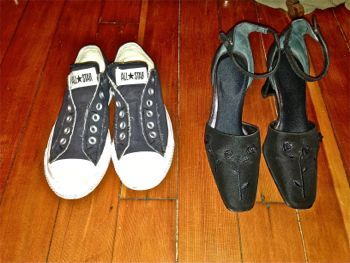 (I brought two pairs of shoes.)
I also brought Colin Firth(s) as Mr. Darcy with me . . .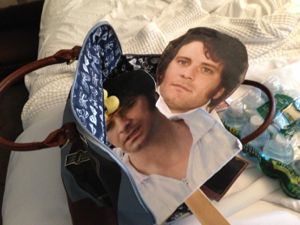 Why? Well, because he was in the short video that kicked off the show. (Son, who is only 15-years old, was the director/editor of the video!!! I'll be blogging a "making of" the video in a week-ish.)
CLICK HERE TO SEE THE VIDEO including this soon-to-be-classic scene of me eating worms . . .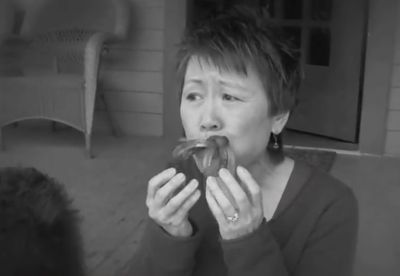 Colin, plus a backup Colin, was packed in my suitcase. JetBlue was doing random luggage checks. I was so afraid they'd go through my suitcase and find this . . .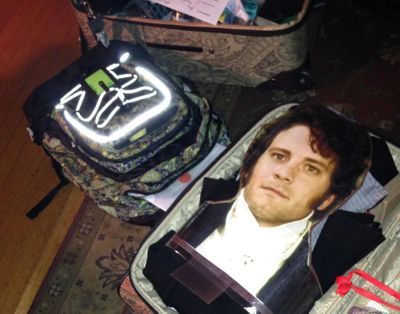 The original venue for the Gala was shut down 48 hours before the show!!! Luckily, there are geniuses who cannot be discombobulated running the Children's Book Council, and a new place was found just in time!
We got there early and signed Children's Book Week posters . . .
Soon it was time for rehearsals . . .
Look! It's multiple-multiple-award-winning Tomie dePaola. . .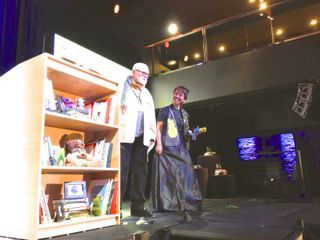 It was fun hanging out with uber bestsellng novelist Meg Cabot and Caldecott medalist Brian Selznick, who designed the posters . . .
Harlequin Romance Author/Newbery winner Katherine Applegate's daughter selected this lovely yellow purse for Peepy! (That's Katherine's husband, YA author Michael Grant, letting Peepy borrow his phone for an important call from her sylist) . . .
Brian Selznick as Colin Firth as Mr. Darcy and I rehearsed going onto the stage after the opening video . . .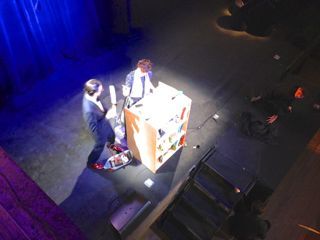 Whoa! It's Meg Cabot and Jon Sciezka, who hosted the first Children's Choice Book Awards Gala AND was our first National Ambassador of Young People's Literature . . .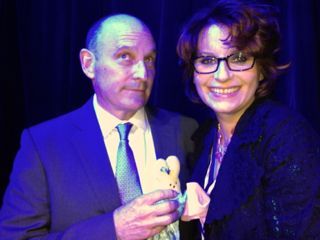 And there's Henry Winkler with Jon . . .
This is what backstage looked like. See that cloth on the table? The crystal awards were hidden under it!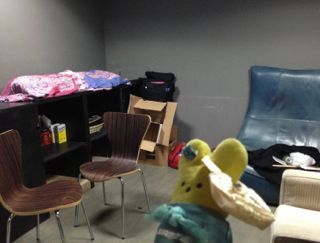 I was cold before the show, so Henry shared his jacket with me . . .
National Ambassador of Young People's Literature, Printz Award winner, four-time Caretta Scott King Honor Awards, two-time National Book Award Finalist -- well, you get the picture -- Walter Dean Myers, had met Peepy before, but Peepy insisted on another photo with him. Plus, she wanted to give him writing tips . . .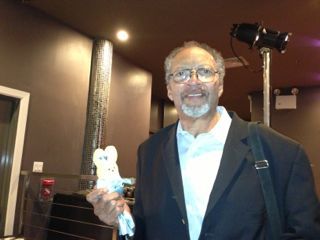 Here's everyone on stage, including Lois Lowry, getting directions and then rehearsing . . .
We did some interviews before the show began . . .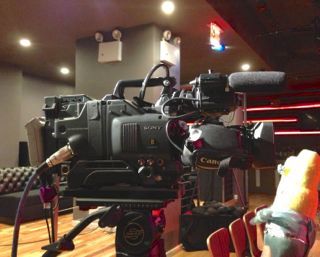 Can you guess whose shoes are whose?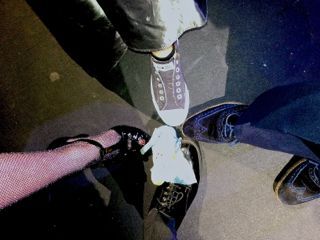 (They include Meg Cabot, Lisa Yee, Henry Winkler and Jon Sciezka's.)
What about these shoes? Could they belong to my daughter and Brian Selznick???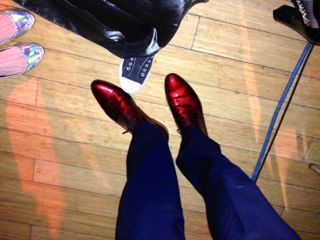 After rehearsals, and before the show, the audience feasted and mingled. It was a who's who of children's literature at the event. Every major publishing house was represented. Yep! Lots of authors and agents and editors and publishers and paleontologists and illustrators (one of those things isn't true - maybe) . . .
Then the show began!
Because I am so short, I stood on a box. However, I am also a klutz, so that's why I gripped the podium throughout the evening.
When the presenters were speaking, and the winners were giving their speeches, I sat on a chair on the stage and had the best view!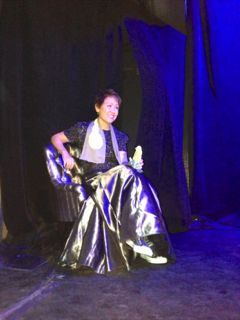 Tomie dePaola kicked off the first award of the ending by presenting Kindergarter to Second Grade Book of the Year to Nighttime Ninja. Here's illustrator Ed Young accepting on his and author Barbara DaCosta's behalf. . .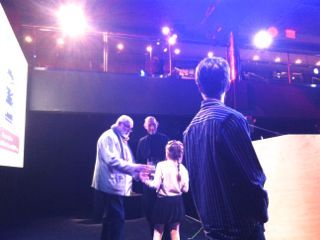 Henry Winkler announced Nick Bruel's Bad Kitty For President as winner for Grades Three to Four . . .
Lois Lowry presented the award for Fifth and Sixth Grade Book of the Year to Rachel Renee Russell for Dork Diaries 4 . . .
Meg Cabot was up next, and in honor of her Princess Diaries books, I had hidden a crown under the podium to wear when I introduced her . . .
Then Meg announced Fault in Our Stars as Teen Book of the Year. Author John Green could not make the event since he and his wife are expecting a baby soon. So he said I could have the award. (Or maybe not.)
Katherine Applegate presented Author of the Year to Wimpy Kid's Jeff Kinney. . .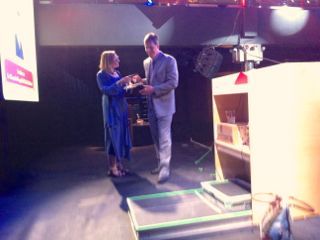 Brian Selznick presented Illustrator of the Year to Robin Preiss Glasser. . .
Walter Dean Myers presented Michele Norris with The Impact Award for championing children's literature and for creating NPR's Backseat Book Club. . .
What a wonderful evening!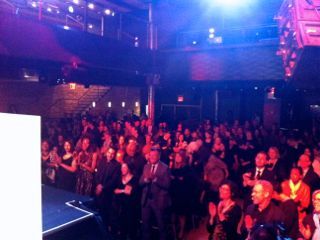 YOU CAN WATCH THE ENTIRE AWARDS SHOW HERE!!!!
And all of this could not have happened without the marvelous Robin Adelson and her team at the Children's Book Council -- and Peepy and Colin Firth as Mr. Darcy . . .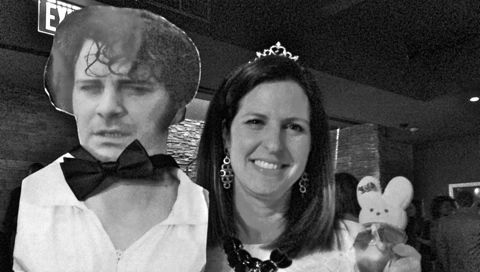 But wait . . . there was more. A lavish dessert party after. But that will be on my next blog, plus exploring New York, New York!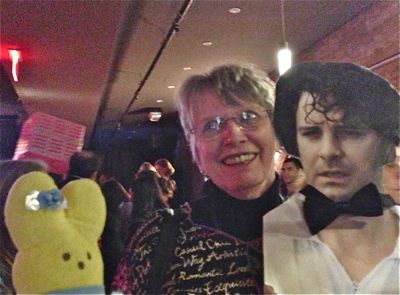 (Above: Newbery winner Lois Lowry parties with Peepy and Colin Firth as Mr. Darcy.)
===========================
Disclaimer: No proofreaders were harmed (or even used) in the creation of this blog.
Want to check out Lisa's NEW AND IMPROVED website? Simply CLICK HERE.
Interested in having Lisa speak at your school, library or conference? CLICK HERE for more information.
Subscribe to Lisa Yee's Blog and get her fresh baked blogs e-mailed to you!
Email:
Or you can click this for a RSS feed...