Behind the Scenes (and on the stage) at the Brooklyn Book Festival
Blog Post by Lisa Yee - Oct.01.2012 - 8:21 am
Behind the Scenes (and on the stage) at the Brooklyn Book FestivalOurlast blogfound us in the desert flying high (practically)aboard the space shuttleEndeavour . . .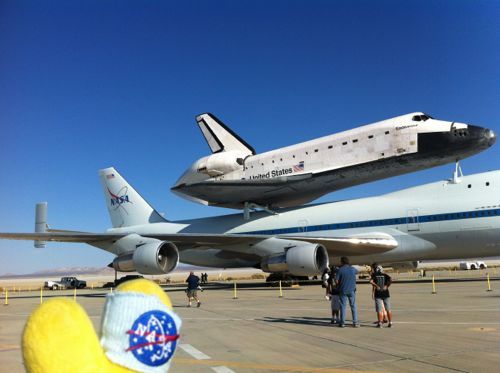 This blog takes us from There to Here . . .
That's right! We were in New York for the quite bodaciousBrooklyn Book Festival. . .
Peepyand I headed to the Green Room to get ready for our panel and to apologize to ourScholasticpublicist, Lauren Felsenstein . . .

(That's Lauren, on the right, with newly minted Scholastic Publicity assistant Rachel Howard. The apologies were because when I landed in NY, I was beyond exhausted, having not slept in two days. So, I emailed Lauren and said I would have to miss anything going on on Sunday. Um. Oops. I had meant Saturday. Sunday was the book festival.)
Our moderator,Lisa Graff, and fellow panelistAmy Ignatowwere hanging out in the Green Room, too . . .
As (the other) Lisa prepped in the glow of literary-ness, we spied our friendE.B. Lewis (again)sharing a snack with Peepy. Then we were instructed to storm the stage, or at least head toward it . . .
Our panel was on humor and though we tried to be high minded, I won't deny that the words "fart" and "barf," were mentioned more than once. (FYI, the person who is not Lisa, Lisa or Amy isEric Wight.)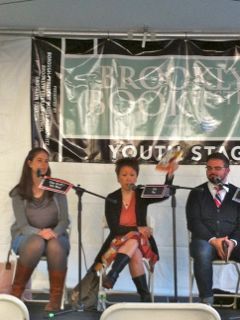 (I had no idea I that my arms flailed around that much.)
We had a blast! After, agentBarry Goldblatt, tried to talk Peepy into signing with him for her epic fashion memoir/astrophysics tell all . . .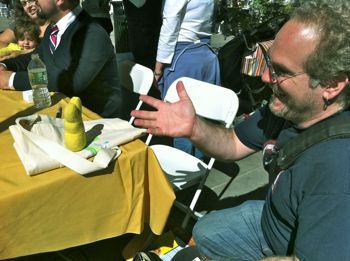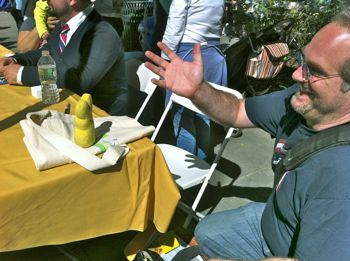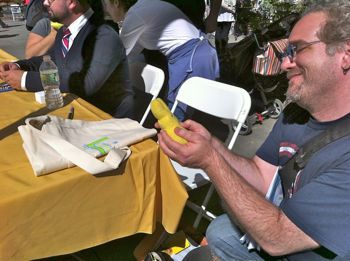 (As you can guess, Peepy is being courted by all the top agents. She hasn't made a decision yet, but when she does, we will let you know.)
Next, we got ready for theGuys Readpanel. Um, but Lisa, you say, or he says, or she says, or someone says," you are not a guy."
True.
However, I write lots of books with guy protagonists, I am not afraid of snakes, and I don't get grossed out easily, so that qualified me to be the moderator!
Here's our panel . . .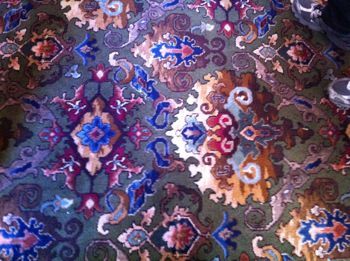 Er. That wasn't the panel. That was a photo Lauren accidentally took of the floor. THIS is our panel . . .

(Despite what the name tags say, from left to right, isGordon Korman,Jon Scieszka, Angelina Jolie, andJoseph Bruchac.)
(Find thephoto of Gordonand I wearing our good clothes. Andthis isthe time Gordon and I tried to decimate each other while Jon cheered us on.)
It was standing room only, and when I introduced everyone I made the dudes do guy-ish things . . .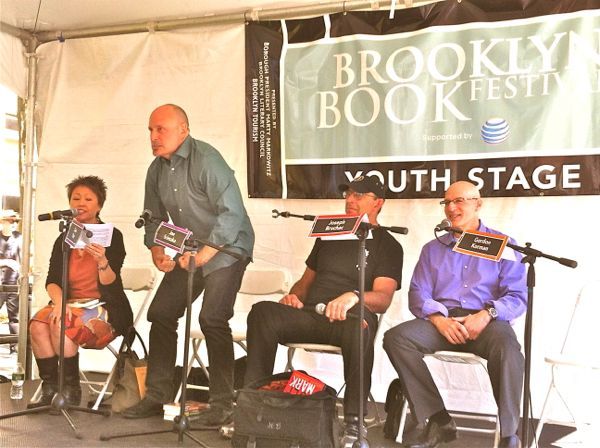 It was so fun! I asked math questions (not), and even things my facebook friends had suggested. For example, fellow authorPeter Lerangissuggested I ask, "Who does your hair?" (They are all bald-ish.)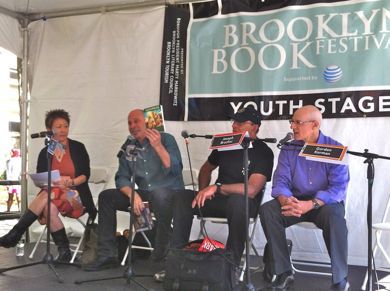 Later, there was a book signing session . . .
I also ran into a lot of friends at the festival, like scary (if you don't believe me, check out his serial killer novel)Barry Lyga. . .
Paul Acamporawas there with his daughter!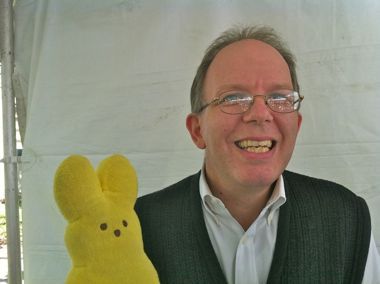 (That's not his daughter, that's Peepy in the photo.)
John Bemelmans Marcianowas kicking back with friends, andDan Yaccarinowas upside down. . .
Oh, and look, it's (I'm not sure) . . .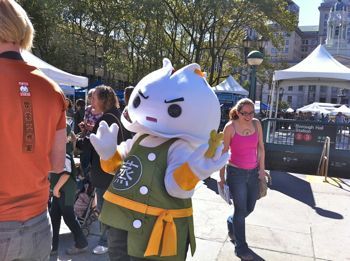 But I know who that is! It'sWendy Mass!!!
The festival was spread out and the weather was PERFECT . . .
The bookmobile had a wonderful selection of titles . . .
For more KidLit fun at the Brooklyn Book Festival, check out the Publishers Weeklyphoto roundupand see if you can spot the peep!
NEXT BLOG: Dining and snacking with authors and illustrators. Plus, THE HUNGER GAMES, almost . . .
In the meantime, here'sa video(with a very unattractive screen grab) that includes me touching Jon and Gordon's bald heads . . .
===========================
Wheeeee . . .BOBBY THE BRAVE (SOMETIMES)is now out in paperback!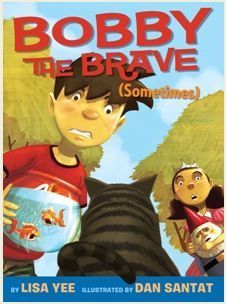 October Events:
October 3, 5:30 - 8:30 pm
Houston, TX -- Barnes and Noble, Vanderbilt Square
St. John's School Bookfair - open to the public
October 6
South Pasadena, CA Moon Festival
October 26 - 25
PCTELA Conference, Lancaster, PA
Disclaimer: No proofreaders were harmed (or even used) in the creation of this blog.
Want to check out Lisa's NEW AND IMPROVED website? SimplyCLICK HERE.
Interested in having Lisa speak at your school, library or conference?CLICK HEREfor more information.
Subscribe to Lisa Yee's Blog and get her fresh baked blogs e-mailed to you!
Email:
Or you can click this for a RSS feed...