A Writer Teaches Teachers As Writers
Blog Post by Lisa Yee - Jun.18.2009 - 9:55 am
Ah, the life of a traveling author is so glamorous, or maybe not . . .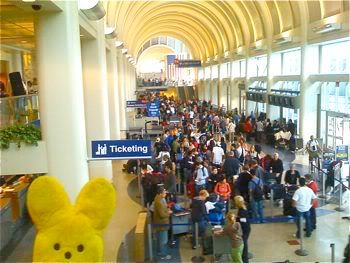 However, things looked up once I landed in Little Rock, Arkansas. It began with a fabulous dinner with Sandy Ogburn before heading to Harding University
 . . .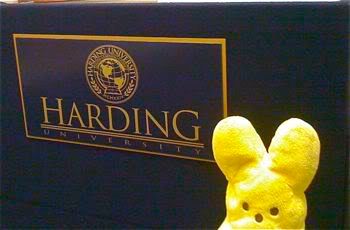 Then, when Peepy and I checked into our room, we were met with a most excellent surprise . . .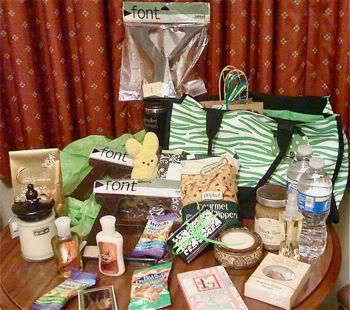 Peeps and I fought over the glorious swag, but in the end decided to share. Because if we could not get along, then how could we expect countries to?
The next morning, my Teachers as Writers writing workshops
 began. I always get a little jittery when teaching teachers and librarians, because man do they know their stuff!
However, once I started babbling, everything was cool. How could it not be? I mean, just take at look at these lovely, intelligent, witty folk . . .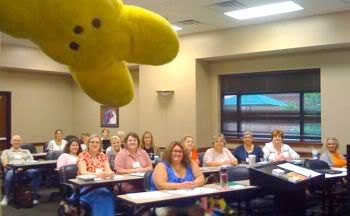 I tricked them into thinking I was nice . . . then put them to work writing . . .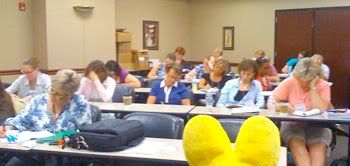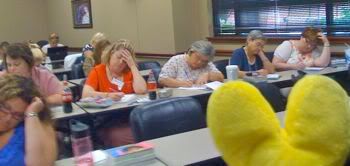 At once point everyone was writing so furiously, the entire room moved . . .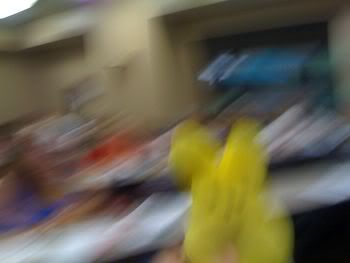 Later, it was time for a meal with author/educator/conference coordinator Alexandria LaFaye
. Don't you love her hat? 


(I can't wear hats because of my spiky hair.)
While in Arkansas, I got tons of work done. Right now I'm revising my rough draft of the second "Bobby" book. The first one of this chapter book series comes out in September and is called BOBBY VS. GIRLS (ACCIDENTALLY). The second book is called THIS BOOK HAS NO TITLE YET.
The next day, my flight was delayed. But that was okay because it gave me more writing time . . .

Ooooh, wait! I wanted to show you one of the gifts I received. Peepy claimed it was hers . . .

But I think it was meant for me. What do you think?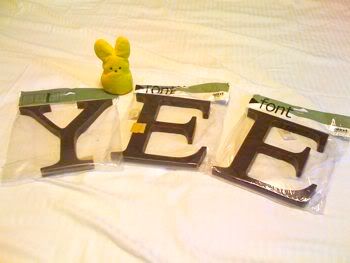 Hope to see many of you at Vroman's this Saturday at 2 p.m. for the LAYAPALOOZA Pizza Party!
 It's free and it's fun and there will be authors galore there!!!
Subscribe to Lisa Yee's Blog and get her fresh baked blogs e-mailed to you!
Email: 
Or you can click this for a RSS feed...